Thank YOU, thank YOU, thank YOU. And thanks to Dave Eastman for saying such nice things about the show, about me, and about several insightful meanings behind the significance of the number 100. We were sorry to miss you at this show, Dave, but we wish nothing but the best for health and happiness in the coming year and beyond.
Hello Again! Welcome to another wonderful collaboration between East Side Story and The Post. Let me be the first to officially, whole-heartedly welcome you to the recap and recording of the 100th epic edition of East Side Storytellin'! Like the 99, I repeat … 99, previous shows East Side Story has put together, we all decided to take a break from our busy schedules all over town in order to sit back and relax and get everyone cultured up just right in the form of a Nashville writer reading from original prose, followed by an amazing local musician performing and talking about their original music, and then a round-up creative conversation with all featured guests of this event to talk about their individual journeys and personal ties to Nashville. Without further ado, fulfilling the entertainment portion of your day, this is East Side Storytellin' 100. Let us begin, again.
I must preface the formal introductions by making the point that I broke tradition in simply throwing two Nashville artists together and to see what would happen, based upon good vibes alone and waiting for something serendipitous to come out of the pairing (which hasn't failed in 99 attempts, miraculously). To commemorate the century mark of shows, I wanted to ask two artists and friends of mine who I have gravitated to more than ever on social media and other outlets during the past few months when the entire world (but especially our country and those who so-called are elected and qualified and are "Christian") have lost more than their fair share of marbles. Point being, the choice of this specific pairing had me more jazzed to share the spotlight and our platform with others who probably needed to celebrate and remember the goodness that is evident and shining at the heart of the Nashville creative community. Now, back to the special evening.
Our first featured artist of the evening is a 25 year music industry veteran, which seems impossible to imagine because he looks like he just turned 33. He's also a songwriter, artist, producer, teacher, and author who currently serves as a Creative Director at E One Publishing, is Associate Dean at Trevecca Nazarene University, and leads a small group ministry out of his Nashville home. I asked him to be a part of this 100th show because his work and life embodies the sense of community of which East Side Story and East Side Storytellin' strives to be. This man's abiding passions for authentic, spiritually alive art, transformative community, innovative business practices, and artisanal living means everything to me and probably to a lot of people listening to this right now as well. I could go on and on about this guy, but he can more than speak for himself. The author of Jesus, Bread, and Chocolate: Crafting a Hand-Made Faith in a Mass Market World, I was honored to introduce the talented author and musician and my friend by the name John J. Thompson.
Having already performed at countless readings and workshops and talks about this particular gem of a read, John took a copy of his book and dove right into a section that perfectly explained the mission statement of said book. It immediately set a tone of honesty, deep conviction to the truth and faith in the good of people and our world in general, and put everyone in the building in a mood of love and acceptance to appreciate the moment (something that seems to escape a lot of us while surfing the net as of late). Again, point being, John reminded us all that we were at a safe place with East Side Storytellin'.
Like only a handful of the total 100 shows, John and our featured musician actually knew each other and have been dear friends for quite some time. Beyond their friendship, which I didn't know about when first contacting them to commit, these two artists have crossed paths in musical and friend and religious and creative circles in and out of Nashville for decades. There was no doubt that the feeling of serendipity within this pairing was going to shine in several themes for me and others. In fact, when all was said and done for this show, I pretended to joke about it but I was serious when saying these two guys should come together every other Tuesday and do the same thing with different words and we'd write that off as everyone's new church in this day and age. I know I'd attend religiously.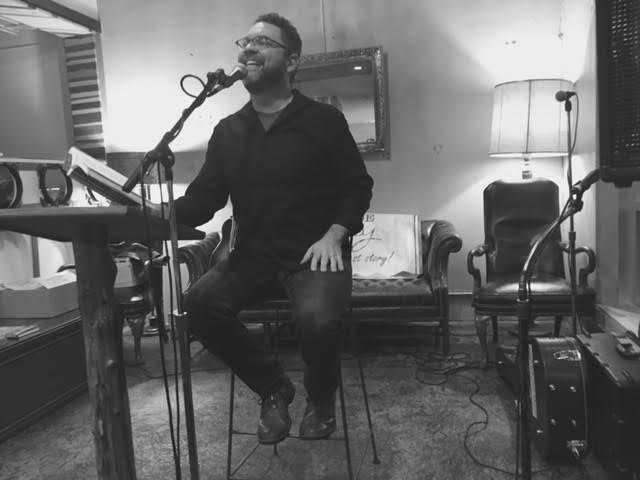 All that said, John recounted a story about Buddy Miller, a mutual friend of both artists, and a very cool story about finding the special twang in life, searching for something deeper and truer than ever imagined. John then went into one of the most delightful stories I've ever heard about asking for a father's permission to marry a daughter and his first cup of coffee on the side (fitting for the family audience and The Post). As John read, I envisioned snapshots of the time I asked a father for permission to marry his daughter and I laughed, belly-laughed in fact, alongside other guys in the crowd who either have asked similar questions or might in the next year. It felt like a strong community meeting of like-minds and souls. It felt like baby bear soup, just right. And just like that, John was finished teasing his book for the night.
I first met our featured music of the night the night of the grand release of East Side Story's Based On anthology project over at Belmont University. I had asked him, from the recommendation of a mutual Nashville creative, and he said yes and jumped on board through blind faith and the rest is part of my lucky history. This guy, like John, is also more than a musician and friend. He is a songwriter, producer, painter, published author, and all-around wonderful human being. He is a behind the scenes mover and shaker, as a band member for two of my favorites in Emmylou Harris and Buddy Miller, along with many other respected artists as well. He has been a stellar, go-to session musician and songwriter for the likes of Old Crow Medicine Show, Garth Brooks, The Nitty Gritty Dirt Band, and many many more.  Seriously, if I listed everyone who this guy has worked with or inspired, we'd be here for another 5 years. You ain't got time for that. I was over the moon excited to finally introduce one of the best musicians in Music City, my compadre, the one and only Phil Madeira.
I'm not sure if you've ever heard Phil play live, but if you have then you are already a big fan. To me, he sounds like your grandfather singing songs about life and death and everything in between on a Sunday afternoon from the front porch of an old farmhouse that he built (if you grandfather was one of the most authentic and prolific blues artists of our generation). His song, an old song, like John's first story, was another perfect way to set up his set at hand. Everyone has an old friend, has had an old dog, and known their own version of love. Phil struck a chord and it resonated throughout the rest of his set.
After a trip down his own creation called Mercyland and a road trip about finding truth on a motorcycle and then changing his heart when it came to discovering a higher purpose in americana music, there came a time in between songs where Phil had to change his tune. Specifically, he had to tune his old guitar up to snuff. We were lucky John came to the rescue with an app that helped smooth that process and keep everyone in time. That's what friends are for, right?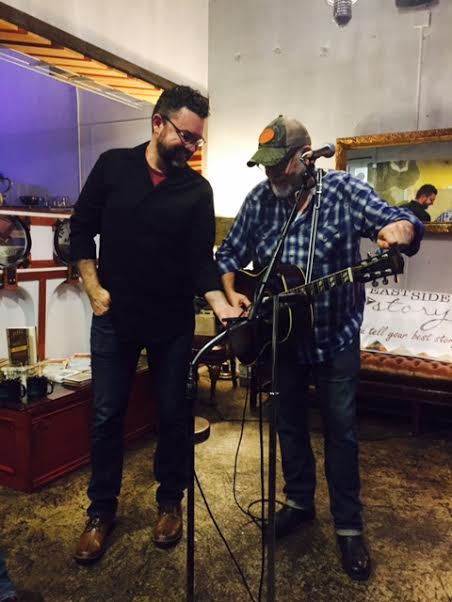 Phil told stories and prefaced the rest of each of his songs during said tuning. He dipped into a little bit of inspirational backstory in regards to a song he wrote about his "Christian" friends and hatred they had against Obama before he even took office back in the day, the beginning of a big personal change in his own life. I can't say it enough how this evening of honesty and compassion displayed and relayed by Phil and John renewed hope and faith in more people than just myself in the crowd. You'll hear it for yourself if you take a listen to the recording below.
Phil ended the session with two stellar songs that were different in content but similar in how amazingly good they are, like Phil always does.   From this Valley, Phil wrapped up a set that just two days prior he didn't think he was gonna make it through. He, like many of us, had gotten sick from the change of weather and other things as of late. And timing would have it that because Phil found a way to prevail and come through with this gig, we are all better because of it.
When Phil put down his vintage guitar, I was fortunate to have he and John share the stage to discuss their personal journeys, individually and collectively, and how they came to make Nashville their home. The moments and lessons they shared went well beyond family, religion, politics, and everything else you're not supposed to talk about at the dinner table, but it was perfect. I had a permanent grin throughout the interview because they are equally as comical as they are genuine and intelligent. And I'm pretty sure that everyone in the crowd went up to me and then Phil and John after the show to let them know that everything they said and sang hit close to home and was, and I quote, exactly what I needed to hear right now about EVERYTHING.
This show was more than #100. It was an instant classic and a perfect representation of what I envisioned these nights could and should be even before we put together #1. I couldn't have paired a more perfect pairing for this specific day and show. Again, I can't say thank you enough to both John and Phil for sharing their time and talents and doing so so selflessly.
So before I give proper thanks to a few others, let me share with you the edited recording of East Side Storytellin' 100, a show that featured the likes of John J. Thompson and Phil Madeira on Tuesday, February 7th, 2017 at The Post. A night to remember, don't forget to share this link with any and all friends and family and strangers you think would love this recording even half as much as I do. Thank you for sharing and caring.
You can read more of John's writing here –  www.33andathird.net
You can listen to more of Phil's music here – http://philmadeira.net
You can listen to this show, edited, soon, alongside the previous shows too, on our website,www.eastsidestorytn.com, at our In Our Own WordsTab – see here – www.eastsidestorytn.com/in-our-own-words
I'd like to give a shout out to Tonya and Chris for making The Post so welcoming and positively life-changing for the East Nashville community at large and to the compassionate staff who continues to stay open and work late so we have the time and place to have this kind of fun on Tuesday nights.
I'd also like to show much love to Clay Brunton for the beautiful artwork online to promote the show (as seen below).
And speaking of prints and art designs, Clay has made about 90 designs for our shows so far. Another friend, Alex Smith, who made several of the first prints before putting his heart and soul into The A-Frame in our hometown of Bowling Green, Kentucky, had a very special February 7th, 2017 as well. He and his wife welcomed their first child, a mighty son by the name of Oliver Smith. Greatness will follow.
And speaking of following, I can't help but call out a few other special friends who have made East Side Storytellin' what it is to date. Whether it has been the likes of Jay Murphy and Steve Simpson who have attended the majority of shows so far and contributed photographs and recruited other friends to show up, or the alumnus and almighty Chance Chambers (we can't start a show at this point without Chance in the crowd = fact). And I can't forget to give a very special shout out to Meg and Bret. As I said in the very first show I hosted, they are the creative godparents of East Nashville. Without their love and support, nothing would be happening East of the Cumberland these days worth anything = another fact.
So with that group of gratitude expressed, now I have to say the biggest thanks to three people who have meant more to East Side Storytellin' so far than any others. First, this is a collective 200+ people-in-one, I have to say thank you to every single featured artist who has graced the show. Second, I give the utmost love and respect to Tom Eizonas for helping record and edit and make this entire ship of a production come off as professional. He makes me sound better and like I know what I'm doing. And, last but certainly not least, I send everything else to my wife, my favorite artist and friend, Emily Harper Beard. She not only believes in my crazy ideas, but she also lets me get out there to do them (which was harder the past year with the presence of our own miracle in Avett Otis). With the help of this team of three going forward, East Side Storytellin' is 100 deep and just getting started.
Okay, so I forgot one. I need to thank YOU. For anyone and everyone who has attended one or more of our shows so far (or read and listened to the recaps afterwards or shared the links online to help promote them), I say THANKS! These have been 100 of the most authentic, personal, and finest intimate creative shows I've ever witnessed anywhere. The love and attention to every featured guests is unmatched with any other show I've seen. These shows have marked the beginning of special friendships (such as the Shaffner family, in the crowd for #100) and a constant renewal of lifelong friendships (like the Woodall family, also in the crowd for #100), and everyone and every thing in between. THANK YOU!
Now … Our next show will be
That said, that's all for East Side Storytellin' 100 and another fabulous event at The Post with East Side Story at the helm. Thanks for coming out and sharing the good word and giving some love to all of these great Nashville artists and our creative ideas. Please remember to be nice to one another out there. I repeat, please remember to be nice to one another rout there!
Much love,
mE
PS- one more shot of fun for the road