Thank YOU, thank YOU, thank YOU. Hello Again! Welcome to another wonderful collaboration between East Side Story and The Post. Let me be the first to officially, whole-heartedly welcome you to the recap and recording of the 104th epic edition of East Side Storytellin'! Like the 103, I repeat … 103, previous shows East Side Story has put together, we all decided to take a break from our busy schedules all over town in order to sit back and relax and get everyone cultured up just right in the form of a Nashville writer reading from original prose, followed by an amazing local musician performing and talking about their original music, and then a round-up creative conversation with all featured guests of this event to talk about their individual journeys and personal ties to Nashville. Without further ado, fulfilling the entertainment portion of your day, this is the recap and recording of East Side Storytellin' 104. Let us begin, again.
Our first featured artist of the evening is a stunningly handsome young chap. He is also not only a writer of unusual stories, he actually specializes in unusual books. A brother in the bond, he is one of the few, the proud, and crazy bookstore owners and sellers I am honored to know. Despite what some may have said about him, like me, he is NOT interested in encyclopedia sets, Reader's Digest condensed books, old textbooks, or any books in poor condition or that he can't sell. And this guy, like any great fiction writer, can sell pretty much anything. He is the co-founder and owner of Defunct Books. Like most of his inventory, he is of a rare breed, the few, the proud, the owner of a store that encourages people to read and think and slow down in this fast paced world. Truth be told, this guy only gets out when the Cubs or Gonzaga win, so you know this night was important, and this past year really, has been a very special occasion. But we aren't weren't there for his bookstore, we came together because of his writing. He's been published in Acoustic: Literature, Owen Wister Review, Piece x Piece, and has done numerous poetry readings in various stops around the country as he's moved to and fro from Washington to Iowa to Nashville, TN. A man who needs no introduction, in my book, although I just gave him one. Ladies and Gentleman, someone who smartly moved from Iowa City to Nashville at just the right time, my good friend, the one and only Gregory Delzer.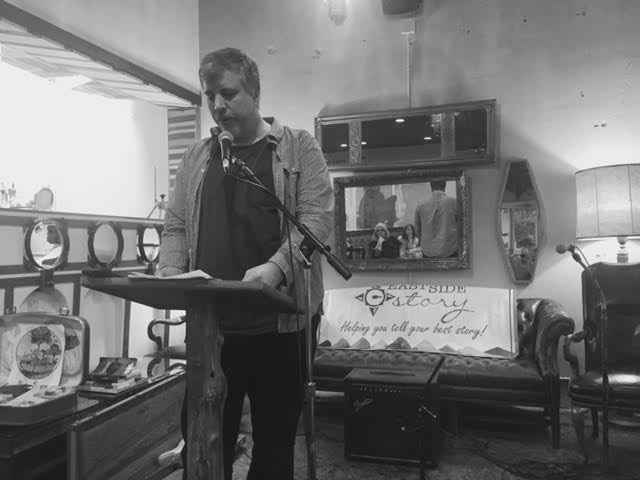 Gregory mentioned right off the bat that although he had read various poetry spots in the past, this was one of the first times he would decide to share his original prose. And it was something relatively new and outside the box. The story was a story told in five parts, called five deer for obvious reasons at the beginning and the rest of it was anything but obvious. It was a Twin Peaks-like trip, filled with some trippy and gritty moments involving reoccurring hitch-hikers who may or may not have slept with the narrator. In every twist of the tale, which wasn't in any particular order or specific sequence (as told by Gregory in the preface), people sat on the edge of their seats to see where Gregory and the narrator would drive us to next. It was quite fascinating, actually.
I personally loved how real it was. And when I say the word real, I'm talking about the language and honest descriptions that Gregory used to set the scene and draw the pictures of what was going on in the narrative. I also loved how Gregory took great pleasure in using his peripheral vision to notice and smile at the fact that Tom would grab the pen from me taking my show notes every instant he cussed during the reading. He cussed a lot. You won't hear the specific words in the recording because of the editing, but that's why you and everyone you know should be at the actual live shows. The real sounds of the stories, and the look of childish fun that Gregory showed every time he cussed, were priceless in person.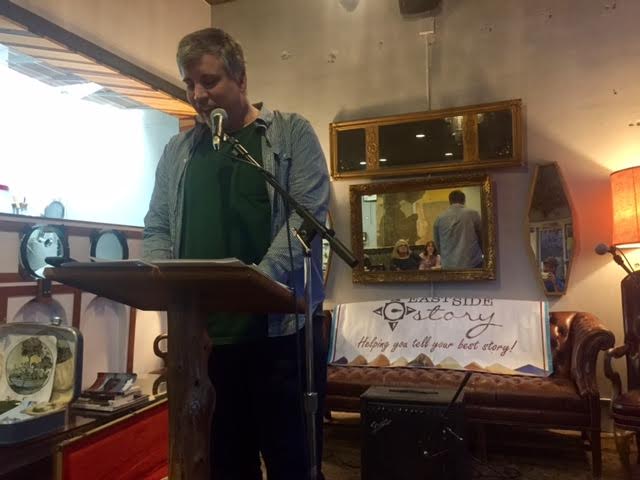 Our featured music of the night is someone who also hails from the land our forefathers called Iowa. This lady is a friend of our author tonight, and is now officially a Nashville-based songwriter after living and playing in various places our forefathers called Eugene and Portland, Oregon (or West East Nashville) and Los Angeles. She went back home in 2008 to independently make and release her debut album titled Flood or Drought. She wrote her self-titled album four years after the flood (or drought), and she self-describes her writing as one-part needle work and one-part aerial photography, heartbreaking human experiences patch-worked onto beautiful Midwestern scenes to form landscape portraits of love and loss. She has played with or warmed the stage for the likes of some folks you may have heard in Neil Young, Willie Nelson, Leon Russell, and many more, but this night she was all ours. Once again, I was honored to introduce someone as talented as Alexis Stevens.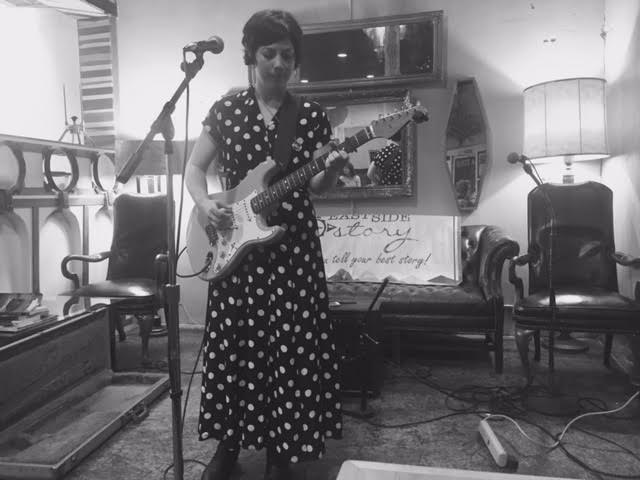 I have to tell you here and now that before East Side Storytellin' 104, I visited friends in Montana with my family for about a week. It was Big Sky country, completely surrounded by weather of the four seasons, snow-capped mountains as high as the eye could see, and a deep sense of openness and space that is unheard of in a cityscape environment. Point being, I was fresh off quite the meditative and deep thought trip alongside good friends and good places. Fast forward to my experience of sitting front row with Alexis Stevens playing her original work that perfectly painted the pictures of her intense cross-country trips as a traveling musician constantly on the road, and what you had was the perfect soundtrack for my Montana voyage. I'm telling you something you already know if you know Alexis' music, this girl is, for a lack of a better word, amazing.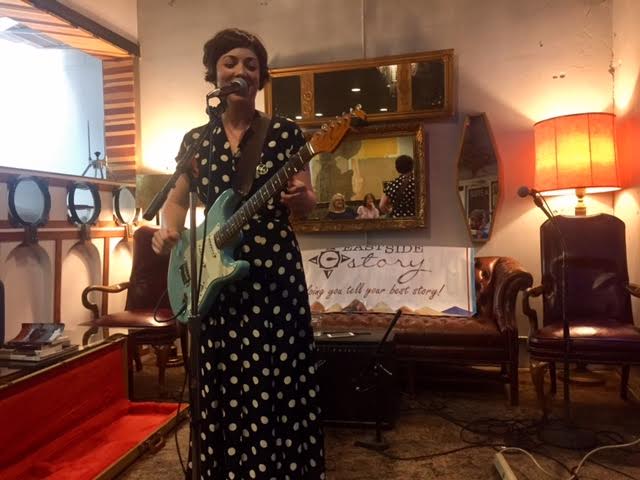 Alexis sang songs that were deeply personal, in direct regards to her ten year college reunion and time passing from a domestic life to the opposite as an artist to relative creative interpretations of Alan Lightman's Einstein's Dream to the rough transition of moving to Nashville and getting robbed (literally and figuratively with her photographs and memories before coming here) to talking about lost loves to something epic that came to her after spending a solid four months out on the road playing solo shows and realizing that is a VERY long time to play solo shows on a single run. Special note, the final song in the recording is Alexis' favorite original song she has written to date. A lot of musicians and artists won't choose between their works because it's like saying which of you children you love more, but she went there on this one and I totally respect and dig that. Again, this Alexis girl is for really, y'all!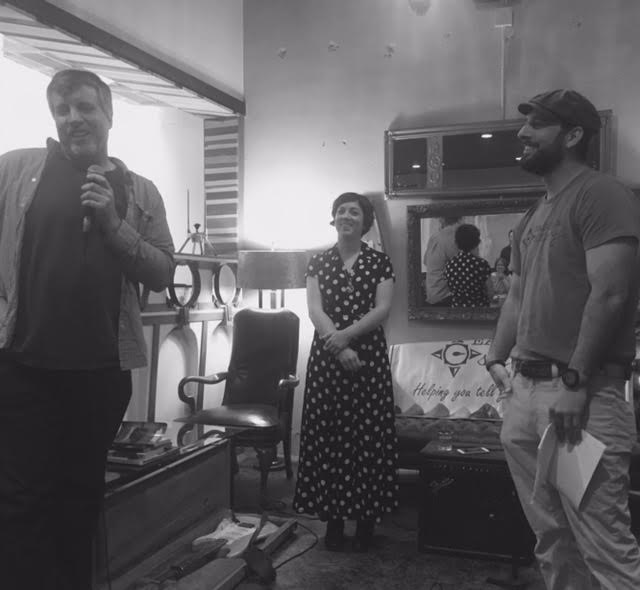 After the music, I had the chance to talk with Gregory and Alexis about their travels and how they got to where they are today. It was very refreshing to hear that both of them listened to that inner voice that told them when and where to move and invest their time and energy into next along their way. They aren't crazy, listening to those inner voices. They are true artists, in every sense, fragile, insecure, not scared to jump off the cliffs to search for happy, and unabashed for their actions of jumping off cliffs when they are standing in the fog and not sure of what's coming next. Again, point being, these two people are my kind of friends, and I'm especially thankful for them sharing their stories, time, and thoughts on what their journeys have meant to them individually and how it helps others like me relate on my own way. Plus, these two make me belly laugh a lot too. Because that's important.
So, with all that said about another very special show that was/is near and dear to my heart, here is the edited recording of East Side Storytellin' 104 that featured Gregory Delzer & Alexis Stevens at The Post on Tuesday, April 4, 2017. Feel free to enjoy and share it with everyone you know, over and over again. It is well worth your time and energy. You're welcome.
Before I say goodbye for this round of fun, I'd like to give a big round of thanks for Greg and Alexis for sharing their stories, talents, and time with us.
You can read more of Greg's writing here – www.defunctbooks.com
You can listen to more of Alexis' music here – www.alexisstevens.com
You can listen to this show, edited, soon, alongside the previous shows too, on our website,www.eastsidestorytn.com, at our In Our Own WordsTab – see here – www.eastsidestorytn.com/in-our-own-words
I'll keep the gratitude going for Tom Eizonas, my lovely wife and most talented artist in Emily Harper Beard (efharper), and everyone that came out live to support the show … and to everyone who has helped continue to spread the word and support the show online afterwards.
Last, but certainly not least, I'd like to give one last shout out to Tonya and Chris for making The Post so welcoming and positively life-changing for the East Nashville community at large.
Our next show will be
East Side Storytellin' 105
Tuesday, April 18th
At The Post (1701 Fatherland Street) at 7pm
Reading- Robyn Leigh Lear (www.aprilgloaming.com and www.theregenerates.org)
Singing- Ally Brown (www.allybrownmusic.com)
That said, that's all for East Side Storytellin' 104 and another fabulous event at The Post with East Side Story at the helm. Thanks for coming out and sharing the good word and giving some love to all of these great Nashville artists and our creative ideas. Please remember to be nice to one another out there.
Much love,
mE