Thank YOU, thank YOU, thank YOU. Hello Again! Welcome to another wonderful collaboration between East Side Story and The Post. Let me be the first to officially, whole-heartedly welcome you to the recap and recording of the 109th epic edition of East Side Storytellin'! Like the 108, I repeat … 108, previous shows East Side Story has put together, we all decided to take a break from our busy schedules all over town in order to sit back and relax and get everyone cultured up just right in the form of a Nashville writer reading from original prose, followed by an amazing local musician performing and talking about their original music, and then a round-up creative conversation with all featured guests of this event to talk about their individual journeys and personal ties to Nashville. Without further ado, fulfilling the entertainment portion of your day, this is East Side Storytellin' 109. Let us begin, again.
The first featured artist of the night is a powerhouse female artist who originally hails from the mountains of North Carolina where she was raised in an unstructured classroom from home by her mother, an author and nutritionist. Spending tons of time outdoors during her childhood, her early education and upbringing plays a heavy influence on her style and voice. She's the featured author tonight because her first novella, You Holy Screaming Symphony, has been a treasure at East Side Story for some time now. She has also published works of short fiction and poetry in various magazines such as Perjus and others, and she is an active member of our friends at The Porch Writers' Collective. Let me just say it. It was an honor to finally spotlight and introduce the very talented Jenna Dorian.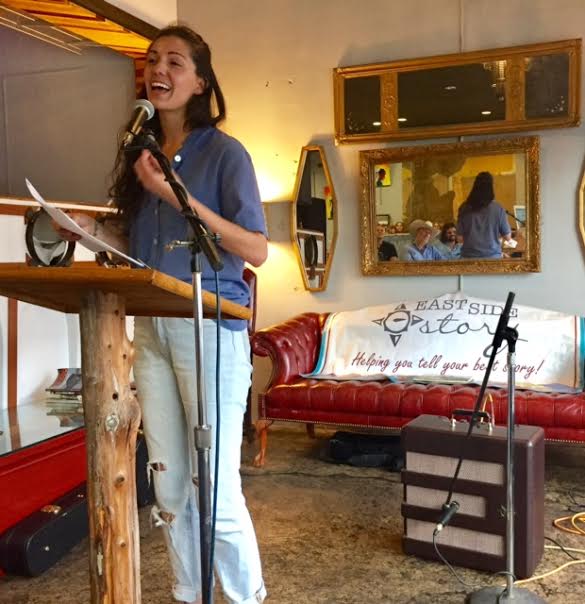 Jenna brought an unrelated trilogy of readings to the stage, and she was ready to roll as soon as I got out of the way. She appeared to be as equally honored to be involved with the show as I was to introduce her. She is an amazingly talented writer, with a work ethic like few around, and she's just getting started. So, when she stared her set, she let the audience know pretty much everything she was thinking, about the moment and the material.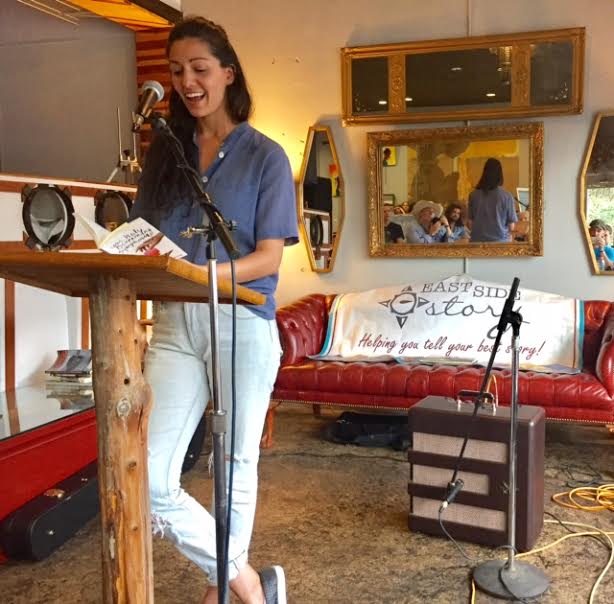 With a smile on her face and her heart on her sleeve, she went through the levels of her artist insecurities while revealing her true mission of discovering her comedic writing voice someday but settling knee deep into her sad characters and situations for the time being. After she read an excerpt from her novella, she addressed the crowd directly when she called out the comedic genius of Patrick Shaffner. She had recognized him from visiting the Third Coast Comedy Improv night (you should check them out as much as you can). They had some witty banter before Jenna jumped heart first into an original, sad tale about the first time a mother left her … a flash creative non-fiction piece (because that is a thing, as she recently discovered and relayed). Then, when she had the crowd right where she wanted them at full attention, she went into a slightly emotional, very deep story about the grieving of love and life loss between a marriage and the dream of a baby never to be. Like I told you, this girl is great. You can hear the stories in the recording below, but know that the way she casually and candidly throws her joy and secondary thoughts of an outside personal narrator in between the sad notes of her prose really makes for such a delightful and instant classic way to digest Jenna's art in person. It kinda makes me want her to do an audio book version of her writing in the same style.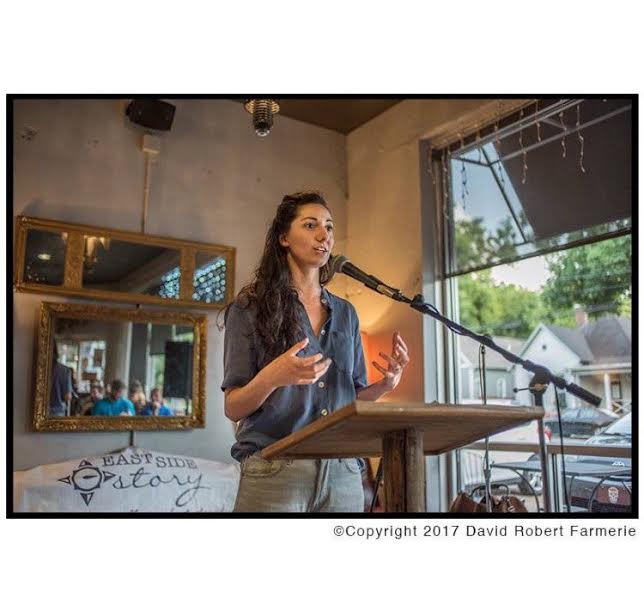 Our featured music of the night is someone I first saw sing alongside my wife a few years ago at The Fontanel. Let me clarify, she was not actually singing beside my wife. My wife was beside me in the crowd but equally blown away. This special lady was on stage singing alongside her long time hero, Keb' Mo' for his monthly Blues Jam at The Fontanel. It was also the night when we first were introduced to the musician like none other named Mike Hicks. You should check him out pronto. Anyways, back to the musician at hand. This young star on the rise moved to Music City from Motown. With Detroit roots, it may not surprise you to hear a beautiful blend of R&B and Soul from this lady once she gets going. She has a voice as powerful as Etta, Aretha, Ella, and Billie, to name a few of her singular named heroes. She released her first EP in 2015 and did a spell on the national television show America's Got Talent too. I'm not sure if everyone in the house was as ready as I was for the second powerhouse female with the voice way beyond any of Wonder Woman's skills, but there was no turning back after saying all of this good stuff and finally aligning up the stars to book this lady. I'm talking about the unforgettable soulstress, Alicia Michilli!
With the same natural nervousness and self-degrading personality as Jenna, Alicia approached the crowd with her guitar strapped over the shoulder and her heart on her sleeve as well. If you had never seen her perform, you might think she was a nervous, fresh out of college, intern at her first day on the job inside a cubicle who stepped out with the new team to do karaoke for the first time. And, as if it had been proclaimed and written in the good book, then Alicia started to sing. Everything changed after that first note.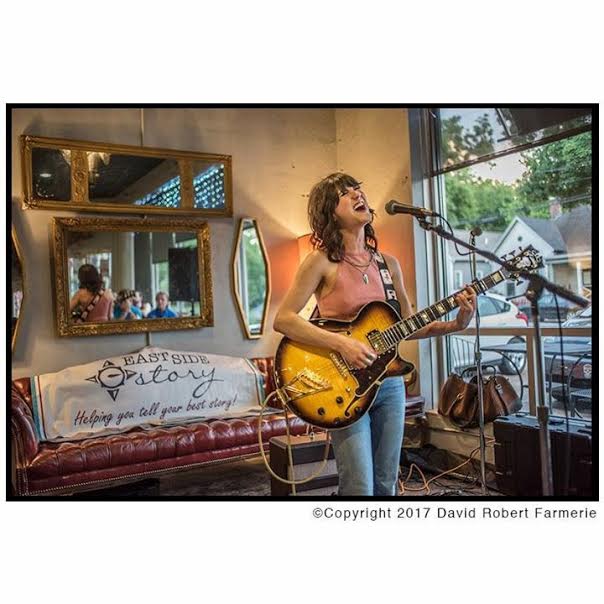 Alicia mentioned before the show that she has the look of an angel but the mouth of a sailor. You may notice more than one edit in the dialogue of the recording. All that said, I'll go ahead and say it that Alicia has the look of an angel but a voice of a soul goddess. It is not only a gift from the heavens that she trains and takes care of like a baby, it is a gift for anyone who gets a chance to hear her share it aloud. I could ramble and compliment this artist for a week straight, as you can tell from the first paragraph or two here, but I'll let the angel do the singing in the recording below.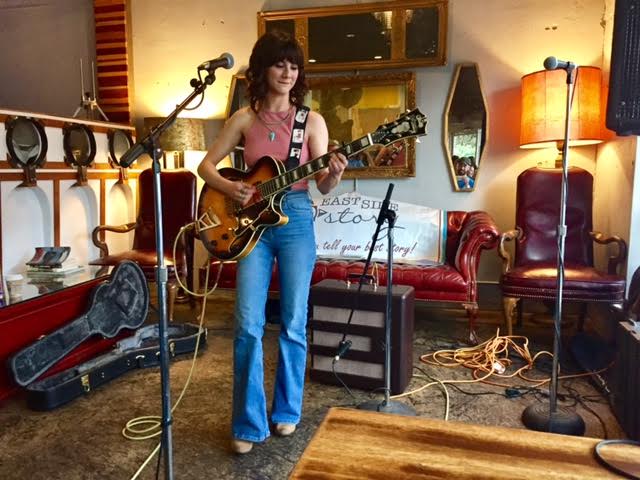 Like Jenna, Alicia is her toughest critic. I get it. We all need to be our own toughest critis, but in the end we know there are a ton of haters and critics out in the world. So for tonight, in this shared moment, there was nothing but love and appreciation for every personal note and lyric we witnessed. I can't speak for everyone else in the room, but I know I was just as close to happy tears as Alicia said she was after she sang the song written for and about her recently passed grandfather. If you can't relate with and instantly fall in love with that song and the way she sang it from the heart, I'd tell you that you need to make an appointment with the closest doctor to examine if you still have one beating. I'm serious. Take a listen to her final happy song and tell me that isn't the most soulful and, pun intended, heartfelt heartbeat lyrics you've ever heard. I was humming it for hours after the show.
But as soon as Alicia was getting revved up and totally in her wheelhouse with the crowd, everyone in the palm of her hands really, she was finished and ready to talk alongside her new best friend in Jenna. Let me know after you listen to the show if you don't think they are long lost sisters. Yet again, the non-formula of pairing artists has worked its magic and formally introduced two artists who were born to work together and appreciate the talents they both share. It was obvious to me, as the self-declared translator of their personal answers to my general questions, that these two will do something else going forward. They both had smiles and laughs for days, and they are both as ego-free, talented, humbled, and giving of their positivity as anyone I've met in quite some time. This evening, this combo, this event was something special to behold. I feel extremely blessed to have been a small part in this sweet picture.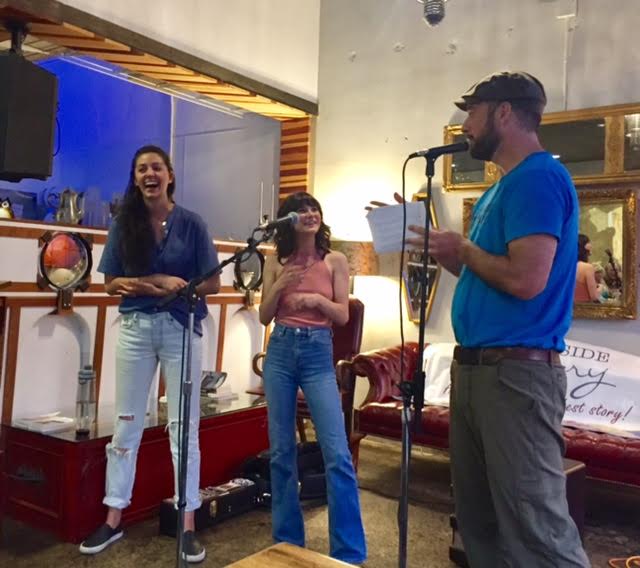 So here it is, the edited version of East Side Storytellin' 109, featuring the Wonder Women dynamic duo of Jenna Dorian and Alicia Michilli at The Post East on June 20, 2017. It was a night to remember, one nobody will soon forget. Please share this link and enjoy it for yourself, over and over again. You're welcome.
Before I say goodbye for this round of fun, I'd like to give a big round of thanks for Jenna and Alicia for sharing their stories, talents, and time with us.
You can read more of Jenna's writing here – jcdorian.com
You can listen to more of Alicia's music here – aliciamichilli.com
You can listen to this show, edited, soon, alongside the previous shows too, on our website, www.eastsidestorytn.com, at our In Our Own Words Tab – see here – www.eastsidestorytn.com/in-our-own-words
I'll keep the gratitude going for Tom Eizonas, my lovely wife and most talented artist in Emily Harper Beard (efharper), and everyone that came out live to support the show … and to everyone who has helped continue to spread the word and support the show online afterwards.
Last, but certainly not least, I'd like to give one last shout out to Tonya and Chris for making The Post so welcoming and positively life-changing for the East Nashville community at large.
Our next show will be
East Side Storytellin' 110
WEDNESDAY, July 5th
at The Post (1701 Fatherland Street) at 7pm
reading- Lance Umenhofer
singing- Dylan Lancaster
That said, that's all for East Side Storytellin' 109 and another fabulous event at The Post with East Side Story at the helm. Thanks for coming out and sharing the good word and giving some love to all of these great Nashville artists and our creative ideas. Please remember to be nice to one another out there.
Much love,
mE