Thank YOU, thank YOU, thank YOU. Hello Again! Welcome to another wonderful collaboration between East Side Story and The Post. Let me be the first to officially, whole-heartedly welcome you to recap and recording of the 115th epic edition of East Side Storytellin'! Like the 114, I repeat … 114, previous shows East Side Story has put together, we all decided to take a break from our busy schedules all over town in order to sit back and relax and get everyone cultured up just right in the form of a Nashville writer reading from original prose, followed by an amazing local musician performing and talking about their original music, and then a round-up creative conversation with all featured guests of this event to talk about their individual journeys and personal ties to Nashville. Without further ado, fulfilling the entertainment portion of your day, this is the recap and recording of East Side Storytellin' 115. Let us begin, again.
The first featured artist of the night is a Houston, Texas native who now is a Nashvillian inside and out. He is a devout student of short long form, reads and writes and works in various times and spaces aggregating around Nashville. He has several cats, most of which have dirty, unrepeatable names, but he is not a crazy cat person. That said, he said that the cats often talk to him in his sleep and often read old recipes from various Franco-American cookbooks published in the 70's. His parole officer's name is Jeff. That said, this man gave one of the most inspiring readings I've ever witnessed inside and out of East Side Story. Inside and out, put your hands together and give a big round of applause for the one, the only, Joel Lain.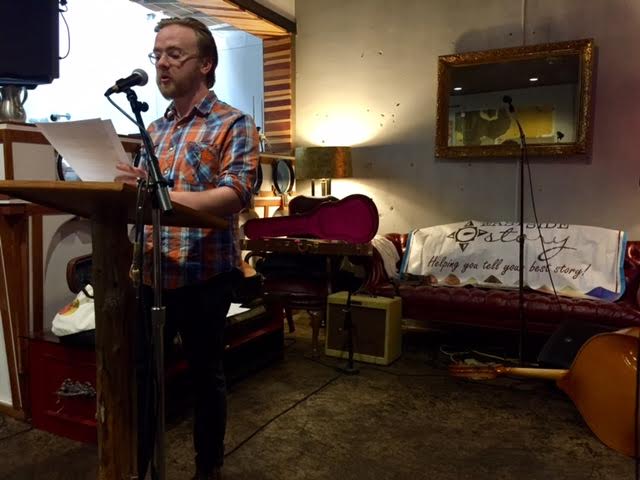 Joel was fairly and appropriately amped up just right after bringing a few cold brews and some really hot takes with him to The Post on such a special occasion. We spoke before the show about his recent changes in writing goals in terms of style, time, and taking a stab at his first full-length novel adventure. Hot off the first draft press, Joel had the first two chapters in tow. And wouldn't you know, Joel also had his fancy character accents and passionate expressions on hand too (as seen in the photos below).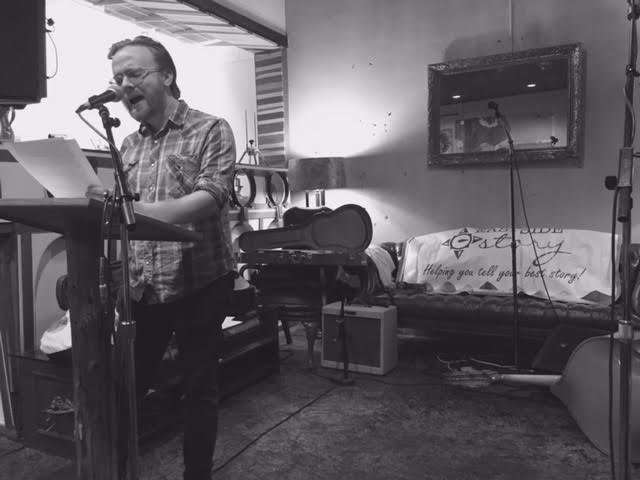 Whether it was a spot on Cajun accent or an older man or something I couldn't even catch the reference because I was laughing so hard WITH him and the others fully enjoying this story and trip he was taking us on, Joel knows how to captivate a crowd and connect with anyone he is around. He has so many gifts with words and stories, and I always love listening to whatever he shares with us.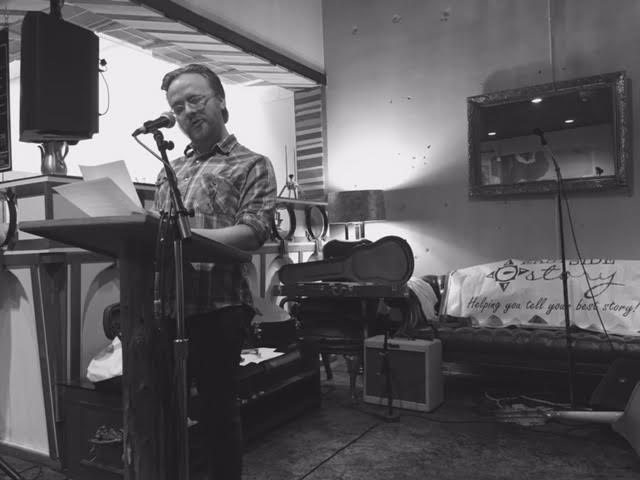 The first chapter was set in a hospital with a multitude of characters who were searching answers, truth, trust, and the lighter side of life in the middle of chaos and a major rush of urgency. Sound exciting? Well, yes it was. The words were read at a pace that kept you running closely behind every syllable that Joel dropped for us to follow. Then, taking a hard right turn into chapter 2, Joel jumped head and voice and accent first into an interview in the country with the likes of one of the most original characters I've ever heard. This is one of those times in the recap where I will defer to the pictures of the facial expressions and the audio from the recording below for you to truly grasp the magic Joel is creating. That said, I can't wait to hear and read more as soon as he shares more with us. I'm fairly certain you will love it all too.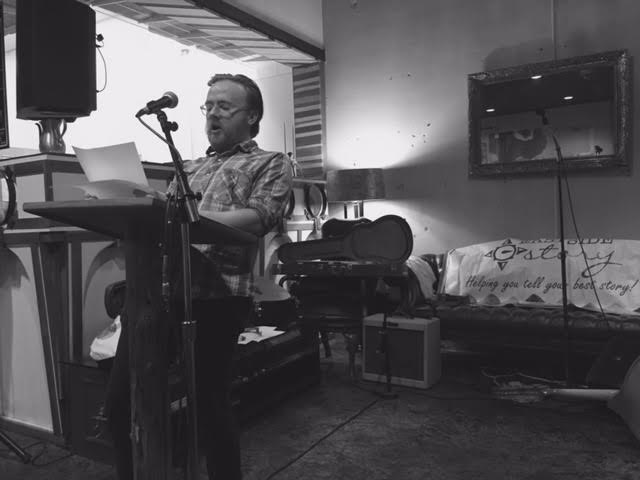 Our featured music of the night is a Motown native who moved to East Nashville and recorded the first of four CDs on the "right side of the Cumberland River" 13 years before Rolling Stone named the neighborhood the "Best Music Scene" in the country. Born in Detroit, this guy has brought an element of soul and art appreciation to everything he has written or recorded since moving here in 1992. His music has been featured on Late Night with David Letterman, he has gigged all over the US and Europe, and he still gives off the impression that he's just getting started. We'll talk more about everything he brings to the Nashville creative scene, but let's first sit back and take in some of his original songs. Alongside his friends, JP Lilliston and Jerry Hager, it was awesome to finally give a warm welcome to the East Side Storytellin' family to the talented Mighty Joe Nolan.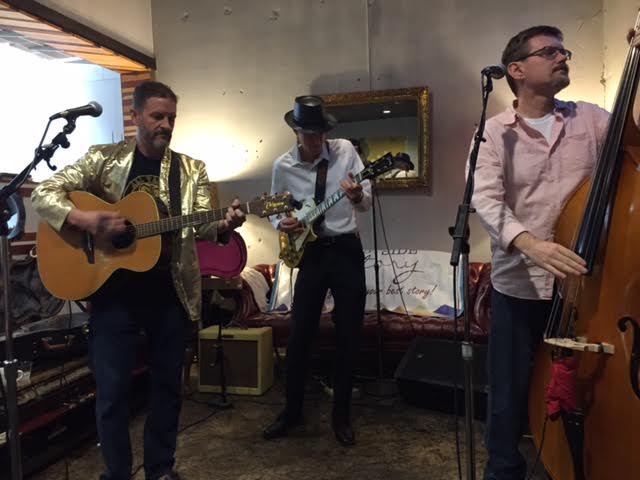 Joe Nolan is one of the handful of people in town that has seen the many changes of Nashville first hand, but he is also one of the few that you can find various impressions of his creativity at every single color change of the timeline (if you were a rock expert examining the open cliff facade of the artistic history of Nashville for the past 25 years). He is not just a musician, he is an excellent storyteller, poet, photographer, journalist, and person who supports other artists via his writing and attendance as much as anyone else I know. So it wasn't surprising to me when he kicked off his set with an epic spoken word original called SERENADE alongside the musical accompaniment of his talented band of brothers by his side. It was a perfect transition between Joel's characters and the layered stories within stories found in every single one of Joe's songs.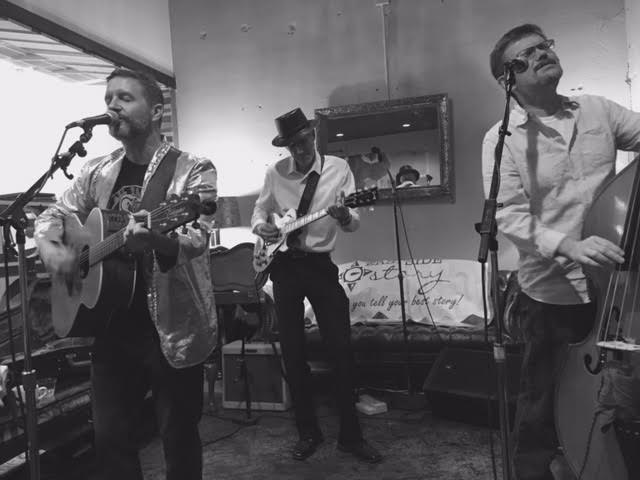 Joe, like Joel, uses different tones and emotions expressed physically with his entire body and through his sounds when he performs his original tunes (again, as you can see in the following pictures above and below). Point being, there was never a dull moment and it all totally hit us just right. I think I decided to put several of these pictures in black and white because you really can't fully grasp how amazing his gold jacket was if you weren't there in person. It was shining as bright as the motifs in every track.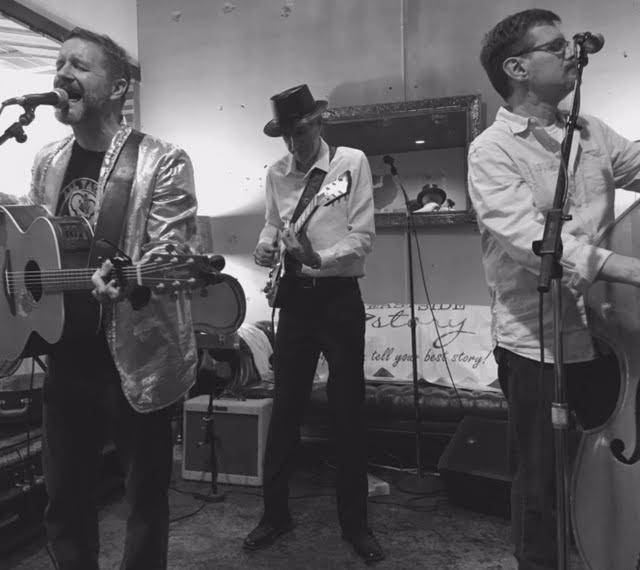 But keeping with the visual takes of this veteran trio, you can see in these pictures, color or black/white, that they are perfectly symmetric in style, energy flow, and giving each other enough space to each do their thing superbly while all the while being close enough to give subtle looks or gestures to change a beat on a dime. It felt like they were a poetic troupe straight out of the beatnik scene. But instead of just words, Joe brought poetic stories to life while JP sounded like a sober Keith Richards and Jerry reminded me of the local stand-up bass legend in Hags. Look. Enough about me ranting about these guys. You can take a listen for yourself below and let me know what you think after you share it a few times over.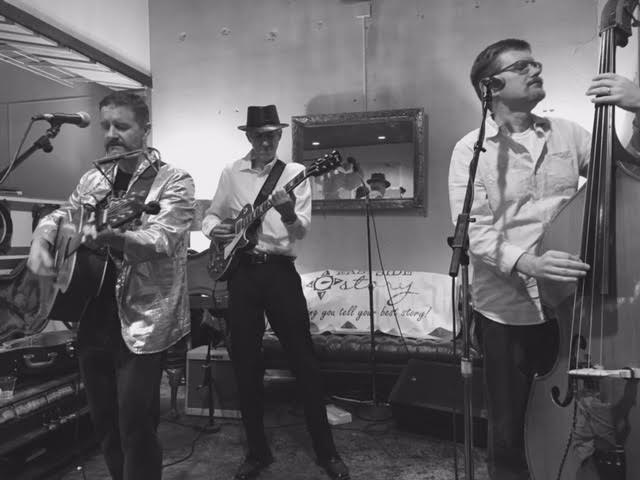 After Joe ended the set with a song with the actual word story involved with it, his partners took a seat and we brought up Joel to the microphone to start a conversation that I'm sure could've easily had lasted 4 hours without us trying. It was filled with laughs, more accents, big hand gestures, easy transitions between the guests to relate on so many creative levels, and it was another beginning of what is sure to be the next story of two artists becoming good friends after being on this show. Joel and Joe are two writers I admire more than most, and it is fairly obvious to me that they should know each other because they spend so much of their time and energy helping other artists become greater at their craft, promotion, and life in general. I'm honored to call both friends, but I'm even more excited to know I'll get these two together sooner than later on another idea that I haven't even asked them about yet. So before I get that crazy cat out of the bag, I'll leave you with one more group photo of the three of us and then some bold words and thanks to follow.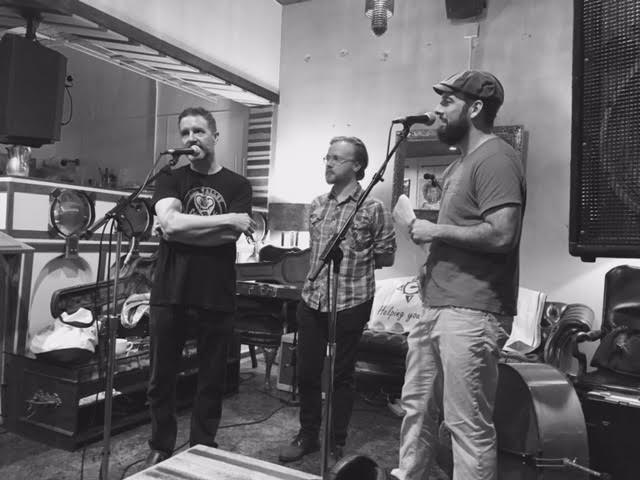 Here it is, the edited recording of East Side Storytellin' 115: the night when Joe and Joel shared original stories and energy with a very happy room at The Post East on Tuesday, September 19, 2017. Please feel free to listen to it on repeat and share it with all of your family and friends.
Before I say goodbye for this round of fun, I'd like to give a big round of thanks for Joel and Joe (and JP & Jerry) for sharing their stories, talents, and time with us.
You can read more of Aaron's writing here –
www.aprilgloaming.com/staff.html, mysteriummagnum.com, waxingandwaning.org, @aaron.jl on Instagram, and @aaron_lain on Twitter.
You can listen to more of Joe's music here –
 www.joenolan.com, mightyjoenolan.bandcamp.com, souncloud.com/joenolan, @pikesproject or @mightyjoenolan on Instagram, and @mightyjoenolan on Twitter.
You can listen to this show, edited, soon, alongside the previous shows too, on our website,www.eastsidestorytn.com, at our In Our Own Words Tab – see here – www.eastsidestorytn.com/in-our-own-words
I'll keep the gratitude going for Tom Eizonas, my lovely wife and most talented artist in Emily Harper Beard (efharper), and everyone that came out live to support the show … and to everyone who has helped continue to spread the word and support the show online afterwards.
Last, but certainly not least, I'd like to give one last shout out to Tonya and Chris for making The Post so welcoming and positively life-changing for the East Nashville community at large.
Our next show will be
East Side Storytellin' 116
Tuesday, October 5th
at The Post (1701 Fatherland Street) at 7pm
reading- James Collins
singing- Abigail Flowers
That said, that's all for East Side Storytellin' 115 and another fabulous event at The Post with East Side Story at the helm. Thanks for coming out and sharing the good word and giving some love to all of these great Nashville artists and our creative ideas. Please remember to be nice to one another out there.
Much love,
mE