Thank YOU, thank YOU, thank YOU. Hello Again! Welcome to another wonderful collaboration between East Side Story and The Post. Let me be the first to officially, whole-heartedly welcome you to the recap and recording 116th epic edition of East Side Storytellin'! Like the 115, I repeat … 115, previous shows East Side Story has put together, we all decided to take a break from our busy schedules all over town in order to sit back and relax and get everyone cultured up just right in the form of a Nashville writer reading from original prose, followed by an amazing local musician performing and talking about their original music, and then a round-up creative conversation with all featured guests of this event to talk about their individual journeys and personal ties to Nashville. Without further ado, fulfilling the entertainment portion of your day, this is the recap and recording of East Side Storytellin' 116. Let us begin, again.
Our first featured artist of the evening is a published poet who has earned a wide variety of writing credits that include plays, musicals, book adaptations for theater, national advertising copy and articles for the St. Petersburg Times and other publications. He has also written non-violent curriculum for schools. He taught creative writing for 6 years for 2 Art Councils in Tampa and St. Petersburg, Florida. Since moving to Nashville, he has written and published 5 books for children, as well as 3 books of poetry…such a slacker. On this given night, we were honored to have him share some new, fresh off the kitchen counter, original work with us. I'm talking about the always refreshing and talented James Collins.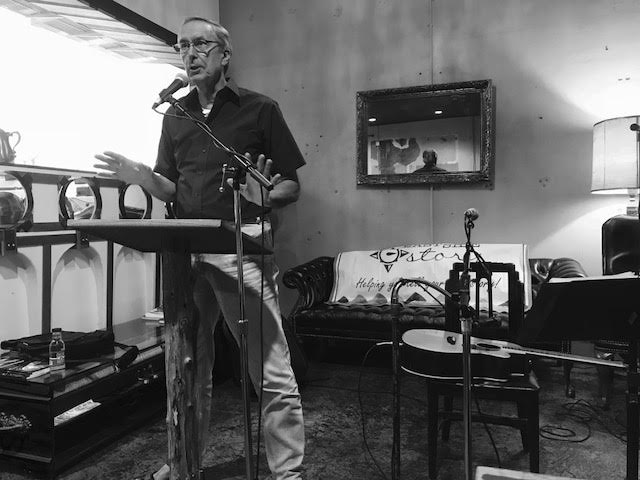 James kicked off his set by announcing to the crowd that he is weird, his words are weird, and this reading was going to be weird, all while shuffling through his prepared work that he had continuously edited and prepared up until the last second. Some of the poems had lines through the title, and those lines were put there mere minutes before the show started. That's how fresh this material was. I told James during the pre-show that sharing creative work that nobody has ever heard or seen before typically gets an astute audience even further on the edge of their seats. This is exactly what happened as James began to deliver his "weird" poetry.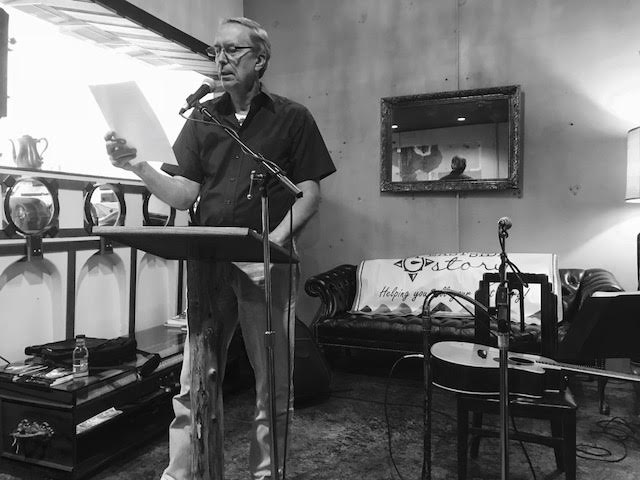 But the thing about it was that none of the poetry or reading was weird at all. James knew exactly where he was going and how he wanted to take us with him, as we walked hand in hand with his poetic walk in the park. And this walk took us places such as trying to find love, natural love, hidden treasures while making journeys through men's work from the head to the heart, and then several poems about the art of aging. Despite the comedic, self-defecating comments about James aging more than most in the crowd (obviously, like the laws of gravity, we are all aging at the same rate in this room), I think the aging content and ideas behind our various processes of accepting our everyday age increase were spot on and absolutely brilliant. Then, after nearly dropping the mic with a poem about the recent eclipse experience, James ended with a cure and a remedy speech as his official/unofficial encore (as demanded by the crowd). There are so many great lines that I took note of during James' set, but the overall adventure between birth and death was at the heart of it all … it always is.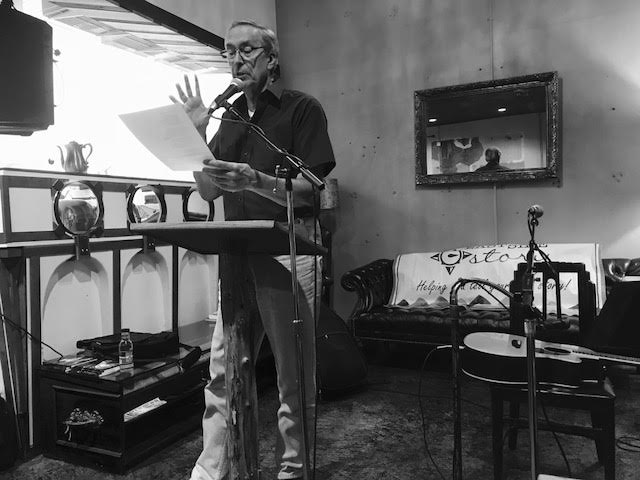 Our featured music of the night was provided by someone who was making the third time a featured charm since she had already shared the East Side Storytellin' stage as a friend to Ally Brown and Kira Hooks. She is a versatile vocalist with a passion for great melodies. Since picking up her first ukulele in 2011, she has been busy combining her smooth vocal tone with the instrument's simple sound to produce an intimate and emotional musical experience you will soon behold. But on this particular event, she left the trusted ukulele at home and instead brought her trusted and talented friend RJ Bracchitta on the guitar. But back to the featured musician. She is a vocalist and songwriter with specialties in jazz, Latin, and singer-songwriter styles. And she has a heart and voice of gold. I'm talking about the bright star on the meteoric rise named Abigail Flowers.
Abigail, who came straight to the show from a church choir practice, immediately brought us good karma, good stories, and a great lead song called "Bobby." She told a short story behind the song. It was about a homeless man/friend she met while doing social work for a year in the Houston area. It was a journey of questions about life, heaven, and everything in between. It was clear that her time in Houston had been a profound experience because she went into another original song about other long-distance friendships from that time right after Bobby.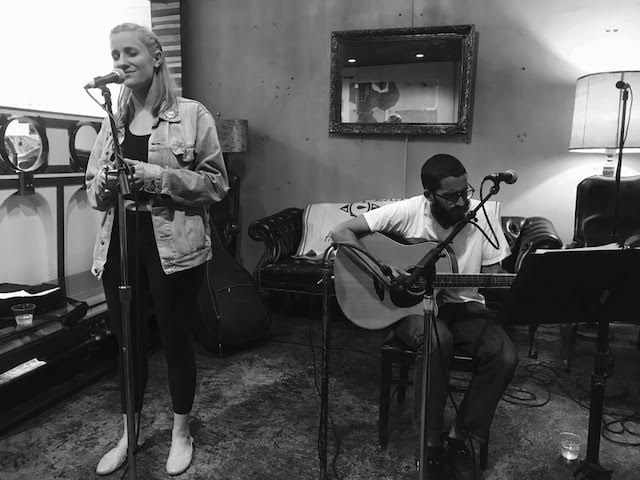 From Houston to family inspired songs, Abigail opened her heart and her vocals by sharing the sweetest 60th anniversary gift any granddaughter has ever made and given to their grandparents. As is the case in most of these recaps, I can't fully give the story or song justice more than you taking time to check it out yourself in the recording below, but know that there were quite a few eyes in the crowd that needed tissues = happy tears, of course. But then, switching from family to relationships with boys who love Hanson, Abigail and RJ revved up the rhythm and soon began playing harmonies off of each other like a dance. They ended the set with a song called "Enough." It was a beautiful reminder that there's nothing out there when you're searching for the wrong things, but there's more than enough in the world when you are searching for the good stuff. And she sang that we get more things by giving it all away. I couldn't have said or sang it better on this given day.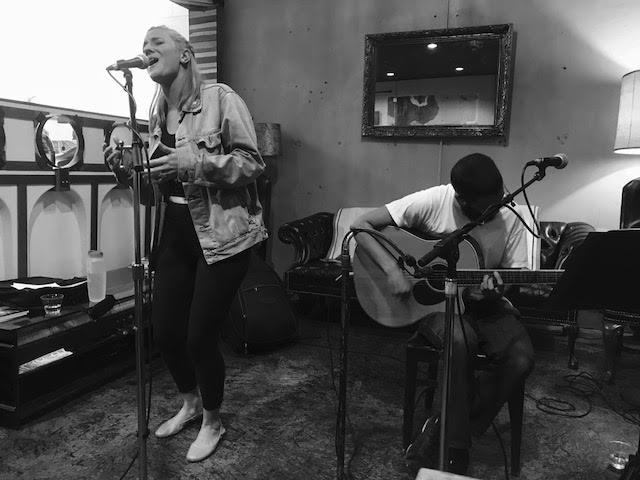 From the music ending, I let RJ jump back into the audience while asking James to return to the stage. Then Abigail and James took me on a quite the conversation about their creative upbringings, adversities, support and lack there of, and honestly articulating what makes them tick each time they go to write new material. They have a few years and different insights between them, but there was a similar passion for finding and sharing the truths they find to be self-evident in their stories. It was an absolute pleasure to share some quality time together while talking with these two humble and great artists.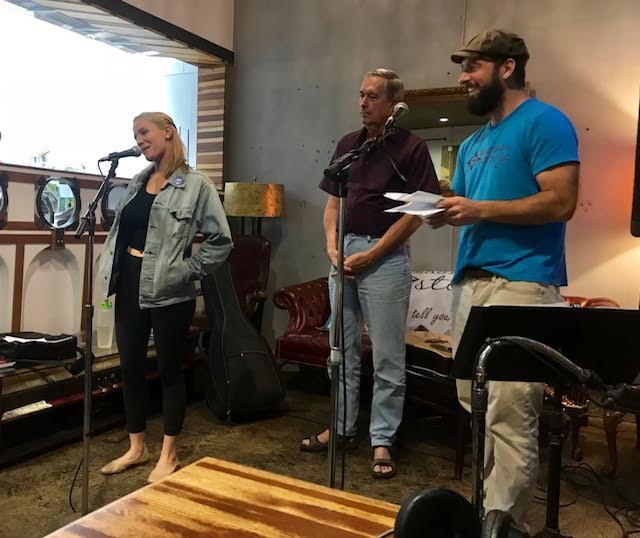 So here it is, the edited recording of East Side Storytellin' 116, the show where we featured James Collins and Abigail Flowers (with RJ Bracchitta) at The Post East on Tuesday, October 3, 2017. Feel free to enjoy and share it with everyone you know, over and over again.
Before I say goodbye for this round of fun, I'd like to give a big round of thanks for James & Abigail for sharing their stories, talents, and time with us.
You can listen to more of Abigail's music here – www.abigailflowersmusic.com
You can listen to this show, edited, soon, alongside the previous shows too, on our website,www.eastsidestorytn.com, at our In Our Own WordsTab – see here – www.eastsidestorytn.com/in-our-own-words
I'll keep the gratitude going for Tom Eizonas, my lovely wife and most talented artist in Emily Harper Beard (efharper), and everyone that came out live to support the show … and to everyone who has helped continue to spread the word and support the show online afterwards.
Last, but certainly not least, I'd like to give one last shout out to Tonya and Chris for making The Post so welcoming and positively life-changing for the East Nashville community at large.
Our next show will be
East Side Storytellin' 117
Tuesday, October 17th
at The Post (1701 Fatherland Street) at 7pm
reading- Carter F. Smith
singing- Ali Sperry
That said, that's all for East Side Storytellin' 116 and another fabulous event at The Post with East Side Story at the helm. Thanks for coming out and sharing the good word and giving some love to all of these great Nashville artists and our creative ideas. Please remember to be nice to one another out there.
Much love,
mE