Thank YOU, thank YOU, thank YOU. Hello Again! Welcome to another wonderful collaboration between East Side Story and The Post. Let me be the first to officially, whole-heartedly welcome you to the recap and recording of the 119th epic edition of East Side Storytellin'! Like the 118, I repeat … 118, previous shows East Side Story has put together, we all decided to take a break from our busy schedules all over town in order to sit back and relax and get everyone cultured up just right in the form of a Nashville writer reading from original prose, followed by an amazing local musician performing and talking about their original music, and then a round-up creative conversation with all featured guests of this event to talk about their individual journeys and personal ties to Nashville. Without further ado, fulfilling the entertainment portion of your day, this is recap and recording of the East Side Storytellin' 119. Let us begin, again.
The first featured artist of the night is a writer, mother, and animal activist that currently calls Nashville home. Her work has appeared in decomP magazine, Moonsick Magazine, 100 Word Story, Sobotka Literary Orphans, and others. She is currently seeking representation for her first novel, The Great Jazz Baby. I first met her when she brought and sold her children's book Tiny Tallulah and The Trouble With Zoos at East Side Story. She later slayed a cool crowd with some original poetry outside of East Side Story near the end of our retail run. No matter if its words for kids or adults, this artist knows what she is doing and where she is going. I have no doubt she'll get proper representation soon, maybe sooner after later once this recap and recording gets out there. Regardless of literary politics, I was as happy as Poppy on Trolls to introduce the pinker than pink and always smiling Ashley Roth.
Ashley was good friends with about 80% of the packed house, so it wasn't uncommon to have to wait a few seconds to let the applause and chants of her name from the crowd to calm down before anyone could speak on the mic. Obviously, from the smiles above and below, Ashley was ecstatic to be featured and present for the occasion. She decided to divide her time by thirds to share a little bit of a few projects. The first was a previously published work titled Mice. Holiday-themed and timed, it was a wild story about family, some alive but some gone without being forgotten, and mice in the house that resembled those found in Cinderella. At times, it was haunting. But it was refreshing, from the details of the smells and setting, all of the time. Plus, I love the name Mabel. The second piece was something to be published soon in Sobotka called Adolescent. It was a special 90's reflection, with two female friends conversing about their likes and dislikes that eventually ended up being a who can top the other person by describing how they would best fantasize their suicide to be more like Kurt Cobain (and definitely not Team Amy Grant). Again, the references, the details of smells and sights, were all spot on.
Then Ashley closed her reading by giving us a professional tease of her book The Great Jazz Baby. I forget the byline that she gave later in the evening, for all listening publishers and agents (you can catch it in the recording below), but it was a vintage time lapse of an original Ashley Roth story. The characters were instantly intriguing and easy to draw anyone and everyone in, and the conversations were as witty and appealing as all get out. Plus, ever since The NeverEnding Story, I have loved the name Sebastian for any fictional character too. I personally can't wait to read the entire story, if she lets me before it's in published print.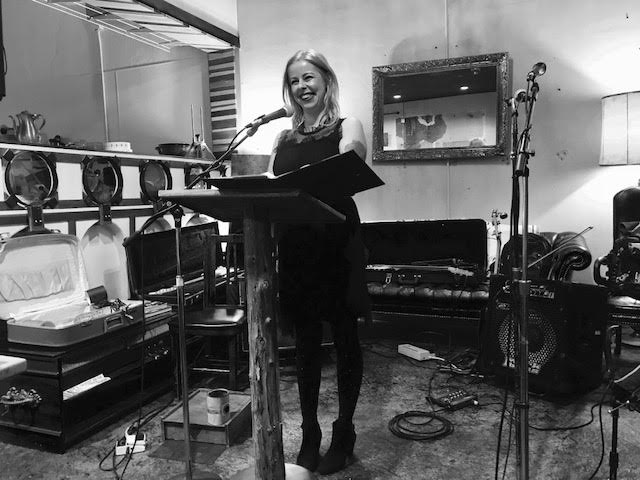 Our featured music of the night is a dear friend of Ashley's and a stellar musician in his own right. He is an experimental folk artist who often uses amplified acoustic instruments, strange projected visuals, and a stomp box created from an upside-down dresser drawer (that he brought for the special occasion), among other things. He tells original stories, inspired from odd observations and humor. He has been described as a fun mix of Frank Zappa, Bill Hicks, Tom Waits, and a touch of Butthole Surfers. His latest album will be called Eye Dropper, but he's here tonight to share some new and old things to inspire our days. Alongside his very talented friends Rob (not Rod) Stewart and Phill (maybe I've been watching An American Tail too many times with my son lately and called Phill Phillie) Thompson, I was delighted to introduce the man, the legend, the talented Dale J.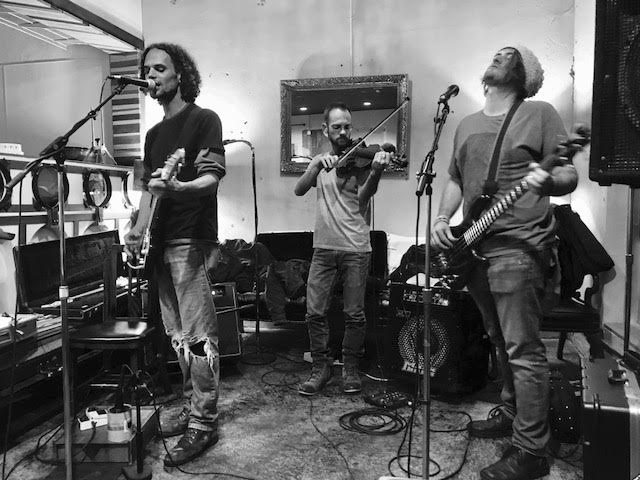 Dale, like Ashley, jumped right into his groove on stage, becoming instant friends with anyone who wasn't already his friend before the show started. It didn't take me long at all to recognize that Dale has a very special condition where he only speaks the truth. I was all ears. From the shout-outs to the West Virginia wine, to the announcement of the fake band name Viking Swimming Pool (I think it's a keeper), to introducing the band and thanking Ashley, me, Tom, and everyone else to coming out for the show before even playing the first note, I was strapped in for an unforgettable experience. Dale and the crew didn't disappoint.
They played and combo of thick and groovy melodies for each jam and intricately weaved in and out of tempos and typos and thoughts and dreams and stories upon stories in and out of song that left my mind reeling from the depths of metaphors that Dale was slinging on stage like some sling spare change on the side walk. Again, I was picking everything up and I wasn't alone. Everyone, on stage and off, was having a good time and using their presence to the max.
The stories about pet lizards (aka Little Man), a pet who was more family and some people consider their biological families, asking boys where the fear comes from despite knowing they've been here before, or being king of the basement steps, being fine down there (here), or trying to settle in when going home, I think I have enough inspirational material to write my next short story to keep me in check. Point being, these stories weren't just contained in the music. Dale continued his wonderful tales of truth after the music faded and Ashley and I joined him on stage for a talk for the show's closure.
We again waited for the joyous chants of Ashley's name from her fans to subside before we really got into some quality talks. Dale continued to talk more about how his mind works within creativity, making his own art, and the act of sharing it with others. Ashley was able to stress how important becoming a parent was for her to her craft and being able to share that with others too. You can listen to the conversation and everything we recorded below, so I won't keep you here long. I will say, though, that the entire evening felt like one of those nights I know I've had (I'm pretty sure you have too) where you were surrounded by good friends having the best of talks long into the night and early morning. You know, the type where your friends share things from their journals or stories from their pasts or goals in the future or songs they've written or grabbing a random instrument laying around in the room and playing it wildly and perfectly, even if you didn't know they could actually play that instrument they put together on the fly. Again, point being, it was one of those nights where magic happened between kindred spirits and random tidbits of truth are dropped and you wake up the next morning wondering if it all actually really happened and you try to remember every single magical detail or truth dropped to apply it to you day and then you remember it was really real and the magic is already inside you and didn't go over your head (it hit and stuck on your heart). So yeah.
Before I say goodbye for this round of fun, I'd like to give a big round of thanks for Ashley and Dale (and Rob & Phill) for sharing their stories, talents, and time with us.
Go ahead and get you a taste of the magic we all experienced with Ashley Roth and Dale J (and Rob not Rod Stewart & Phill the Phillie Fievel Mousekewitz Thompson) by listening to this edited recording of East Side Stortyellin' 119 that we hosted at The Post East on Tuesday, November 21, 2017. It was an honor and one-of-a-kind night. Enjoy and share this link, over and over again, with family, friends, and complete strangers over this holiday weekend. Also, remember to be thankful for at least two things today, on top of being nice to one another.
You can read more of Ashley's writing here – www.ashleynroth.com
You can listen to more of Dale's music here – facebook.com/dalej369
You can listen to this show, edited, soon, alongside the previous shows too, on our website,www.eastsidestorytn.com, at our In Our Own Words Tab – see here – www.eastsidestorytn.com/in-our-own-words
I'll keep the gratitude going for Tom Eizonas, my lovely wife and most talented artist in Emily Harper Beard (efharper), and everyone that came out live to support the show … and to everyone who has helped continue to spread the word and support the show online afterwards.
Last, but certainly not least, I'd like to give one last shout out to Tonya and Chris for making The Post so welcoming and positively life-changing for the East Nashville community at large.
Our next show will be
East Side Storytellin' 120
Tuesday, December 5th
at The Post (1701 Fatherland Street) at 7pm
reading- Michael McRay
singing- Emma Dilemma
That said, that's all for East Side Storytellin' 119 and another fabulous event at The Post with East Side Story at the helm. Thanks for coming out and sharing the good word and giving some love to all of these great Nashville artists and our creative ideas. Please remember to be nice to one another out there.
Much love,
mE