Thank YOU, thank YOU, thank YOU. Hello Again! Welcome to another wonderful collaboration between East Side Story and The Post. Let me be the first to officially, whole-heartedly welcome you to the recap and recording of the 91st epic edition of East Side Storytellin'! Like the 90, I repeat … 90, previous shows East Side Story has put together, we all decided to take a break from our busy schedules all over town in order to sit back and relax and get everyone cultured up just right in the form of a Nashville writer reading from original prose, followed by an amazing local musician performing and talking about their original music, and then a round-up creative conversation with all featured guests of this event to talk about their individual journeys and personal ties to Nashville. Without further ado, fulfilling the entertainment portion of your day, this is the recap and recording of East Side Storytellin' 91. Let us begin, again.
The first featured artist of the night sometimes goes by the name Catfire Queen, but I first met her as the cool younger sister of one of the coolest teachers/students at Sewanee's School of Letters. The next time I met her, two years to the very date of this show, she stormed through Music City and partied on the road while punching typewriter keys alongside her good friend and Upright Citizens Brigade companion, author/publisher Traci Lavois Thiebaud. This girl, not Traci, in between school and travels, recently managed to write and publish her first book of poetry by the title Nine Lives of Catfire (you can purchase a copy at East Side Story). Taking a night off of writing and working on her Master's thesis at Belmont University, I was happy as all get out to finally introduce the likes of Ms. Catfire Queen herself, Sally Harvey Anderson!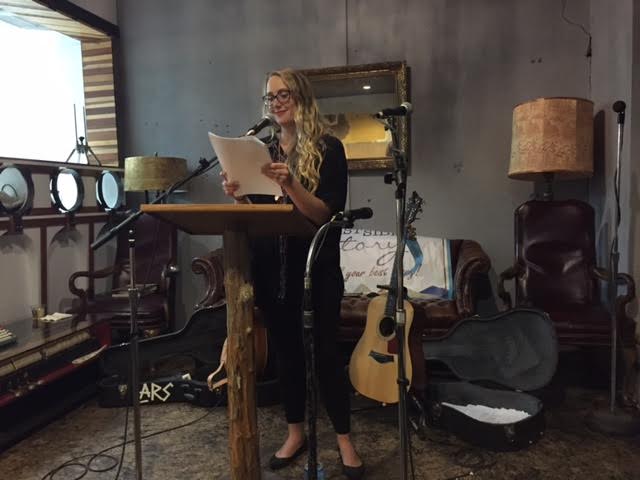 With a packed house of family, friends, classmates, and everything in between, Sally was more than read to take the stage. She not only had her mother in the crowd, she had an assortment of spirits to share with everyone of age and spirit. She carried her fresh notes and a copy of her latest book, and she took to the microphone like a pro. She jumped right into the work and didn't stop. One of the coolest things about Sally's work, at least for me, she is an artist who dives into some pretty deep, dark, and personal territory (like the Devil's wife named Mavil-spell check?- or the demon game or experiencing her first menstrual cycle while on a family vacation in Europe … you know, things we can all obviously relate to) and then comes out the other side of the prose with a level of understanding, honesty, and positivity matched by few.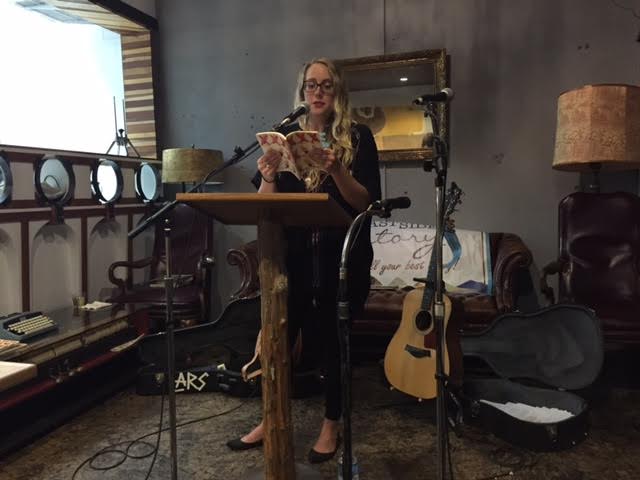 Before she took a break from the limelight, Sally took the opportunity to deliver two very powerful poems and a character to grow on. One was titled Fuck the 2nd grade, a tale inspired by a teacher that tried to tell her that there was no such thing as magic. The second, The Forms, was a political rant that could've easily been mistaken as a new song by Public Enemy in lieu of the political shit storm that we live in these days. She dropped the lyrics with a tempo and flare that few poets have thrown down on our show so far. And then, before sitting down, she gave us a glimpse of the inspirational protagonist from her soon to be finished thesis novella. I'll let you take a listen to the recording below to get a good picture of everything Sally said.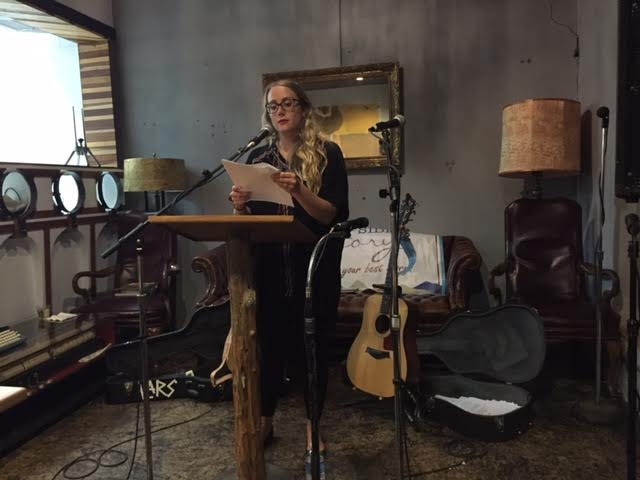 Our featured music of the night is comprised of two northern-born songwriters who met on an island called Martha's Vineyard in 2010. I first met and saw them open at an old-fashioned East Nashville house show for Dave of Good Wood Nashville. They played alongside one of my all-time favorite musical groups, dead or alive, and no, the band is not the Bon Jovi tribute band. I'm talking about The Rough & Tumble. Anyways, these two relocated to Nashville in 2011 and came up with their own band name. They are an Indie-Americana duo like few others, drawing from inspiration for songs both from their own experiences and the lives of people they around on a daily basis. Others have compared them to First Aid Kit and The Milk Carton Kids, but I think they're better. It was truly an honor to introduce these two fine human beings, Hannah Smith and Alissa Abeler. Together, they rock the world as The Daily Fare!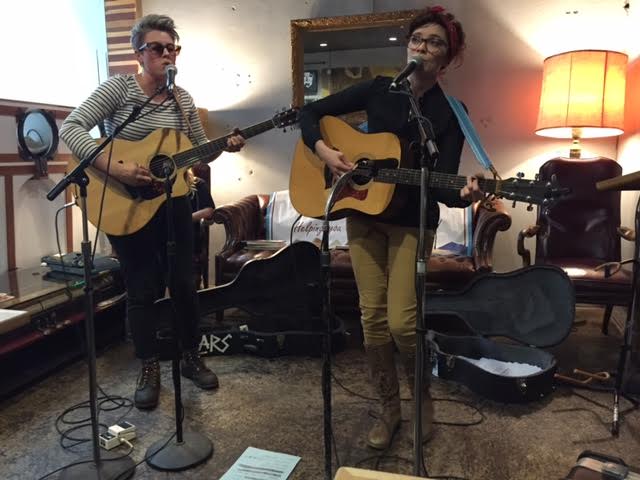 These girls immediately jumped head and heart and instruments first into a song called Runaway. It was something so beautiful I don't want to even talk about it and demean it with my unworthy adjectives. It's not every show when Tom looks over to me mid-recording and says, "These girls can sing." Tom said this to me at least three times. The Daily Fare is that good.
But not only are they very talented, they share a similar wit and humor to that of their creative counterparts in The Rough & Tumble as well. The opened up the discussion with the crowd to come up with a proper name suitable for one of their tracks that they have refused to play a lot in the past because they hated the original undisclosed name. Several in the crowd spoke up with suggestions after the song was played, and I believe they will finally be able to feel confident about naming that song and sharing it more often after this show's performance. From the playing of the song without a name came another beautiful song that was so fresh off the dock that both thought for sure they were going to mess it up while playing it in public for the first time. Needless to say, they didn't mess it up, at least not that I or anyone else could tell or know different. Seriously, these girls can sing (and harmonize like a choir).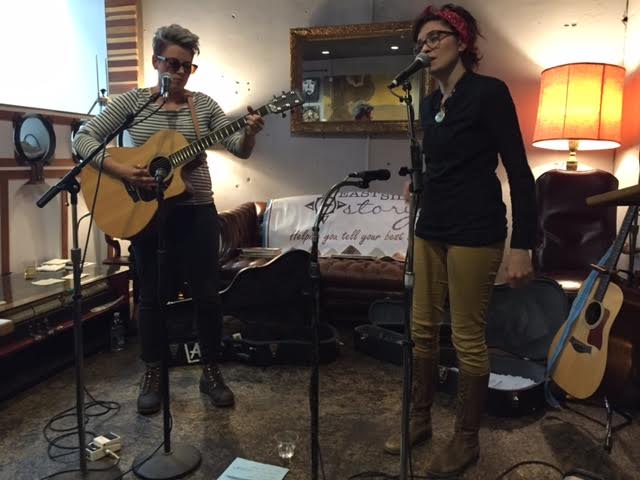 You can't tell from the picture above, the The Daily Fare was up to the idea of making this an extra special show from the start. They were open to Sally's desire to bring a typewriter on stage and sit behind the music and to type original poetry inspired by the performance. They later said the typing calmed them and felt natural since they write most of their songs amidst the commotion of everyday life. Someone in the crowd mentioned that they didn't even notice the typewriter cranking out prose until the band mentioned it at one point. Point being, it made a good show even better for all involved. I had another chance to ask the featured artists some personal questions about their craft and their creative adventures, and I felt that everyone had a blast, from the stage to the packed house where there was maybe one seat available in the entire lot. If you were there, you know what I'm talking about, and thanks for coming out.
So here it is, the edited recording without any F-bombs (sorry, you have to come to the show in person to get the unfiltered magic) of East Side Storytellin' 91 that featured Sally Harvey Anderson and The Daily Fare at The Post on Tuesday, September 20, 2016. Please listen to it and share with everyone you know, over and over again.
Before I say goodbye for this round of fun, I'd like to give a big round of thanks for Sally, Hannah, and Alissa for sharing their stories, talents, and time with us.
You can read more of Sally's writing here – whatevermom.storenvy.com/products/15445650-nine-lives-of-catfire
You can listen to more of The Daily Fare's music here – www.thedailyfaremusic.com
You can listen to this show, edited, soon, alongside the previous shows too, on our website, www.eastsidestorytn.com, at our In Our Own WordsTab – see here – www.eastsidestorytn.com/in-our-own-words


I'll keep the gratitude going for Tom Eizonas, my lovely wife and most talented artist in Emily Harper Beard (efharper), and everyone that came out live to support the show … and to everyone who has helped continue to spread the word and support the show online afterwards.
I'd also like to show much love to Clay Brunton for the beautiful artwork online to promote the show.
Last, but certainly not least, I'd like to give one last shout out to Tonya and Chris for making The Post so welcoming and positively life-changing for the East Nashville community at large.
Our next show will be
East Side Storytellin' 92
Tuesday, October 4th
at The Post (1701 Fatherland Street) at 7pm
reading- Blu Sanders 
singing- Andrew Ray Adkins 
That said, that's all for East Side Storytellin' 91 and another fabulous event at The Post with East Side Story at the helm. Thanks for coming out and sharing the good word and giving some love to all of these great Nashville artists and our creative ideas. Please remember to be nice to one another out there.
Much love,
mE