Thank YOU, thank YOU, thank YOU. Hello Again! Welcome to another wonderful collaboration between East Side Story and The Post. Let me be the first to officially, whole-heartedly welcome you to the recap and recording of the 95th epic edition of East Side Storytellin'! Like the 94, I repeat … 94, previous shows East Side Story has put together, we all decided to take a break from our busy schedules all over town in order to sit back and relax and get everyone cultured up just right in the form of a Nashville writer reading from original prose, followed by an amazing local musician performing and talking about their original music, and then a round-up creative conversation with all featured guests of this event to talk about their individual journeys and personal ties to Nashville. Without further ado, fulfilling the entertainment portion of your day, this is the recap and recording of East Side Storytellin' 95. Let us begin, again.
The first featured artist of the night is a writer whose fiction and poetry has appeared in more literary anthologies and publications that I could list in an hour. She never pigeon holes her prose or ideas into one particular concept. Her chapbook The Value of Sacrifice deals with the theme of healing from breast cancer. In The Shade of A Forest deals with young motherhood. She's had CD's of her poetry recorded and one, A Touch of Pizzazz was recorded for fans of the internally syndicated cartoon series JEM & THE HOLOGRAMS (which she played the antagonist, Pizzazz). She has read at Writings On The Wall, Poetry in the Brew, Lyrical Brew, the Global Education Center, Poetree with The Porch, and now she can add East Side Storytellin' to the growing list. I'm talking about the one and the only Patricia Alice Albrecht.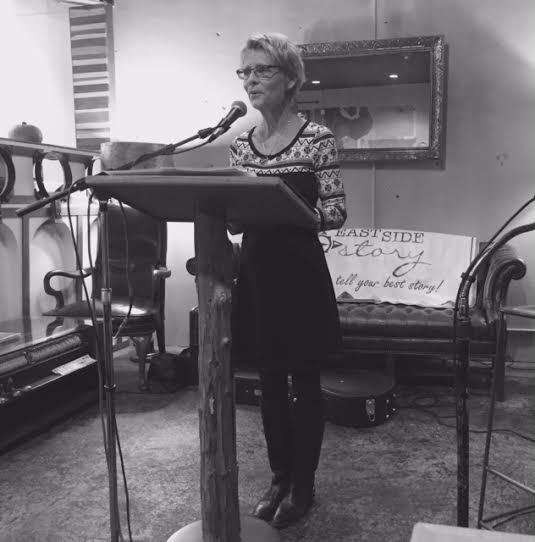 Patricia is like dynamite. She is petite in size, but she blows up the joint with awesome words and ideas when she is on fire. Right from the first word, she was on fire. Patricia gave some love to the show and everyone in the crowd before diving into a plethora of powerful poems that resonated heavily with her father's influence. It wasn't mentioned out loud, but Patricia told me before the show that it was serendipitiously the anniversary of the passing of her father and that she rarely publicly shares some of the more meaningful poems inspired from her father's relationship … but she planned on it for this special occasion. We were all honored by the gifts she shared. Whether the poems had originated from creative prompts about owls, abundance, the last of the toothpaste, famous quotes (like "What is the poem underneath the poem" or Joseph Campbell's, "When the world is falling apart, keep to your own trajectory, hang on to your own ideals and find kindred spirits"), Patricia was spot on. Without talking about the election, she, like most artists in this city so far, spoke with her actions. By sharing her work, she embodied JFK's eulogy for Robert Frost, "When power corrupts, poetry cleanses." Point being, I wasn't alone in the room feeling cleansed by the original work by Patricia.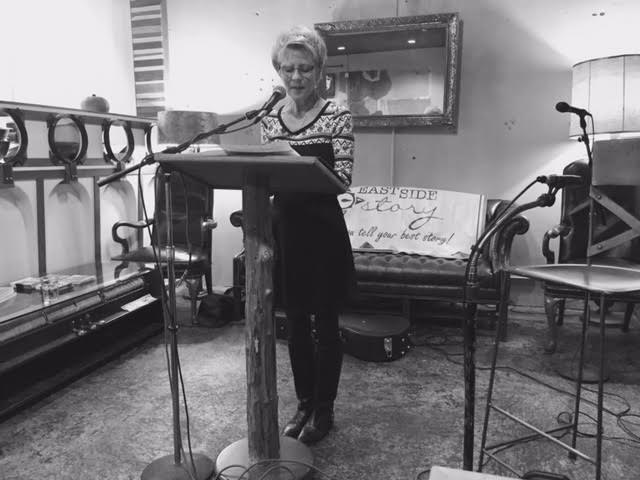 Our featured music of the night is a mutual friend of one of our favorite alumni in Erin Rae and we were over the moon excited to hear her do her thing. Her 2011 release, Time is Medicine, like all of her music, reveals beautifully crafted melodies and angelic refrains that attract followers from fans and fellow musicians near and far. Like the publishing record of our featured author, our featured musician has had more impressive creative collaborations than I could list in an hour. Hailing from Georgia, we are proud to call her a Nashvillian and finally have her be a part of our East Side Storytellin' show. It didn't matter if she forgot her guitar strap at home, she was ready to get on her high stool and share her songs. I'm talking about the extremely talented songbird Molly Parden.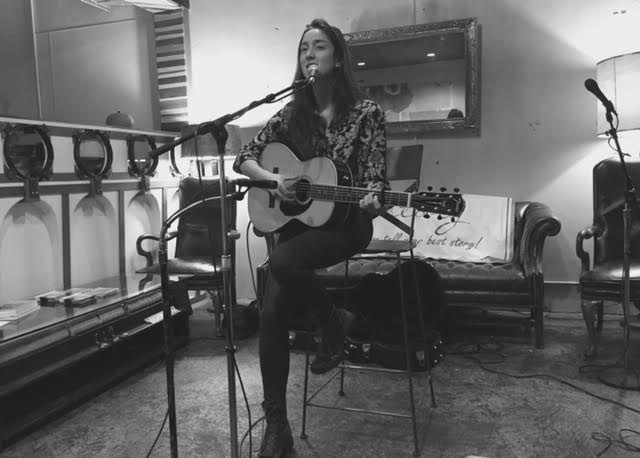 Molly is very shy by nature. She told the audience that she is everything Southern … she writes songs slowly, she processes life slowly, but she knocks the socks off everyone she sings in front of immediately. On this specific date, songs like Kentucky Eye, Weather, and I Know You Can hit me right to the core. They reminded me of my home state formative years, with past friends and memories living and dead. Molly has an extraordinary gift of taking simple words and melodies and transforming them into something so beautiful it could bring anyone to tears. And, more striking than anything else, she sings so eloquently so easily and seemingly effortlessly. You need to go see her perform live to know what I'm talking about. In the end of the set, Molly smiled as she said that she saved her saddest song for last. That made everyone laugh. Then, when she sang it, everyone was silent and in tune with her message. It was really something to behold.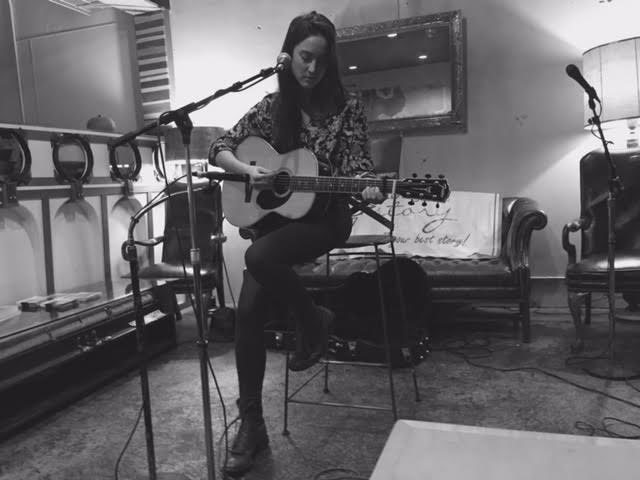 I was grateful to yet again have the opportunity to casually talk to both featured artists to shed light on their background and motivation for creating art and doing their things. We made Molly laugh. We got stellar insight into the fan world of JEM and The Holograms ("Shut up, pigface!"). We had a great time with great company of friends and family and new people all around.
I must say something else. I know that this election was hard for everyone. The election and everything surrounding it has left us all in a daze and quite a funk. Sure, the super moon didn't help with that feeling, but I feel like I wasn't alone (being redundant here) when I say that the combination of Patricia and Molly's art soothed the nature of the ill vibes circulating and permeating our worlds online and off. It certainly was a cure for all that ailed me recently. And if for that reason alone,  I'm so excited to be able to share it with you below in the recorded form.
So here it is, the edited recording of East Side Storytellin' 95 that featured Patricia Alice Albrecht and Molly Parden  at The Post on Tuesday, November 15, 2016. Please listen to it and share with everyone you know, over and over again.
Before I say goodbye for this round of fun, I'd like to give a big round of thanks for Patricia and Molly for sharing their stories, talents, and time with us.
You can read more of Patricia's writing here – http://patriciaalicealbrecht.com
You can listen to more of Molly's music here – www.mollyparden.com
You can listen to this show, edited, soon, alongside the previous shows too, on our website, www.eastsidestorytn.com, at our In Our Own Words Tab – see here – www.eastsidestorytn.com/in-our-own-words
I'll keep the gratitude going for Tom Eizonas, my lovely wife and most talented artist in Emily Harper Beard (efharper), and everyone that came out live to support the show … and to everyone who has helped continue to spread the word and support the show online afterwards.
I'd also like to show much love to Clay Brunton for the beautiful artwork online to promote the show.
Last, but certainly not least, I'd like to give one last shout out to Tonya and Chris for making The Post so welcoming and positively life-changing for the East Nashville community at large.
That said, that's all for East Side Storytellin' 95 and another fabulous event at The Post with East Side Story at the helm. Thanks for coming out and sharing the good word and giving some love to all of these great Nashville artists and our creative ideas. Please remember to be nice to one another out there.
Much love,
mE
Our next show will be
East Side Storytellin' 96
Tuesday, December 6th
at The Post (1701 Fatherland Street) at 7pm
reading-Leanne Smith (www.leannewsmith.com)
singing- The Arcadian Wild (www.thearcadianwild.com)