Thank YOU. Thank YOU. Thank YOU. Hello again. Welcome to another wonderful collaboration between East Side Story and The Post. Let me be the first to officially and whole-heartedly welcome you to the recap and recording of the 97th epic edition of East Side Storytellin'. Like the 96, I repeat … 96, previous shows East Side Story has put together, we all decided to take a break from our busy lives in order to sit back and relax and get everyone cultured up just right in the form of a Nashville writer reading from original prose, followed by a local musician performing and talking about their original music, and then a round-up creative conversation with all featured guests of this event to talk about their individual journeys and personal ties to Nashville. So, without further ado, fulfilling the entertainment portion of your day, this is the recap and recording of East Side Storytellin' 97. Let us begin, again.
The first featured artist of the night is a extraordinary writer and software developer in Nashville. She is one of the most well-respected local poets I've come across to date. Her work has been published or forthcoming in Poetry, African American Review, Boston Review, Third Coast, West Branch, and many others. She has earned scholarships from Colrain Manuscript Conference, fellowships from Sewanee Writer's Conference, and has won more prizes and acclaim for her poetry than most people I know combined (and that says a lot). She has already been featured in work sold at East Side Story via her inclusion in Third Man Books' Language Lessons, but this night we solely focused on here writing and her writing alone. I'm talking about the one and only TJ Jarrett.
TJ broke the ice with everyone be letting us all know that she was going to share what she called her B-side poems. These were works that had not found the light of day or night in some time, never published in any of her print titles yet and most had never been shared with public ever or in a very long time. Tonight was the night she was ready to share them again in a new light.
TJ has a powerful presence, a powerful voice, and probably the most powerful artistic insight translated from her life into her work that I have ever experienced. Everything is poignant, deep, and spot on for you to appreciate in your own life instantly. I was particularly blown away by the directness and simplicity of several of the following lines in different poems shared:
I want to be good.
You have learned early what I have learned late.
How does the Earth handle all of these geographies, all of these changes?
They call this victory.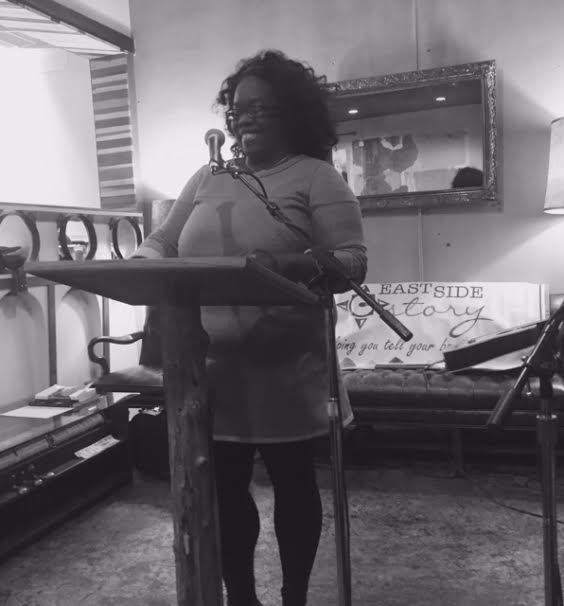 They call this victory. I call having TJ on our show a complete victory. You can listen to the context of the lines above and many more that she shared in the recording link below. She says it all much better than I can write her material. You'll find the context in which she shared her thoughts and stories, and I'm sure you'll find something you can connect with on a multitude of levels. That's what TJ does for everyone. She takes personal narratives and experiences and transforms them into literary adventures that you can go on with her and come out the other side changed for the better every single time. She is a treasure to Nashville and the literary world in general. We were so happy to showcase her work for a brief moment to end 2016 in style.
Our featured music of the night is brought to you by a long-time fan and friend of East Side Storytellin'. He is a an experimental singer-songwriter, combining folk-influenced songwriting with jazz, blues, rock, and spoken-word. A native New Yorker, we are proud to call him a Nashville resident. He has performed with his Cuban guitar and American bass in New York venues such as Le Poisson Rouge and Rockwood Music Hall, as well as many others from New Orleans to Florence, Italy. He has been featured in The New Yorker, Time Out New York, The Deli, I Care If You Listen, NPR, and now East Side Storytellin'. I'm talking about my friend Matt Siffert.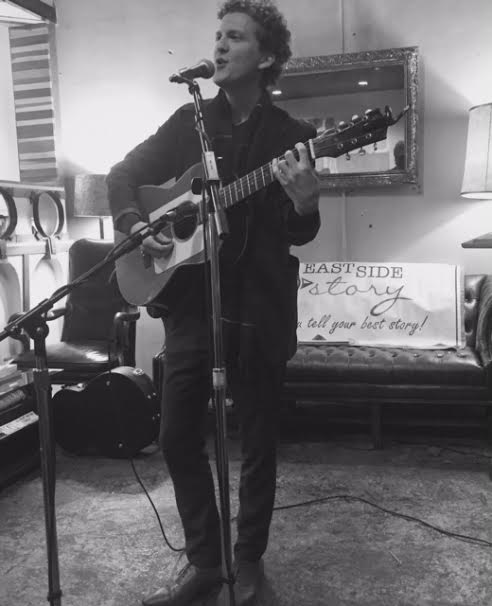 Matt jumped right into his zone with the coolest guitar I've seen in a minute, and he took command of his work in front of a sea of people in the crowd. He gave credit to friends who had inspired some of the songs he stripped down for the special set, and it was a special set indeed. It went through several styles of melodies and lyrics. My personal favorite was a short shout out of sorts to a girl in Utah. If you blink, you'll miss it and her.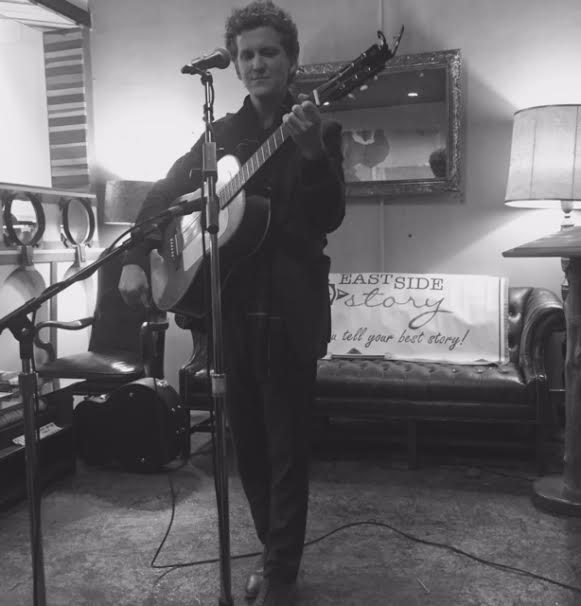 But that's the thing with Matt and his music. He's documenting his personal journey and giving us a soundtrack to his adventures, all the people and places he experiences. His set and his music is the epitome of what I envision the New York experimental scene embodies, mixing beat poetry from a half century ago with political observations of current situations and a love story amiss or two in between, Matt does his best to cover the gambit. Again, it was about time to get him featured on this East Side Stortytellin' trip.
I can't think of a better way to close 2016 than with the likes of  TJ Jarrett and Matt Siffert. They stuck around to give detailed, enlightening, and entertaining answers to what motivates them to do what they do, past, present, and future. There were many laughs, on stage and off, and, as is the case with every show we've put together to far, everyone had a good time. Is there anything else we can ask of for each day we are alive? I think not, but that's just my opinion. I can share with you a fact though. You don't have to kick yourself for missing the 97th show in person. We record every single show so that you can share the experience we had together with everyone you know. You're welcome.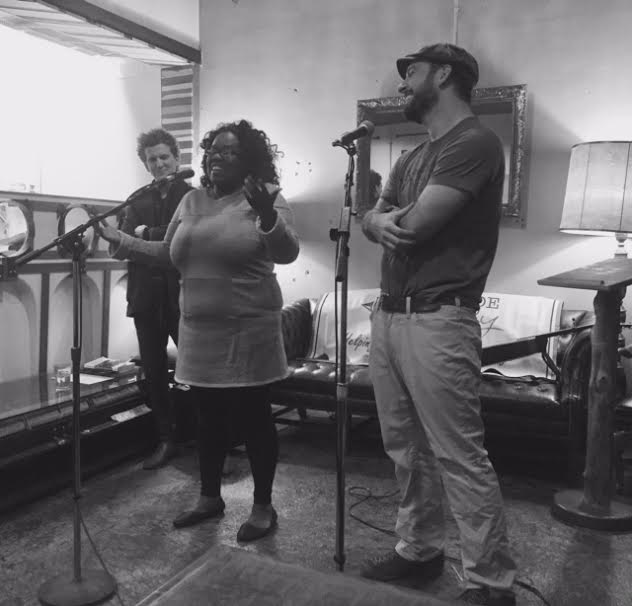 So, here it is, the edited recording of East Side Storytellin' 97 that featured TJ Jarrett and Matt Siffert at The Post on Tuesday, December 20, 2016. Please listen to it and share with everyone you know, over and over again.
Before I say goodbye for this round of fun, I'd like to give a big round of thanks for TJ Jarrett and Matt Siffert for sharing their stories, talents, and time with us.
You can read more of TJ's writing here – www.tjjarrett.com 
You can listen to more of Matt's music here – www.mattsiffert.com
You can listen to this show, edited, soon, alongside the previous shows too, on our website, www.eastsidestorytn.com, at our In Our Own WordsTab – see here – www.eastsidestorytn.com/in-our-own-words
I'll keep the gratitude going for Tom Eizonas, my lovely wife and most talented artist in Emily Harper Beard (efharper), and everyone that came out live to support the show … and to everyone who has helped continue to spread the word and support the show online afterwards.
I'd also like to show some extra love to Clay Brunton, for the beautiful artwork online to promote the show and being an all-around amazing human being, father, husband, brother, and friend. If you have time, please send extra positive thoughts and prayers to Clay and his family right now while one of his closest relatives faces a recovery from surgery and some other complications.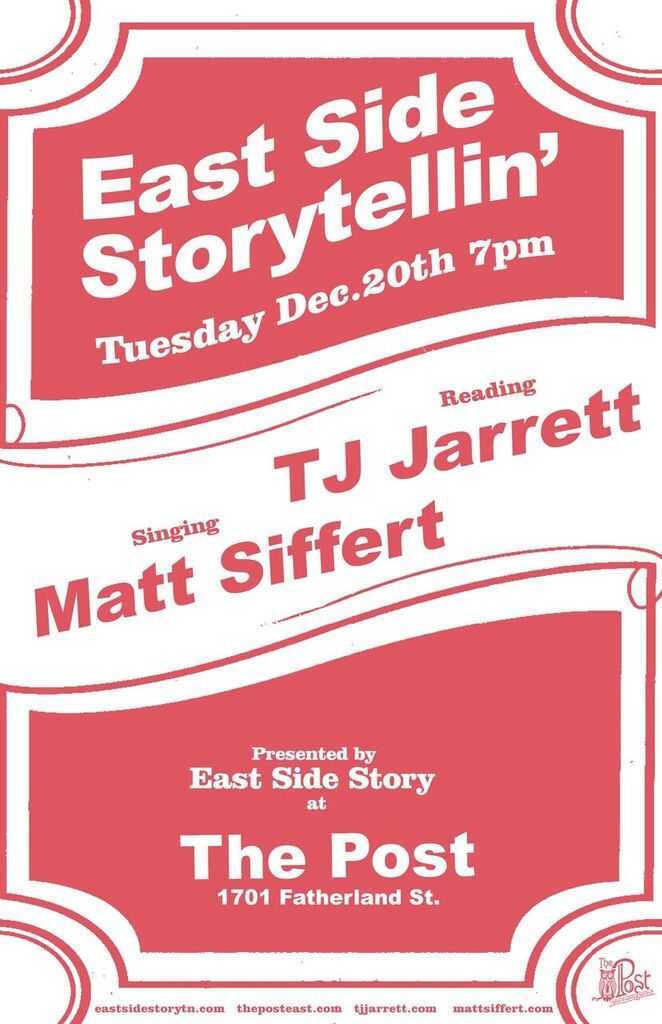 Last, but certainly not least, I'd like to give one last shout out to Tonya and Chris for making The Post so welcoming and positively life-changing for the East Nashville community at large.
Our next show will be …
East Side Storytellin' 98
Tuesday, January 3rd
at The Post (1701 Fatherland Street) at 7pm
reading- Liza Kawaller (@lkawaller)
singing- Machaela-Catherine Nesler
That said, that's all for East Side Storytellin' 97 and another fabulous event at The Post with East Side Story at the helm. Thanks for coming out and sharing the good word and giving some love to all of these great Nashville artists and our creative ideas. Please remember to be nice to one another out there.
Much love,
mE