Thank YOU, thank YOU, thank YOU. Hello Again! Welcome to another wonderful collaboration between East Side Story and The Post. Let me be the first to officially, whole-heartedly welcome you to the recap and recording of the 98th epic edition of East Side Storytellin'! Like the 97, I repeat … 97, previous shows East Side Story has put together, we all decided to take a break from our busy schedules all over town in order to sit back and relax and get everyone cultured up just right in the form of a Nashville writer reading from original prose, followed by an amazing local musician performing and talking about their original music, and then a round-up creative conversation with all featured guests of this event to talk about their individual journeys and personal ties to Nashville. Without further ado, fulfilling the entertainment portion of your day, this is the recap and recording of East Side Storytellin' 98. Let us begin, again.
Our first featured artist of the evening is someone I first met as a fellow "judge" at an event for Southern Word at the Frist Center for the Visual Arts not too long after she moved to town. She is not just a judge. She is an artist. She was trained in an acting conservatory and spent some quality personal growing time in LA. Instead of reading other people's lines, she decided that making her own was way more fun. She began writing one day while studying abroad, and hasn't stopped since. She likes to explore topics that may be traditionally difficult to talk or think about, all the while giving people the mental space to sit with some cognitive dissonance through her work. She is also on the development committee of Southern Word, but tonight she is here to share her Southern words. The room was filled with friends, old and new, to listen and pay attention to the wonderful Liza Kawaller.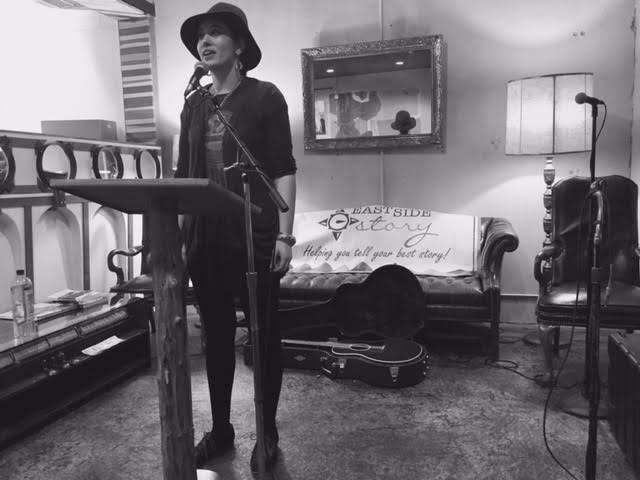 Liza stepped to the mic and completely blew everyone away. I'm serious. I mean, I had seen her read before and expected something awesome, but she really outdid herself. She did a piece about someone on death row, another person battling addiction, some ladies inside of sex trafficking, and then something inspirational for people going through the process of change. Throughout her powerful words, words she recited from memory alone mind you, she changed her tempo and inflection from slow to extremely fast and soft as a whisper to "get out of my way because I have something to say that will not only smack you in the face, it will change your mind-set" kind of poems. At one point, it almost sounded like she was singing within her verses. It was a fantastical verbal journey and roller coaster. It was a mental ride that many people in our society need to go on these days. I was honored to witness it in person and in the front row, but I'm also thankful you can go back and listen to her selected works again and again in the recording below. Do yourself a favor, and take a listen below and go to the next reading Liza performs. You're welcome.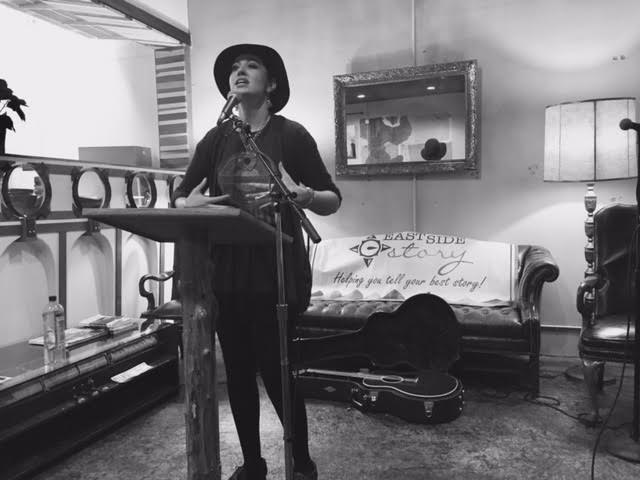 Our featured music of the night was brought to my attention by a very dear group of mutual friends who just so happened to be in the crowd on this night and were recently added to the East Side Storytellin' family in that of The Arcadian Wild. Born in Nashville and raised in music, this lady inherited her father's ear for songwriting and was gifted a voice like few other from another higher power. She is a young artist with an old soul, combining years of experience with a wealth of tested raw talent. With the release of her first EP titled Bulletproof, she is more than ready to make 2017 unforgettable in the best of ways. I can't say too many great things about this amazing woman with songs of gold. I'm talking about Ms. Machaela Nesler. Remember this name. Remember her smile. Remember her songs.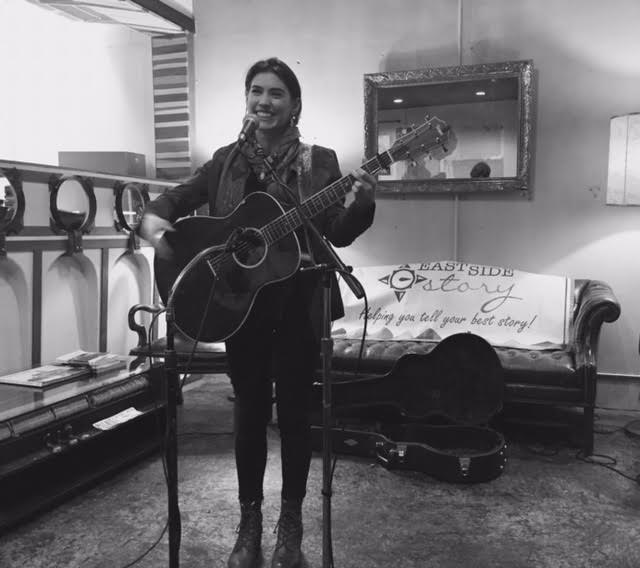 Machaela approached the stage in noticeable awe of following Liza's powerful performance. I made a comment of assurance in between the final set-up time with Tom because I knew from hanging out before the show and listening to her work on a new song in the making during soundcheck that this was going to be a killer pairing of a show. I wasn't wrong. Machaela sang original, heartbreaking, personal, and raw lyrics with soft volumes and melodies that were not only brilliant, but everyone in the room instantly connected with her and her music. Opting to share her brand new song, barely finished with writing the lyrics or living them, she had to pause a few times to let the tears take their place on her face and the set. Everyone in the room wanted to give her a virtual hug to let her know everything was okay and she was so brave to share something so beautiful and personal with a room of friends and attentive strangers, but I think she got the message and feeling crystal clear as she mustered up enough strength to finish her song and her set of other songs just as touching. I know I'm a barrel of compliments on these recaps, but Machaela's set and Machaela in general won over this crowd and made a very special moment like few I've ever witnessed in this city (no matter who was on the bill or what venue was closest to The Ryman or not). Again, I'm being totally serious, this artist is yet another star that will be appreciated by many and will connect with countless before her time is over. Just listen to the recording below and buy her music online already.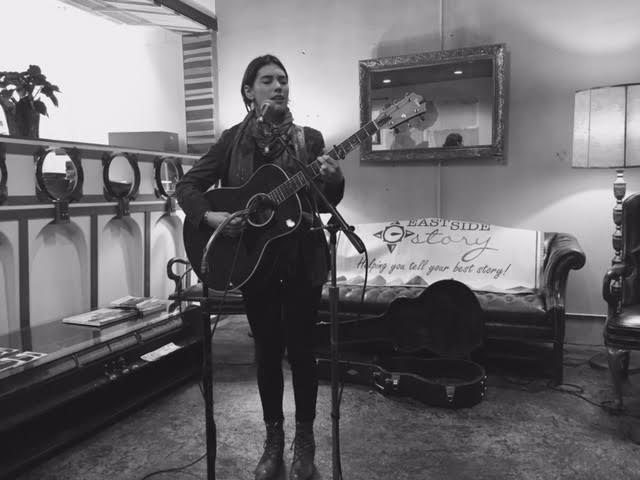 Before I get to the ending of this recap, I just want to say that I was honored to have both Liza and Machaela on East Side Storytellin'. There were a few people who came to the show and spoke with me afterwards that let me know it was their first time to see our show and that this was a tremendous beginning to them coming to many more sooner than later. They enjoyed the reading, the music, and the interview afterwards where I got to get just below the creative surface and smiles of what inspires Liza and Machaela to create and share their creative and enlightening art. You can tell from the picture below that we all had a fun time on a random Tuesday night to get this 2017 off in the right direction.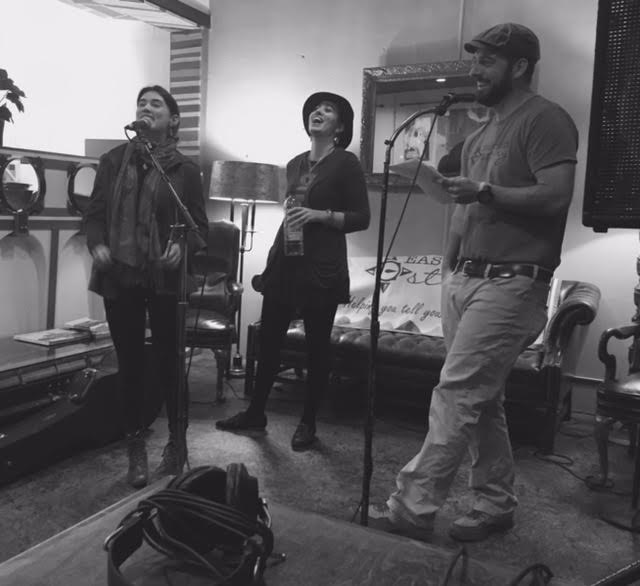 Before I say goodbye for this round of fun, I'd like to give a big round of thanks for Liza and Machaela for sharing their stories, talents, and time with us. They are both so brave and inspiring to share such beautiful, gut-wrenching, and REAL material for us all to digest and relate with going forward in our own personal adventures.
And so, it is my honor to now share the edited version of East Side Storytellin' 98 that featured the likes of Liza Kawaller and Machaela Nesler at The Post on Tuesday, January 3rd, 2016. Enjoy, and share with everyone you know, over and over again. Thank you and you're welcome-
You can read more of Liza's writing here – @lkawaller (official website soon to follow this year)
You can listen to more of Machaela's music here – machaelanesler.bandcamp.com
You can listen to this show, edited, soon, alongside the previous shows too, on our website, www.eastsidestorytn.com, at our In Our Own WordsTab – see here – www.eastsidestorytn.com/in-our-own-words
I'll keep the gratitude going for Tom Eizonas, my lovely wife and most talented artist in Emily Harper Beard (efharper), and everyone that came out live to support the show … and to everyone who has helped continue to spread the word and support the show online afterwards.
I'd also like to show much love to Clay Brunton. He normally makes all of the beautiful artwork online to promote the shows, but he had to take time away from that task this week because his mother started chemo for her battle against Cancer. Please send extra love and prayers for his family during this time.
Last, but certainly not least, I'd like to give one last shout out to Tonya and Chris and the staff who stay open late for us and for making The Post so welcoming and positively life-changing for the East Nashville community-at-large.
Our next show will be
East Side Storytellin' 99
Tuesday, January 17th
at The Post (1701 Fatherland Street) at 7pm
reading- Matt Urmy (www.matturmy.com) 
singing- Joanna Barbera (joannabarbera.com)
That said, that's all for East Side Storytellin' 98 and another fabulous event at The Post with East Side Story at the helm. Thanks for coming out and sharing the good word and giving some love to all of these great Nashville artists and our creative ideas. Please remember to be nice to one another out there.
Much love,
mE
{ 0 comments }