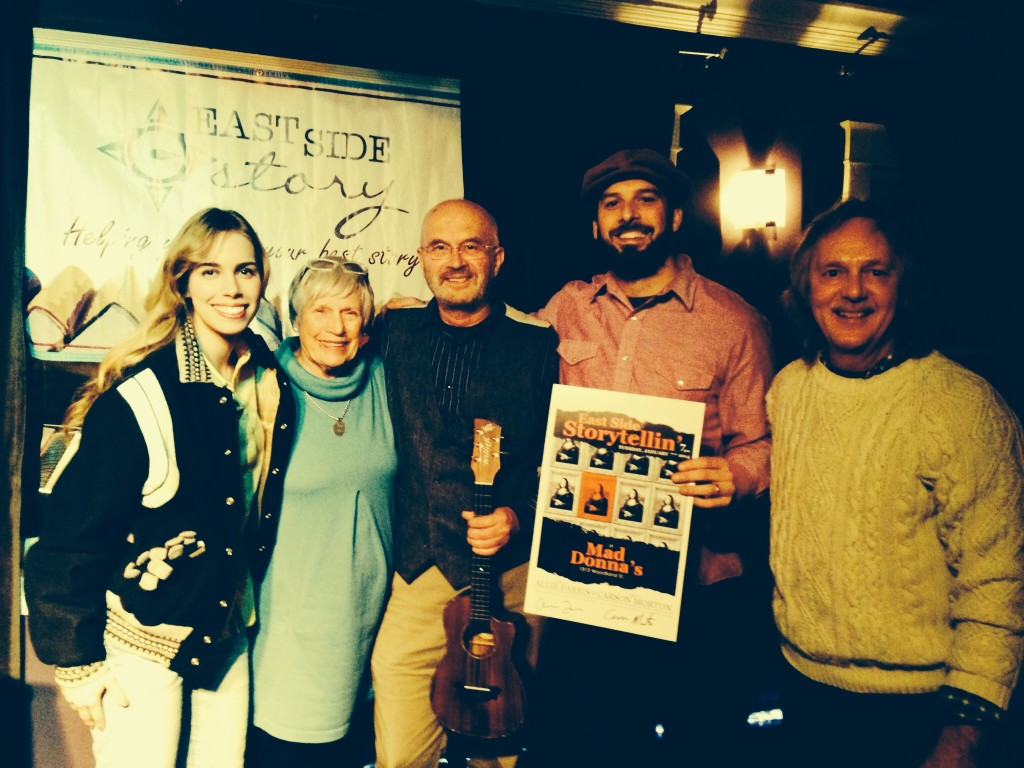 Hello, good evening, morning, lunch, or siesta, and WELCOME to the 29th edition of East Side Storytellin' – the recap, recording, and aftermath.  Right now, comfortable in your chair & computer of choice, sit back, relax, and relish in the talents of two amazing artists in their own rights here again to showcase one of many things they are great at and known for around town.  First, you will hear a reading from a Nashville author, followed by a Nashville musician on the rise, and then a creative conversation between them both about their creative processes and journeys to Nashville.  Before I start rambling about how excited I am for the New Year and all of the things about East Side Story and East Side Storytellin' we have lined up and not even planned yet, I'll just let YOU begin the show.
Our first featured guest of this particular show hailed from England originally as a wee child.  In between the time that he was born then and now living in and calling Nashville home, he has worked extremely hard to become a published screenwriter, playwright, songwriter, musician, and author.  A slacker he is not, this author was more than ready to read from and talk about his first published novel called "Stealing Mona Lisa."  The book itself, since first being published in 2011, has been chosen for Kirkus Reviews' Best of Fiction 2011 List and The Library Journal's Best Mysteries of 201 List, and it is a an ongoing work of art that grows in popularity by the day.  Recently, this past year, a featured guest on John Seigenthaler's famed program "A Word On Words." He was one of two authors in the entire span of that famed program to ever sing an original song on the show as well (the other being Marshall Chapman).  It was an honor and joy to introduce the modern-day Nashville Renaissance man and artist in that of Carson Morton.
Carson took to the stage and crowd, a superb crowd who weathered the cold weather and made it a point to fill the upstairs of Mad Donna's with a happiness and warmth that was quite contagious and made everyone feel great, and Carson was the consummate professional.  Carson dove right into telling the crowd about how this epic story came about and into writing.  Then he immediately started reading a passage or few to entice the people to want to know more.  After that, he picked up a ukulele, plugged it into the sound system, and played an original song that planted the seeds for the writing of the novel at hand years before he wrote it.  It was the first time on East Side Storytellin' where the featured author sang an original song.  It was quite a pleasure to witness.
And talk about a pleased crowd, I then was super excited (even more so after I heard the short pre-show sound check) to introduce our featured musician of the evening.  She, simply put, is a breath of fresh air for Music City.  Spending her formative years in the state of Texas, she, much like the slacker of our featured author- facetiously speaking , wasted no time at all once she knew she wanted to become a musician at a young age.  She formed her first band at 15, recorded several albums while performing venues around the Dallas area around that time.  She then went on to college at University of North Texas's College of Music, where she won several awards at highly competitive songwriting contest.  She later expanded her audience in the world of songwriting and solo performing and flew to Boston to study at the Berklee College of Music.  Realizing that her dream of becoming a full-time songwriter and performer was better suited in Nashville, she flew here in 2011 and has been busy ever since (not like she wasn't busy before).  She's made her music and presence stand out in a city of standouts, made an album in 2012 called "You Make Me Smile," made countless friends with fellow musicians you already know by heart in town, and is working on several projects RIGHT NOW that we'll talk about later tonight.  All that said, I first got to know her and her music because my Grandmother and aunt met her on a plane ride and she made them smile.  They made each other smile.  So please put all distractions to your side and give your full attention to the recording and songs in the edited link below for the talented songbird on the rise in that of Allie Farris.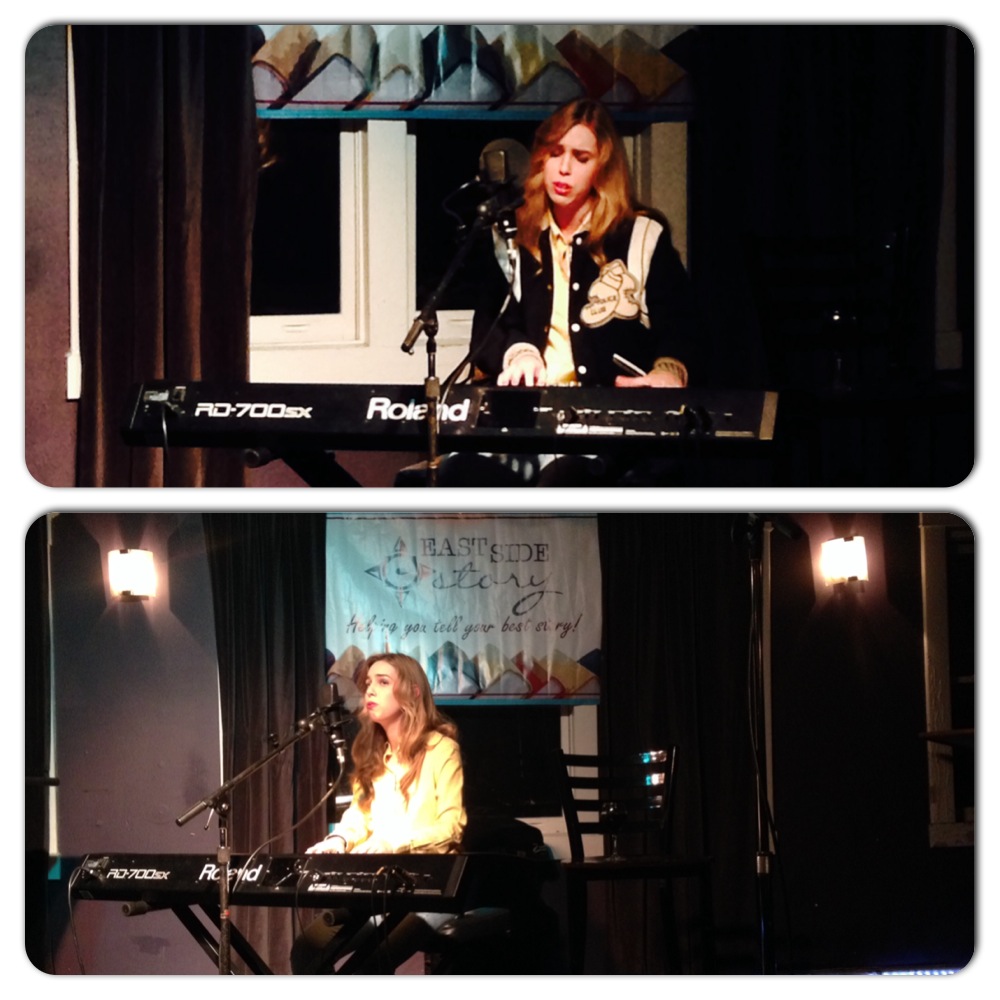 Allie, as seen in the pictures above and below, on top of the recording, gives off a positivity that is completely stripped down to honesty and pure talent.  It's not hard, after just a measure or two of listening, to see and agree that she has made a perfectly wise decision to become a unique singer-songwriter.  To me, and I wasn't/am not alone, she is a great mix of everything great about Carly Simon, Joni Mitchell, Carol King, and Diana Krall … but something even more fresh and current for today's world.  Like I said, take some time to click the show link below, and then make plans to see her live whenever you get the chance.  This girl is definitely going places AND calls Nashville home!
After the music concluded, I managed to get Carson and Allie back up on stage for a short round of candid questions.  They were a great duo of positive energy that, as I said before, made the wonderful crowd of the night enjoy their own decision to come out and celebrate another round of East Side Storytellin' much much more than had they not.  Take a listen for yourself below.
Here is the link for the edited show of East Side Storyellin' 29 (for you to "like," enjoy, and share with all of your friends and your little dogs too):
 https://soundcloud.com/eastsidestorytn/sets/east-side-storytellin-29
Before I give you the details of the next show, East Side Storytellin' 30, I want to take a second to properly thank Allie Farris and Carson Morton.  They took time out of their busy schedules and creative sessions in general to donate their talents and treasures with that of a crowd that night and with YOU here now (over and over again).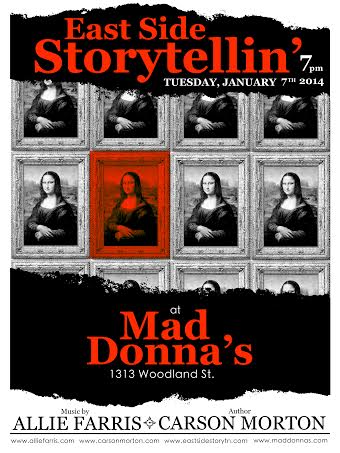 You can read more about Allie Farris' work here- www.alliefarris.com
You can keep up to date on book 2 & 3 and more from Carson Morton here- www.carsonmorton.com
I'd also like to thank a few others one more time for making this show a reality. I'd love to thank Tom Eizonas for doing the recording and edits for this show, like all the others you can hear on our eastsidestorytn.com and www.facebook.com/eastsidestorytn.  A big shout out to artist Clay Brunton, who made the wonderful art poster for this evening, to my lovely bride for always having my side, and for everyone who came out to make tonight extra special- especially Grandmother for showing up after introducing Allie to our East Side Story world.
That is the end of this show, and our only show for January.  We will be back on track for East Side Storytellin' 30 … I repeat, East Side Storytellin' 30 on Tuesday, February 4th, at Mad Donna's, at 7pm, with the poet Stephanie Pruitt Gaines and music by our friends Jimmy and Nate of Colour of London.  I hope to see you all and more here then.  But until we do this again, be nice to one another and thank you for being a part of our journey.  Thank you and good night, morning, brunch, or post-siesta/pre-nap time.
The NEXT East Side Storytellin' event will be …
Date- Tuesday, February 4th, 2014
Time- 7 pm sharp (Central)
Location- Mad Donna's (1313 Woodland Street)- http://maddonnas.com
Need information or details about Mad donna's, call 615-226-1617.  Otherwise it is first come, first available seats.
Who will be featured- words by author Stephanie Pruitt Gaines (www.stephaniepruitt.com) and music by the talented band of brothers called Colour of London (www.colouroflondon.com)
Oh, before we go, we might as well, because we have them, leave you this round of East Side Storytellin' with 2 for the road … 2 pictures of Allie Farris smiling, of course!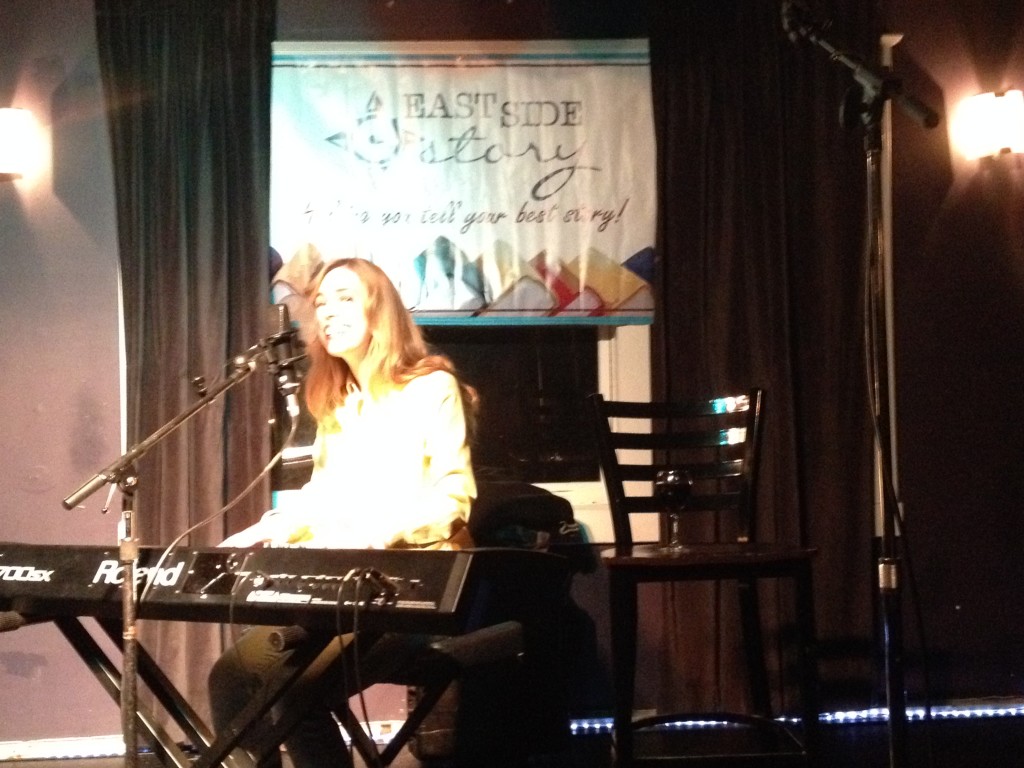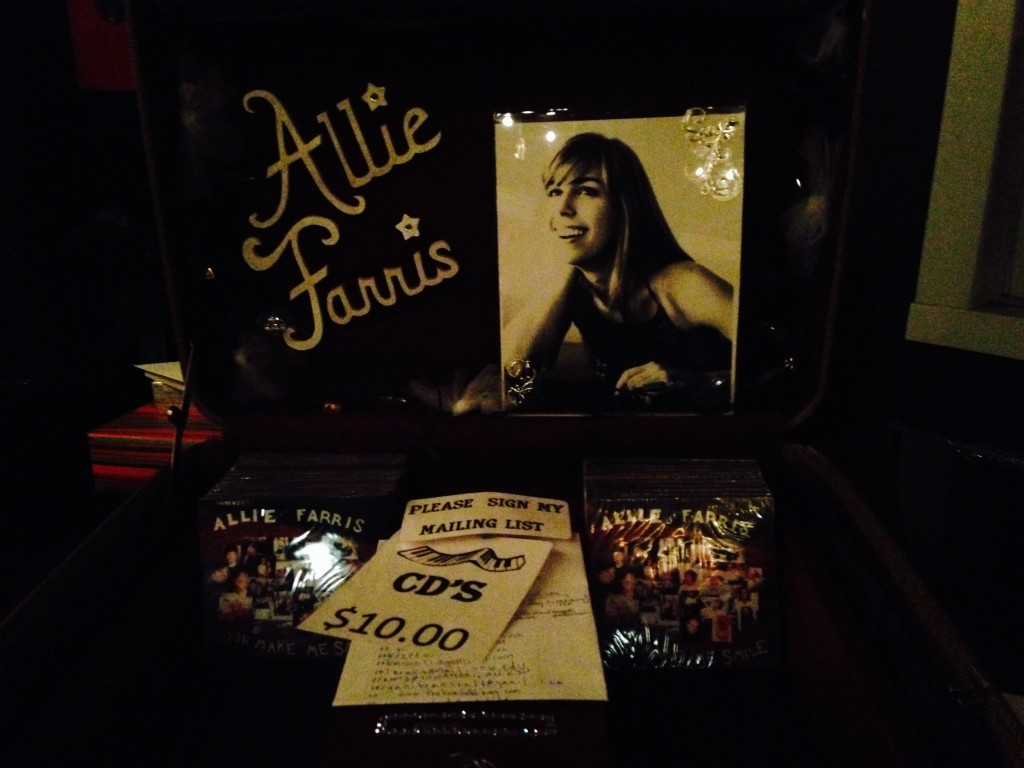 { 0 comments }