Thank YOU, thank YOU, thank YOU. Hello Again! Welcome to the recap of another epic event at Riverwood Mansion. In case you missed it in person, let me be the first to officially, whole-heartedly welcome you to the 55th spectacular edition of East Side Storytellin'! And boy this was a bill with some heavy-hitters that are sure to floor you with their excellence. Like the 54 previous shows East Side Story has put together, we gathered in a terrific East Nashville gem, this time at Riverwood Mansion, to get y'all cultured up just right in the form of a Nashville writer reading from original prose, followed by an amazing local musician performing and talking about their original music, and then a round-up creative conversation with all featured guests of this event to talk about their individual journeys and personal ties to Nashville. Without further ado, fulfilling the entertainment portion of the night, this is the total recall of East Side Storytellin' 55. Let us begin, again.
Wait, again, before I talk about how the event began, I should remind everyone that the guests knew what their pre-ordered tickets got them on top of another killer East Side Storytellin' show. To clarify, the people that bought the $35 ticket were privy to a one-of-a-kind dining experience like none other in town. To the patrons that bought the $10 tickets, although I was happy to see you there, I felt kind of sad for you as you sat behind, in sight and smelling distance of, the wonderful food made by the Riverwood Mansion owner/chef, Debbie Sutton and served by the delightful staff throughout the show and night. Most of them said they learned their lesson and will be purchasing food for the next show, but I've digressed.
As I've said before, one of the coolest things we've put together for this series of shows on Welcome Lane is to have Debbie Sutton create a four-course meal inspired by conversations beforehand with the featured artists and what they plan to share for the night. Below is a glimpse and description of the meal that was served to a packed house of smiling faces. You can here Debbie explain it to the excited crowd here-
https://soundcloud.com/eastsidestorytn/east-side-storytellin-55-8
1- Roasted Root and Beet Top Salad with French Vinaigrette and Carrots and a side of Macaroons with Blue Cheese Cream Filling
2- Wisconsin Beer Cheese Soup
3- Hot Springer Mountain Farm Chicken on French Toast, Drizzled with Steen's Pure Cane Syrup and Mashed Potato Puree, Mixed with Stewed Tomatoes & Okra
4- Cherry Galette topped with Fresh Cream and Lemon Zest – a Rustic French Cherry Pie!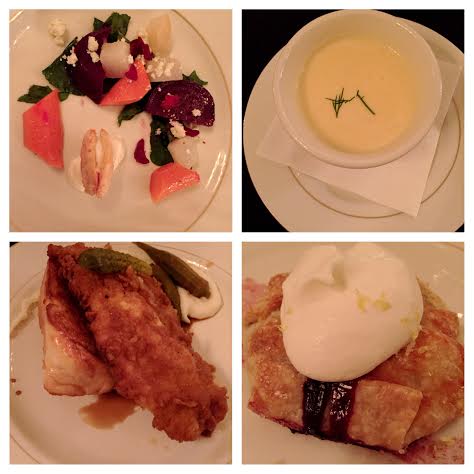 Now … on with the show. The first featured guest of the evening was a writer, activist, and one of the most humble New York Times Best Selling authors you'll ever meet (FACT). I first met him when local author extraordinaire, East Side Storytellin' alumnus, and Vanderbilt University Press staff member Betsy Phillips suggested that he visit East Side Story to see if we'd like to promote and sell his book. This was months before the release, and this guy was so kind and humble (I stress that word again because it is worth repeating and so very true). He was over the moon excited that I wanted to help share his story and book but then quickly asked the question if I thought anyone else would buy his book at all. I said they most certainly would and it would be a perfect fit for a March Madness timing of East Side Storytellin' if he was still interested by that time. Now, as we stood on stage after a few months and many thousands of books sold after the release, I could honestly say that more than a few people near and far have enjoyed the book. Since the release of Strong Inside: the untold story of Perry Wallace, this man has been interviewed on NPR and ESPN, spoken at The National Civil Rights Museum in Memphis over the MLK holiday weekend on an esteemed panel, and has traveled all of the country sharing Perry Wallace's story with some of the biggest names in the Civil Rights movement. Strong Inside is his first book. He is a partner at McNeely Pigott & Fox Public Relations, a graduate of Vanderbilt University. More importantly, he is a wonderful father of two and a proud husband of a trailblazing environmentalist. The festive crowd helped me properly introduce the one and only Andrew Maraniss with an overwhelming round of applause that nearly brought the high ceilings down!
As Andrew usually does, he walked up to the stage with a smile and instantly jumped into the spotlight in order to deflect said spotlight by speaking about his praises and personal admiration for both Perry Wallace and Marshall Chapman. This man's talent and good-hearted nature runs laps around an ego that is invisible to the naked eye or eyes with microscopic lenses. I can't tell you how refreshing it was to finally be able to provide a moment for this unique person to read from his instant classic work. In fact, Andrew noted that in all of his speaking engagements and media appearances that this was going to be the very first time he had actually read from the book to a crowd. It makes sense that people would just want to interview him or have Perry Wallace talk about his own story if he was present with Andrew instead of reading from the text. All that said, it was quite a precious moment for me and others to witness such an exceptional writer have the chance to finally share the script on the pages that he worked on for so long and so passionately as his own personal calling. As always, Andrew did not disappoint.
He chose to read two eloquent excerpts from the book that perfectly set up the striking environment that was going on in the world of Nashville and the South during the decision for Perry Wallace to break historical racial precedence. If you haven't read the book, you should come buy a copy at East Side Story and read it soon. For those who were not living in the South at that time or weren't even born yet, Andrew's words are superb and put you right back into that time and place to allow for you to understand and feel the gravity of Perry Wallace. It is powerful, to say the least. Everyone in the crowd was mesmerized while listening to every inspiring word that sprung from Andrew's book and mouth. Before we knew it, the reading was finished and Andrew made his way back to his seat with new friends and his proud family.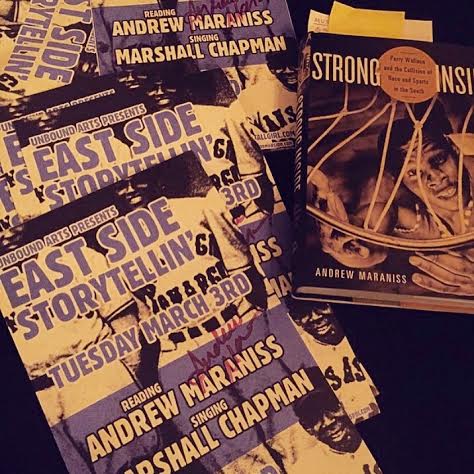 Then it was Marshall time. The featured musician of the night was another guest who has a growing list of accomplishments that would have had me introducing for days telling them all if we didn't have a show to put on for everyone before the stroke of midnight. She is a world-renowned American singer-songwriter-author, born and raised in South Carolina that has released 13 critically acclaimed albums (some of her songs have been recorded by the likes of Joe Cocker -God rest his soul-, Emmylou Harris, and Jimmy Buffet, to name a few). She added acting to her credits when playing Gwyneth Paltrow's road manager in the motion picture Country Strong, and her musical Good Ol' Girls opened off-Broadway soon after that. As an author, she has penned two great releases titled They Came to Nashville (also published by Vanderbilt University Press) and Goodbye, Little Rock and Roller (both of which you can purchase at East Side Story later). She is a contributing editor to Garden & Gun, Nashville Arts Magazine, The Oxford American, Southern Living, W, and Performing Songwriter … again, to name just the tip of the creative iceberg of continued accomplishments for this artist. I stopped there so she could get on stage and rock the house (or plantation, as she later referred to it and the sofa and the curtains). Everyone clapped their hearts out for Marshall Chapman.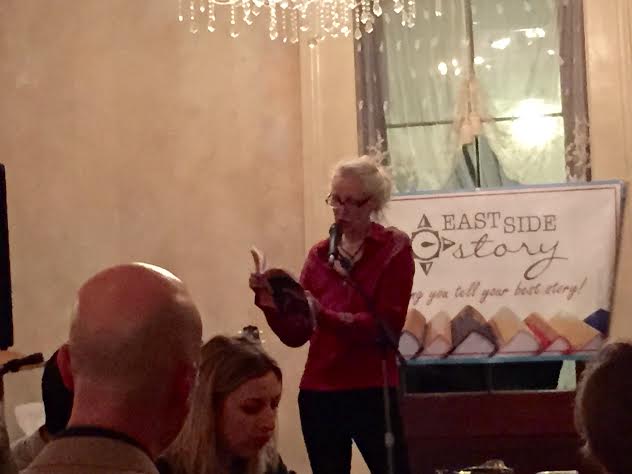 Marshall is a natural born entertainer. She opted to skip the songs and dive right into giving props to Andrew and reading an excerpt or two from her Goodbye, Little Rock and Roller. She talked about the moment her life was changed forever at an Elvis Pressley concert on February 9, 1956. It was the way he sang, the way he moved, and the way the crowd was separated by race. All factors created quite the transition for the Perry Wallace theme of the night and for the music to come. And the music did come.
Marshall sang a handful of songs that easily transitioned from historic storytelling into poetry and everything in between with rhythm that made it all seem reverent and inspiring at the same time. She referred to one of her tunes as something like Bo Diddley on acid. She commented that another song was semi-autobiographical and saying that that meant it was only half true- leaving us all to question and figure out which part was or wasn't. If you listen to the set and the entire show all the way through in the link below, you will notice that her words and songs rang out loud like a novella. We all traveled the story arch with her as she drove us through her creative world of past, present, and the future. Like the Nashville legendary songwriters of Emmylou Harris, Kris Kristofferson, and Willie Nelson, Marshall knows what she is doing and does it so very well (regardless if she claims that she doesn't plan anything before doing it. But, then again, that may be where her real magic of performing lies).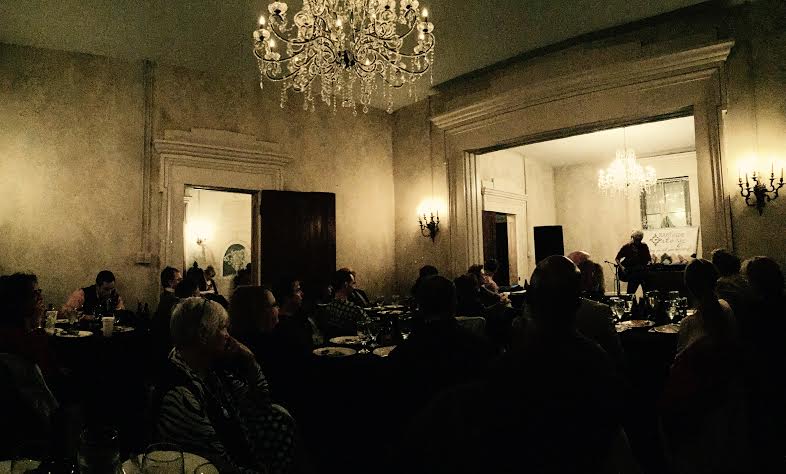 Marshall ended her set with one request from the crowd about a song in the kitchen and then she returned to the show experience with Elvis. She even got many of the people in the room to join in the singing. Y'all sounded like angels, she said. Overall, it was something to behold.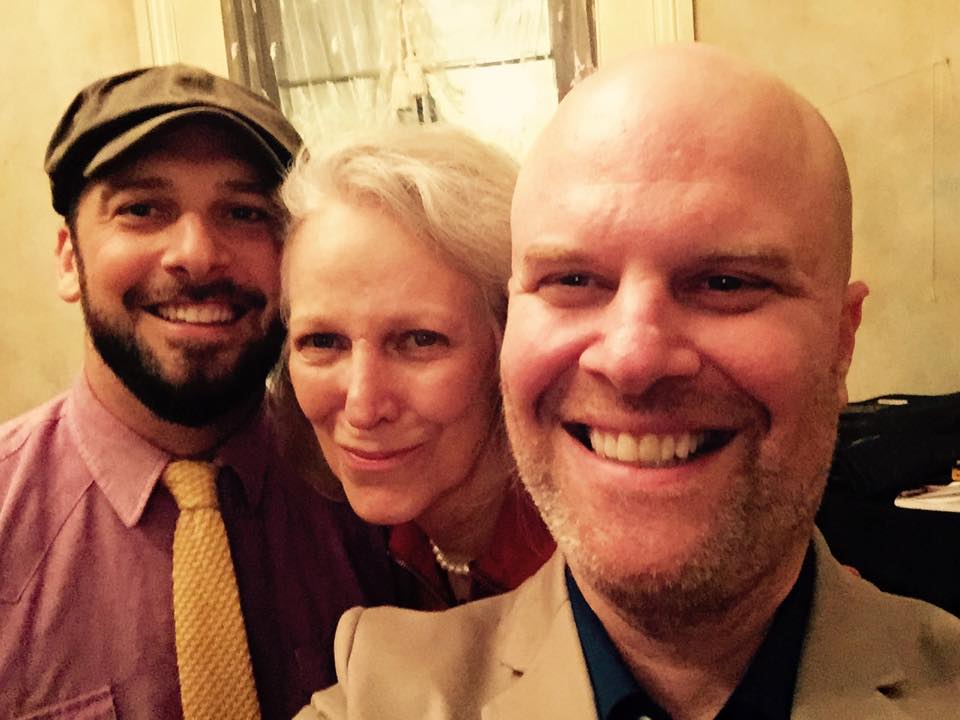 That last phrase pretty much explains this entire show to me. It was something to behold. I was able to get Andrew and Marshall up on stage at the end of the night to share some personal background and stories that enlightened the patrons even more than their performances. We all laughed together, shared their creative gifts, and enjoyed each other's company. Is there anything more you can ask of anyone on any given day?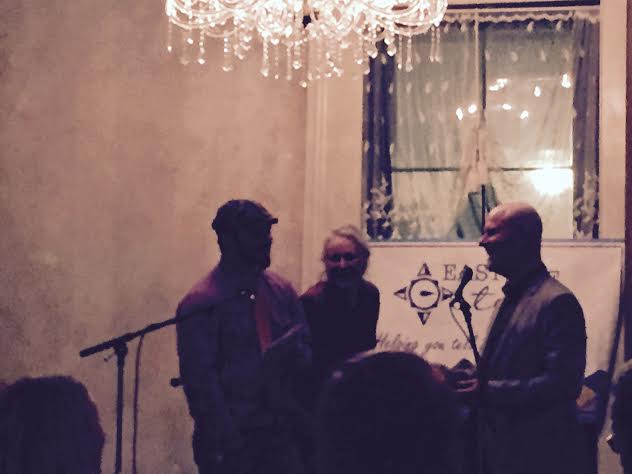 Before we closed the night and gathered in the side parlor to sell a ton of books for everyone to take Perry Wallace's story home with them, Andrew and I made a great idea happen on the fly. Because we only recorded the show's sounds (see below), and because Perry was not in attendance in person, Andrew pulled out his iPhone and filmed the entire audience as I asked if they could take a second to stand and give Perry Wallace a proper acknowledgement of thanks and ovation for his courage and leadership in something extraordinary that means just as much today for all of us as it did when he first broke the racial barriers of the NCAA SEC basketball back in the 60's. Again, it was something so special to behold.
See standing O video for Perry Wallace here- perry standing o
I advise you all to listen to the entire show below and share it with all you know. They will be better people for it. I know I am.
Here it is, East Side Storytellin' 55 with Andrew Maraniss and Marshall Chapman-
 https://soundcloud.com/eastsidestorytn/sets/east-side-storytellin-55
Before I say goodbye for this round of fun, I'd like to give a big round of thanks for Marshall Chapman and Andrew Maraniss (and Perry Wallace) for sharing their stories, talents, and time with us.
You can read more about Andrew Maraniss- http://andrewmaraniss.com
You can listen to more from Marshall Chapman – www.tallgirl.com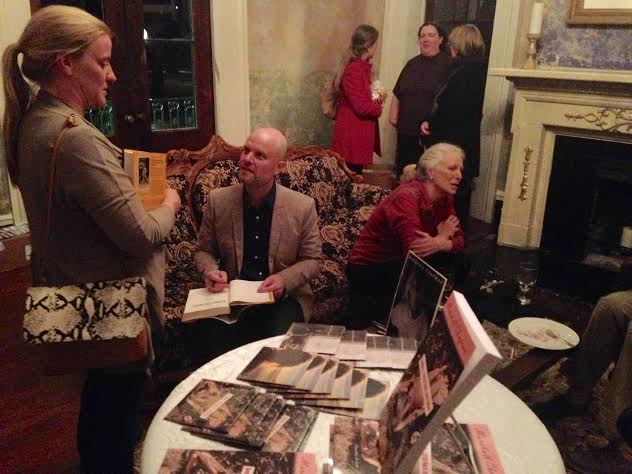 You can listen to this show, edited, soon, alongside the previous shows too, on our website, www.eastsidestorytn.com, at our In Our Own Words Tab – see here – www.eastsidestorytn.com/in-our-own-words
I'd also like to show much love to Clay Brunton for the beautiful artwork for the prints made by Kevin Anthuis at 5 Points Digital Imaging (www.5pdi.com) to celebrate the show.
I'll keep the gratitude going for Tom Eizonas, my lovely wife and most talented artist in Emily Harper Beard (efharper), and everyone that came out live to support the show … and to everyone who has helped continue to spread the word and support the show online afterwards.
Last, but certainly not least, I'd like to give one last shout out to the crew at Riverwood Mansion: the owner and chef- Debbie Sutton, also Shannon Marie Smith and Jennifer Anderson, for allowing us to celebrate East Side Storytellin' in such a fun place and way.
The NEXT East Side Storytellin' event will be …
Tuesday, March 17th
East Side Storytellin' 56
7pm at Riverwood Mansion (1833 Welcome Lane)
Reading- Michael Supe Granda (www.supeline.com)
singing- Joseph Lemay (http://josephlemaymusic.com)
YOU can buy your tickets here- http://www.eventbrite.com/e/unbound-arts-presents-east-side-storytellin-tickets-15958667805
That's all for East Side Storytellin' 55 and another fabulous event here at Riverwood Mansion. Thanks for coming out and sharing the good word and giving some love to all of these great Nashville artists and our creative ideas. Please remember to be nice to one another out there. Thanks and good day your way.
Much love,
mE
{ 1 comment }