Thank YOU, thank YOU, thank YOU. Hello Again! Welcome to another wonderful collaboration between East Side Story and The Post. Let me be the first to officially, whole-heartedly welcome you to the 99thepic edition of East Side Storytellin'! Like the 98, I repeat … 98, previous shows East Side Story has put together, we all decided to take a break from our busy schedules all over town in order to sit back and relax and get everyone cultured up just right in the form of a Nashville writer reading from original prose, followed by an amazing local musician performing and talking about their original music, and then a round-up creative conversation with all featured guests of this event to talk about their individual journeys and personal ties to Nashville. Without further ado, fulfilling the entertainment portion of your day, this is East Side Storytellin' 99. Let us begin, again.
Forget the classic Dos Equis men, past and present representation, the first featured artist of the night is, without a doubt, the most interesting artist in Nashville. A nomad since birth, Matt has planted roots and enriched the creative soil of Music City since first calling it home as a child. He has spent the majority of this life mingling with uber-talented and well-known musicians, writers, healers, entrepreneurs, outside-the-box thinkers, and culture shifters. He is the co-founder of Artist Growth, which just so happened to celebrate its official 5th anniversary on this very date of January 17th = you can thank the Facebook memory that reminded me of attending that party in 2012, but he is here tonight because of his poetry. The most interesting artist in Nashville, I'm talking about the one and only Matt Urmy!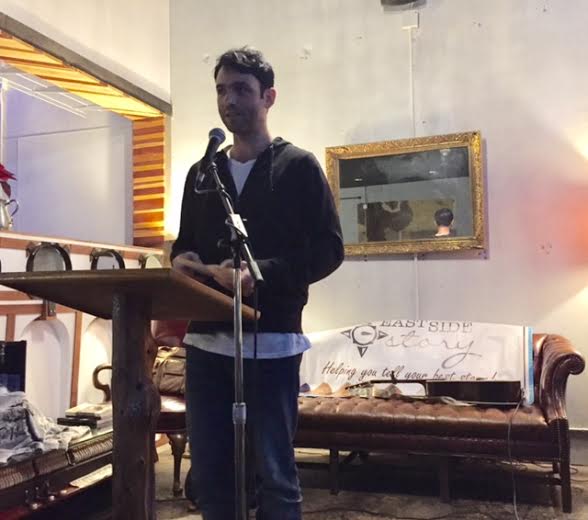 Matt didn't jump right into his poetry. Instead, he stepped up to the podium and threw down a lesson on language that was pretty much what every English professor wishes they could relay to their students. Unbeknownst to anyone on the room, Matt was giving us some real higher education about art and language and the power of words. He spoke eloquently about associative imagery, the power of finding the right word (whether it is in English or Spanish or something else) to fit the audible impact desired for the message at hand, and the overall process of how an artist creates and the audience experiences and shares that material. That said, he spoke in a way that made these layered lessons so simple to digest and relate to in our own lives. I knew from the start that this night and reading was going to be very special.
Matt did share a few of his own poems, all the while sprinkling in some of his favorites from other people who inspire him as well. His material, like the stuff he admires, aims to transcend while recording and expressing his everyday and deep thoughts on life and why we are here right now. He aims, and he hits the mark every time. He constantly explores his limits within his prose, seeking out meaning behind his purpose, and relates it in a way that you never feel intimidated or uninspired to go out and do the same thing in your life (all of this happens just by listening to him too). I'm telling you, Matt's words and example is something to take note of in your world. Do yourself a favor and listen to the recording below, before you find out where and when you can hear him next. It was truly an honor.
Our featured music of the night is a mutual friend of two of my all-time favorite Lauren's in Lauren Farrah and Lauren Shera (the newest super mom on the block). She is also a well-traveled artist who leaves impeccable footprints everywhere she goes. Influenced by personal relationships and all things ethereal (from religious studies to yoga and shamanism), her wandering spirit shines through in her spooky folk tunes. Her world travels turn to powerful prose set to meandering guitar and violin harmonies. Her work has been featured on Austin NPR, several TV shows on MTV, ABC, and NBC, and even on an international hit soap opera in Poland (that reminds me of the "We're big in Denmark" comment from the hit movie Singles = watch it, if you haven't seen it). With her upcoming EP IMAGO, I was humbled to introduce and showcase the lovely and super-talented songstress, Joanna Barbera.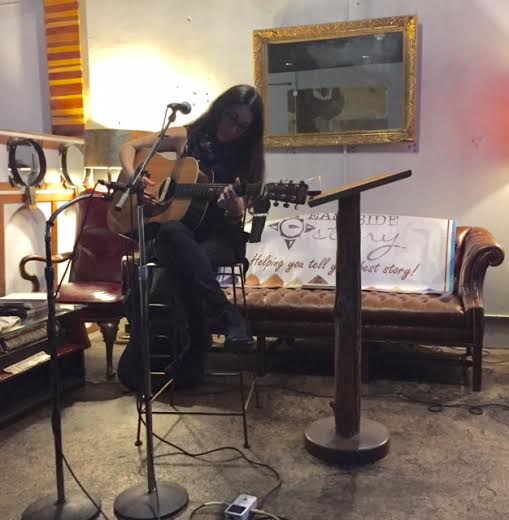 Joanna took the stage like a pro. And by pro, I mean she didn't flinch to have friends help her brush past a minor guitar strap repair that happened seconds before we were about to start her set. Despite what she said about herself, she was not moody or needy or anything other than an excellent human being. On top of that, she is an extraordinary singer-songwriter. She talked a little bit, but her songs spoke from themselves.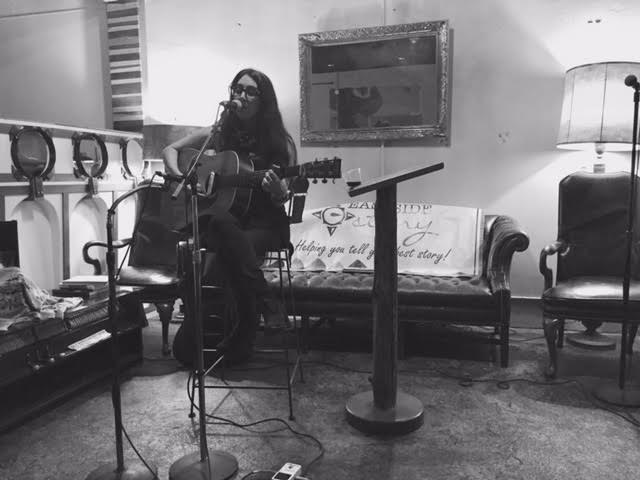 Joanna mixed in humorous banter and back story with songs that pulled at your heartstrings and left you exploring the reverb in your own heartaches. She sang about catholic school (one of my most favorite lyrics EVER about Jesus and Jim Morrison, listen closely), New York City, family, Mexico, and everything in between. I was starting to think that we needed to lock her outside in the rain with the karate man next to The Post or even further outside the city limits so she can write her next big hit about Nashville and her experience with East Side Storytellin', but we'll leave her to her own devices and creative processes. Either way, and any way you listen to her, Joanna make beautiful songs out of beautiful experiences. She is honest, candid, and everything I appreciate the most from artists who share their world and talent with strangers in perfectly lit rooms. No. That's not creepy at all. That's what happened. Take a listen in the recording below, if you don't believe me.
Per usual, I was gifted the opportunity to chat with both guests for awhile after their respective sets. It is something that never fails to light up my day and find deeper respect and appreciation for the city I call home right now that is filled with the most extraordinary people on Earth. Matt and Joanna were no different in that regard. We found out they were both born in New York, learned their love of making art from their families, they use Artist Growth like it's their job (because it kinda is), and they are two bright stars who are excited about the future because they expect their best is yet to come. I'm glad we get to cherish what they've accomplished so far and stick around to see what's next.
So, what's next, you ask? Well, it's time for you to listen to the edited recording of East Side Storytellin' 99 that featured the tremendously talented combo of Matt Urmy and Joanna Barbera on Tuesday, January 17th, 2017, at The Post. Please listen lovingly and share with other friends, family, and strangers, over and over again. Enjoy!
I can't thank Matt Urmy or Joanna Barbera enough, but I'll do it one more time right here. THANK YOU!!!!!
You can read more of Matt's creative endeavors here – www.matturmy.com
You can listen to more of Joanna's music here – joannabarbera.com
You can listen to this show, edited, soon, alongside the previous shows too, on our website,www.eastsidestorytn.com, at our In Our Own Words Tab – see here – www.eastsidestorytn.com/in-our-own-words
I'll keep the gratitude going for Tom Eizonas, my lovely wife and most talented artist in Emily Harper Beard (efharper), and everyone that came out live to support the show … and to everyone who has helped continue to spread the word and support the show online afterwards.
I'd also like to show much love to Clay Brunton for the beautiful artwork online to promote the show.
Last, but certainly not least, I'd like to give one last shout out to Tonya and Chris for making The Post so welcoming and positively life-changing for the East Nashville community at large.
Our next show will be
East Side Storytellin' 100
Tuesday, February 7th
at The Post (1701 Fatherland Street) at 7pm
reading- John J. Thompson (www.33andathird.net)
singing- Phil Madeira (philmadeira.net)
That said, that's all for East Side Storytellin' 99, the penultimate show to #100, and another fabulous event at The Post with East Side Story at the helm. Thanks for coming out and sharing the good word and giving some love to all of these great Nashville artists and our creative ideas. Please remember to be nice to one another out there.
Much love,
mE
{ 0 comments }