On Tuesday, July 16th, I was close to going crazy.  I'm not talking about putting me in an all-white jumpsuit without finger access, tied up in knots, toss me in a padded room and throw the key away kind of crazy.  But, with the 6th week of a 6 week Masters program semester at Sewanee, with final papers and presentations on the near horizon, AND with an epic surprise mission/adventure under wraps in my head for my wife two days after this particular show, it's not surprise to me now that I can't find my notes from the show after the fact.  The show, unlike my notes, was truly unforgettable.  It was original as all get out, and the people that weathered the humidity really got a treat of an evening with two Nashville originals.
The show began with me introducing it and our first guest.  The featured author of the night was one of the very first people that everyone kept on telling me that I should have in my bookstore (East Side Story) when it first opened last August.  He was the recipient of a fiscal 2012 Tennessee Artists Grant.  His short fiction has appeared widely in literary magazines all over the internet.  He has taught at Middle Tennessee State University in the past and currently is teaching at Tennessee Tech.  He lives in Nashville with the writer, Katrina Gray, and their son (both who had big smiles in the crowd for the show).  His name is John Minichillo (pronounced Mini-Kello for those who of you like-minded spanish-speaking people who have yet to meet John in person and be blown away by his prose and thoughts on writing in general) and he was on hand to talk about and read from his first novel, The Snow Whale.

John took to the stage, appropriately checked my introductory facts, and hit the ground running with his stories.  He read a few parts of the book; a modernized twist of Moby Dick.  As Atticus Books put it, it is a book that re-examines identity, race, and our connection to nature, all while poking fun at our contentment with heated socks in an era defined by global warming.  The event had a relaxed, appreciative to something original and refreshing atmosphere, and I think it was mainly because of John's tone, story, and relatability with the crowd that was present and ever so attentive to every single word that he shared.  It was just a swell time and story to listen to on an easy night.  I wasn't alone in being excited to jump into the book after the night was over.
But the night wasn't over after John, the featured musician was on hand and was also a man of prose himself.  An extraordinarily talented character like no other in Music City, our featured musician for the night was none other than Tommy Womack.  He was first known around town as the lead for the post-punk band Government Cheese back in the day.  After they disbanded, this guy went on to make a great record for John Prine's Oh Boy! Label and brought together this guy with the local great Will Kimbrough.  Then, he immortalized Government Cheese's story in the cult classic rock bio Cheese Chronicles: The True Story of a Rock 'n' Roll Band You've Never Heard of. After the book was released, a compilation of their hits was made and a reunion tour was put into effect.  It put a stamp on the important songs and influence that Government Cheese had over the creative community of our region.  Since he put that chapter and book to rest (soon it will rest on East Side Story's book shelves mind you), Tommy has been touring as he pleases, here, near, and everywhere really, and churning out hits with Kimbrough and everyone else you can think of around town.  We were lucky to have him in between international gigs actually.  About the only other time you can catch him on the go is either in his monthly contribution to The East Nashvillian magazine or his weekly video blog on his website titled Monday Morning Cup of Coffee.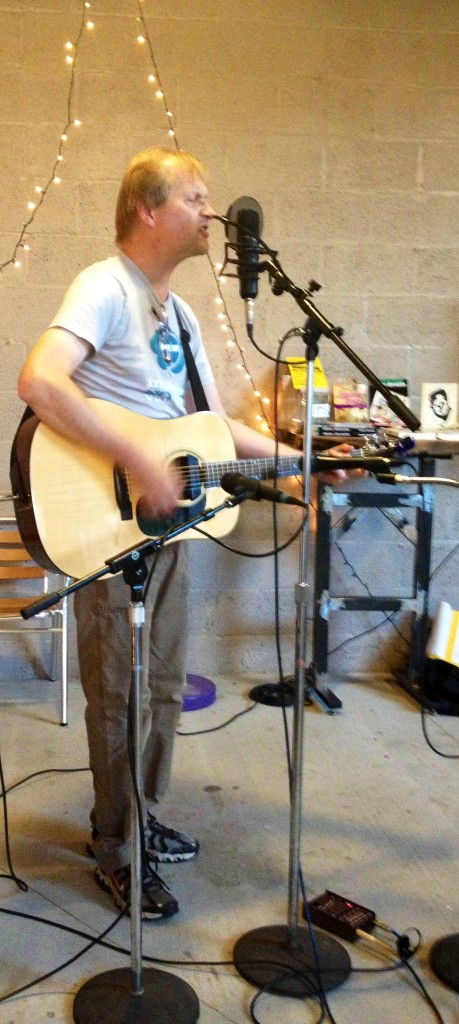 With all that said and written, Tommy's music was, like John's prose, a breath of fresh air for myself and those who witnessed it.  Sure, we had to edit a few choice words in the first couple of songs, but that didn't deter from the fact that it was brilliant.  I was blown away by the poetic intro song and the other punk-infused folk music that I've never really heard anything like before.  Before he was finished with us (don't worry, he didn't smash any equipment), he brought all of his personal stories, guitar skills, vocal ability, and masterful storytelling together for a powerhouse of a family ballad that really hit close to home and the heart for many in the crowd.  It was just perfect.
After a great conversation with John and Tommy, we had to call it an evening.  Sometimes it can be a challenge to get a lot out of people when conversing about art and creativity.  With these two guests, I felt like I could have talked for hours and never felt like I was trying.  You can hear about it all below in the soundcloud, edited version of the show, but I must say that it was the perfect calm before the adventurous final school and mission to Chicago storm that was weighing on my heart, mind, and time at that moment and night.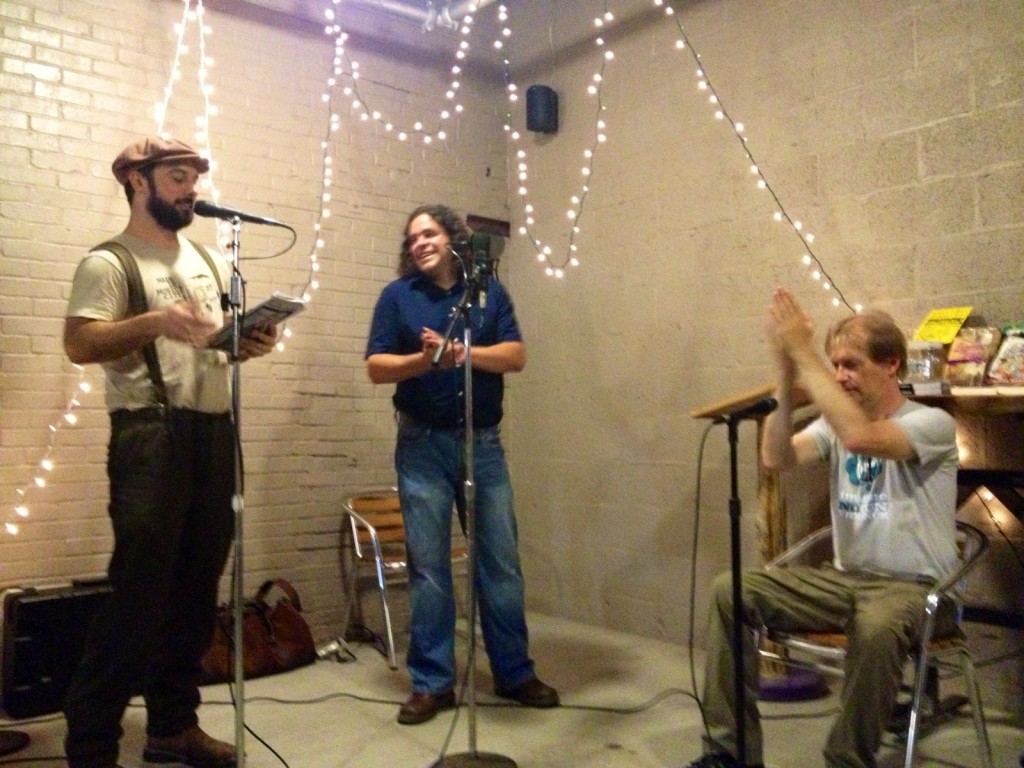 One thing I truly love above anything else with these shows is the fact that there is always some kind of great connection between the guests even though they seldom know each other before hand (and to which I don't plan for when pairing them together).  This night, of all nights, they both mentioned the Dalai Lama in their sets.  You might have to listen closely for the good stuff like that, but I thought that connection set the tone for just what I and others were needing (whether we thought we needed it or not).  Anyways, I thought I should share that tidbit while I have your attention.
Now, before I forget and for your own listening enjoyment (over and over again), here is the link of the East Side Storytellin' 18 edited radio show that aired on WAMB radio (1200 am and 99.3 fm) on Saturday, July 20th, 2013 at 2pm.  Please enjoy and share with everyone you think will enjoy as well:
https://soundcloud.com/eastsidestorytn/sets/east-side-storytellin-18-7-16
Before I go here for now, I'd like to thank a few people for making East Side Storytellin' 18 possible.
-My wife, Emily Frances Harper Beard (www.efharper.com), for everything.  You are my everything.
–Tom Eizonas, you do everything on the fly to make this guy sound as professional as the guests.  Without your help, nobody would listen to the show after the event.  THANK YOU!
–Fat Bottom Brewing Co., you provide such a pleasant home for heartwarming performances to happen in your backyard.  I am very grateful we have crossed paths and look forward to the shows to come.
–John Minichillo (http://thesnowwhale.com) – Thank YOU for bringing your family to the show and for sharing your thoughts on the creative process of writing and your journey up to this point.  I look forward to reading all of your writing in the past and more that is sure to come.  I am honored to promote and sell your work.  THANK YOU for being a part of my journey.
–Tommy Womack (www.tommywomack.net) – THANK YOU for taking time out of your ultra-busy schedule to share your stories and songs with the East Side Story family.  I look forward to helping sell your books in my store sooner than later, and I am so thankful you dropped your passport long enough to spend some quality time with us at East Side Storytellin'.  I really can't say thank you enough.  So I'll say THANK YOU one more time here and then later when I see you again.
–WAMB Radio, thank you for saving us a spot on your respected airwaves and for allowing us to be a small part of your treasured history.  Without the help of Beth and Dave and the rest of the gang over at WAMB, none of this we've done so far would have been possible quite the same way.  We will do more shows and events in the future, I am sure.  But know you are in my heart and thoughts every time I mention East Side Storytellin'.  THANK YOU so very much for all you do.  You have the best, most original and most authentic, radio station that I've ever known of or hear out there today.  You have restored my faith in radio.
The NEXT East Side Storytellin' event will be …
Date- Tuesday, August 6th, 2013
Time- 7 pm sharp (Central)
Location- Fat Bottom Brewing Co. (900 Main Street)- www.fatbottombrewing.com
Need information or details about Fat Bottom Brewing Co., call 615-678-5895.  Otherwise it is first come, first available seats.
Who will be featured- writer Martha Nelson (author of the book Black Chokeberry – www.blackchokeberrythebook.com) and music by Tommy Keenum (http://tommykeenum.com & also featuring James Haggerty on upright bass and Park Chisolm on guitar).

{ 0 comments }