Thank YOU, thank YOU, thank YOU. Hello Again! Welcome to another wonderful collaboration between East Side Story and The Post. Let me be the first to officially, whole-heartedly welcome you to the recap and recording of the 122nd epic edition of East Side Storytellin'! Like the 121, I repeat … 121, previous shows East Side Story has put together, we all decided to take a break from our busy schedules all over town in order to sit back and relax and get everyone cultured up just right in the form of a Nashville writer reading from original prose, followed by an amazing local musician performing and talking about their original music, and then a round-up creative conversation with all featured guests of this event to talk about their individual journeys and personal ties to Nashville. Without further ado, fulfilling the entertainment portion of your day, this is recap and recording of East Side Storytellin' 122. Let us begin, again.
Our first featured artist of the evening is a man of many words, many stories, and many great things to come. He is a writer out of Hope Valley, Rhode Island who now calls Nashville home. He is a producer for Rated Red, a digital media network here in Nashville, where he writes a weekly series called Strange Heartland History. I first met him via another outstanding writer and performer and East Side Storytellin' alumnus in Melanie Vare via their work together with the award-winning storytelling show titled That Time of the Month. His essays and interviews have been featured on publications such as Salon, AskMen, British GQ, Business Insider, The Travel Channel, and more. After I secured the booking for his participation in this show, he promised me that he would share something that is somewhere in between a PG and R rating. As always, this guy never disappoints on stage. It was truly an honor to finally work together with this phenom who usually spends most of his time spotlighting others' work, I'm talking about the one and only Christopher Pilny!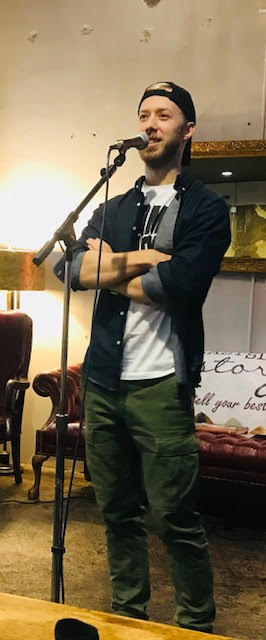 Christopher approached the podium with his tablet in hand and his confidence filling the friend-filled room. He later mentioned that he uses the tablet out of tradition of when he was too cheap (and didn't have the money while in school) to print out pages of his work to read for others. Either way, like his writing, it works. There are layers upon layers of work that has been revised and rehearsed within the prose and the voice of this artist, and his final product and performances are delivered with a brilliance similar to an A-listed comedian. He lets the material do the magic that it has been created meticulously to do, and the crowd takes it from there (usually with ample amounts of belly laughs that are perfectly spaced out so that you can catch your breath for dramatic pauses and moments to connect even more with the points of Christopher's stories). Y'all, he is that good (and will only keep getting better, with his creative process, routines, and dedication to his craft, on and off the stage).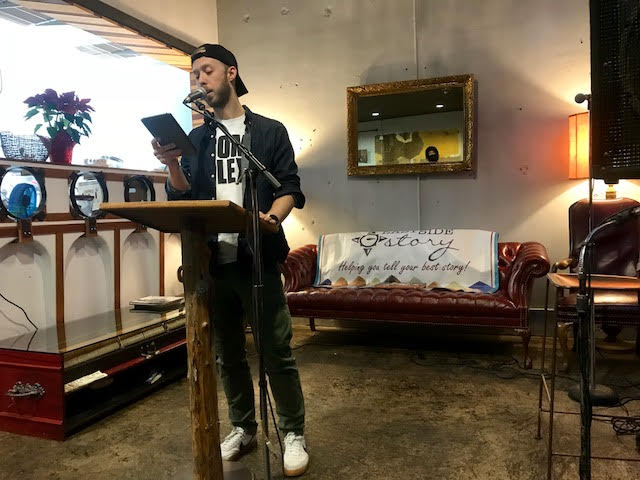 Christopher opted to spend his time reading from a selected original work that was based on journal entries that later developed into a piece that was published in Salon (To read the published form, click HERE). In his classic personal narrator tone, he seemed to enjoy looking down and around his personal odyssey for how he found his voice and a professional foundation of creative writing by methodically detailing the ups and downs of his notes via his journal entries (written by a soon-to-be college graduate but with an air of a school girl finding out what love is and means to her through the mishaps of puberty). You didn't have to be a guy working in women's fashion or stressing over life plans after graduating from college to relate. Christopher has a gift of not only taking the less travelled road and enjoying it, he also has a knack for making plans that are larger than life and odd on purpose because he knows it will always add to and become part of a more interesting story in hindsight after it is experienced, written, and shared for others to incorporate that lesson into their own lives. Seriously, I love the way he chooses his life decisions of jobs and everything because I've tried to do similar things on my own journey. I haven't done as many blatantly random choices for the sake of my story in humorous ways, but Christopher's work reminds me that I still have time.
So yeah, Christopher's story involved shout outs to David Sedaris, Eminem, Artie Lange (and who the F is Artie Lange, LOL), Forrest Gump, Christopher's mom, and many others). It detailed the hilarious moments of school kids making fun of Christopher's shoe fashion, the dark comedy of retail robbery and the possibility of becoming a martyr for the sake of Ralph Lauren Polo shirts, and more … I'm not starting to sound like an infomercial that is selling Christopher Pilny's work like I'm his agent. But I am not his agent. I am just a big fan, and I'm not alone. Go ahead and take the time to explore his published works on the links above and below, and enjoy the full reading that he shared with us at The Post East in the recording below. In this day and age, we need all of the humor and intelligence that we can get. Lucky for all of us, Christopher Pilny delivers all of that every chance he gets.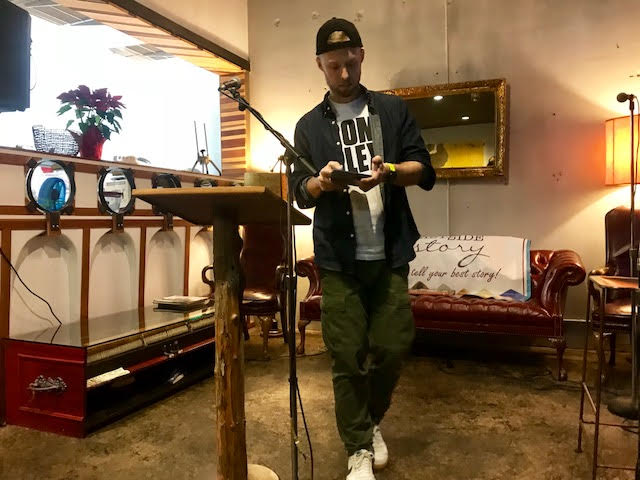 Our featured music of the night is a singer, songwriter, and a composer like you've never known. Her style is sort of like apocalyptic, but in the best of ways. She is also a dear friend of our friend RJ Bracchitta. She creates an eccentric musical identity desperate to make its way into the mainstream music. She draws from a theatrical past and a brooding alter ego while combining melodies and lyrics in ways that are quite bewitching. Her music usually falls within the ranges of Indie Rock and Cinematic Pop. She has self-proclaimed her music insightful, unapologetic, and downright spooky. We figured she would be the perfect start to put 2017 behind us and really hit the ground running for 2018. Thanks to RJ Bracchita for sharing the love for his fellow friend to be spotlighted and more known because from the first note of sound check, I was completely in awe and floored by the talents of Abbey Moss.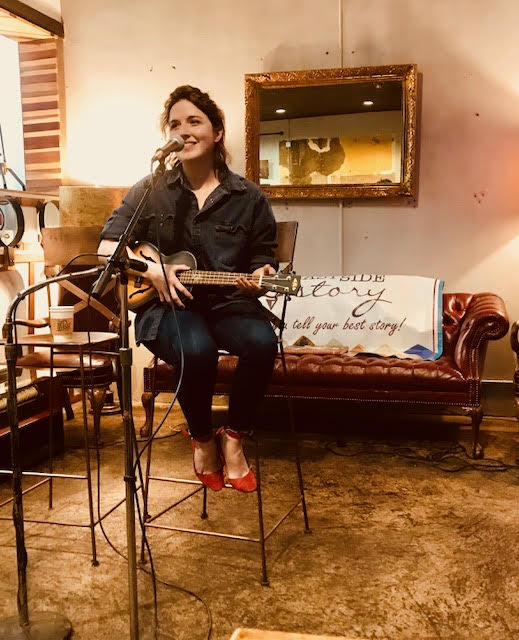 Abbey embodies everything of how she presents herself on  her website bio and, like Christopher, much more, in the best of ways. She approached the stage with just a ukulele in tow and a world of stories and melodies to share, bright and loud. And with all of the doom and gloom surrounding our world in the news these days, it was nice for Abbey to kick things off in her set with the happier side of her song collection to date. She smiled and said that she would go from happy to sad throughout her time at The Post, and we were sitting, thankful and ready to listen.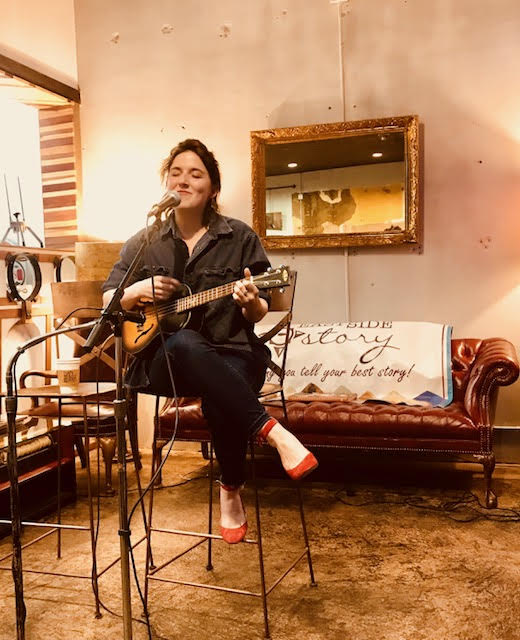 Abbey sang songs about Mr. Right Guy (where love is everywhere if we look because it's as simple as just being an animal instinct), taking chances on me (a sweet but not so sweet song because it was about an ex-boyfriend), and then she dove into the dark. I don't necessarily mean total blackness though. When I say dark, I just mean that she dove into her songs involving death. Actually, it was more light and illuminating, as she broke out with concepts of what it may be like on the other side of life and relating it specifically to a bar on the river Styx that you can't leave once you get in (but the drinks are forever flowing and your pretty bones will be just fine). Entrancing stuff, to say the least.
She then dove into a beautiful song about laying a lover down and layering the lyrics with the story of the metaphor of putting things to rest. She explained it better than I will now, before she sang her songs, but the meaning and wonder of life lesson cycles totally reminded me of the beautiful documentary I saw recently by the name of Samsara (you can check the trailer HERE). Abbey pushes the boundaries of thoughts and volume within the words she sings in ways that allow you to appreciate the singular moment we live in but at the same time reflect and feel the deeper meaning beyond the surface of the present. Marinate on that for a moment.
Before Abbey closed her set with an unfinished song about love letters in the works, she belted out a vision of a song titled Phoenix. Inspired by the story of her good friend battling Cancer, she did what only a best friend could do to help a trying situation and inspire the friend being tested by reminding them of their purpose and strength. Again, like most of these songs, I cannot give them the justice they deserve as much as just you taking the time to listen to Abbey sing them so great for yourself. You can check them out in the recording link below of the show. Side note, if you or anyone you know is battling Cancer at the moment or did before or just got diagnosed, please refer everyone to Gilda's Club Nashville. It is FREE support, and it is a magical place for those who need magic. And who doesn't need magic in their lives? Check out Gilda's Club Nashville HERE.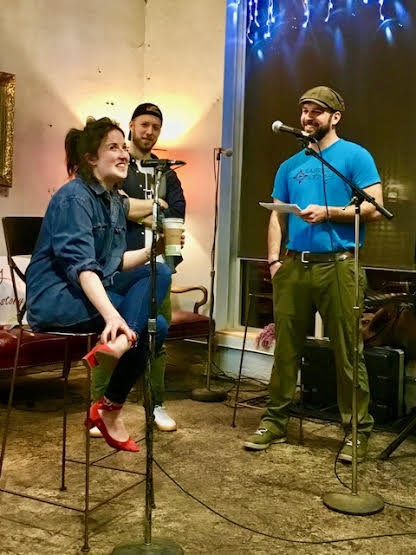 But before I get to the recording, I would like to say that once again I felt blessed to take a few candid moments of the artists' and crowd's time to talk a little more about the passion and practices behind the show curtain and what has made these guys inspired enough to make the decision to live their lives as artists. It's not an easy road, even for the most well-known artists out there, so we all need a reminder that we are not alone in this deal. Like those who came before, Abbey and Christopher shared their hopes, fears, lessons learned, happy times, battles with adversity, all the while being completely honest by saying that they are still just literally making things up as they go. Lucky for us, they are doing exactly what they need and want to be doing, and they see the signs and realize that the learning and the process is all happening when it is supposed to be happening. Nothing was more evident of this than when Abbey made a comment post-show that she was at one of Christopher's first public readings of his work across town years before this particular paring came into fruition. It's stuff like that that reminds me everything we are doing here is worthwhile and makes a positive change in the world beyond our immediate comprehension. So, here's to more positive signs and changes in the New Year together!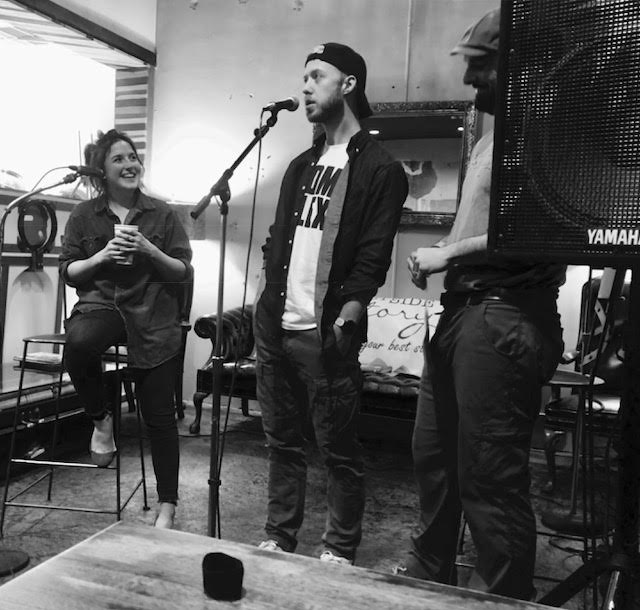 So here it is, after writing and talking about it throughout the text above, this is the edited recording of East Side Storytellin' 122, the night when Christopher Pilny and Abbey Moss brought light, life, death, humor, and a good heart to a New Year. This was recorded at The Post East on Tuesday, January  2, 2018. Feel free to listen to this link and share it with everyone you know, over and over again. You're welcome.
Before I say goodbye for this round of fun, I'd like to give a big round of thanks for Christopher & Abbey for sharing their stories, talents, and time with us.
You can read more of Christopher's writing here- christopherpilny.com
You can listen to more of Abbey's music here – www.abbeymoss.com
You can listen to this show, edited, soon, alongside the previous shows too, on our website, www.eastsidestorytn.com, at our In Our Own WordsTab – see here – www.eastsidestorytn.com/in-our-own-words
I'll keep the gratitude going for Tom Eizonas, my lovely wife and most talented artist in Emily Harper Beard (efharper), and everyone that came out live to support the show … and to everyone who has helped continue to spread the word and support the show online afterwards.
Last, but certainly not least, I'd like to give one last shout out to Tonya and Chris for making The Post so welcoming and positively life-changing for the East Nashville community at large.
Our next show will be
East Side Storytellin' 123
Tuesday, January 16th
at The Post (1701 Fatherland Street) at 7pm
reading- John Winston Heacock
singing- Madison Pepper (Peppersaid)
That said, that's all for East Side Storytellin' 122 and another fabulous event at The Post with East Side Story at the helm. Thanks for coming out and sharing the good word and giving some love to all of these great Nashville artists and our creative ideas. Please remember to be nice to one another out there.
Much love,
mE
{ 0 comments }