Thank YOU, thank YOU, thank YOU. Hello Again! Welcome to another epic collaboration with East Side Story and The Post. Let me be the first to officially, whole-heartedly welcome you to the recap of the 61st spectacular edition of East Side Storytellin'! Like the 60 previous shows East Side Story has put together, we all decided to take a break from our busy schedules all over town in order to sit back and relax and get everyone cultured up just right in the form of a Nashville writer reading from original prose, followed by an amazing local musician performing and talking about their original music, and then a round-up creative conversation with all featured guests of this event to talk about their individual journeys and personal ties to Nashville. Without further ado, fulfilling the entertainment portion of your day, this is East Side Storytellin' 61. Let us begin, again.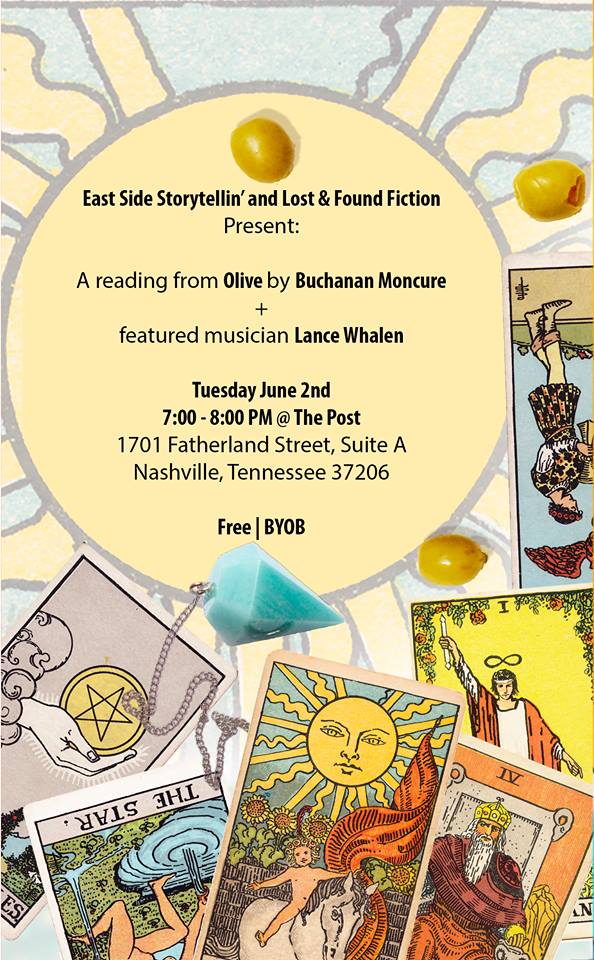 The first featured guest of the night is a prolific literary machine for Nashville's creative future. Not unlike East Side Storytellin' alumnus Dave Wright (who just so happened to be in attendance) with his writing and publishing talents going full tilt all of the time, this artist not only writes, but he also makes it possible for other writers to make dreams into realities through his press. He is the founder and frequent contributor for Lost & Found Fiction- an indie publishing company that has been sharing short fiction and other prose with readers since 2010. With a handful of various authors already on their bill with several successful releases, this guy has more than his hands full juggling publishing and his own writing, but he does a great job with everytyhing. With titles such as This Was Supposed to be Simple …  and You Can't Make Love to a Nihilist and other short stories already under his belt, this guy decided to release two connected novellas recently by the titles of Olive and The Fool. That said, several of the fans of this guy came out and gave it up for Lost & Found Fiction's brave leader, Buchanan Moncure!
Buchanan was as cool as the other side of the pillow. In fact, he was as cool as the other side of the pillow while reading one of his first stories about a chilling murder scene and very wild thoughts racing through his characters' minds. I thought it was brilliant. The combination of Buchanan's tone, tempo, and presence fit his writing and the stories behind his words like a glove.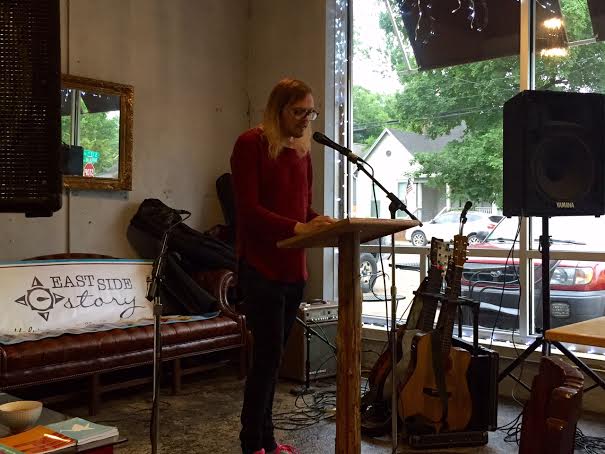 Then there were lines that seemed to bounce around the room and right into my deep thought. Talking about murder as a feeling and not an action struck a chord with my ordinary Tuesday night thought process at the moment it hit me in the head. Wondering if a mind that is lost is worse than one that is cluttered made me rethink my cluttered head this past week. Using writing as a tool to face your problems was a therapeutic notion to share with everyone to cope with their own issues. And one of my favorite sections of the reading (all of which you can listen to in the recording below) was the description of holding an egg until you squeeze and break it and how that related to how the characters in the story felt about relationships with other people. It was all just brilliant, I tell you. He even explained how someone can actually kill a ghost beside a river. I can't make this stuff up. And then Buchanan was finished with the reading.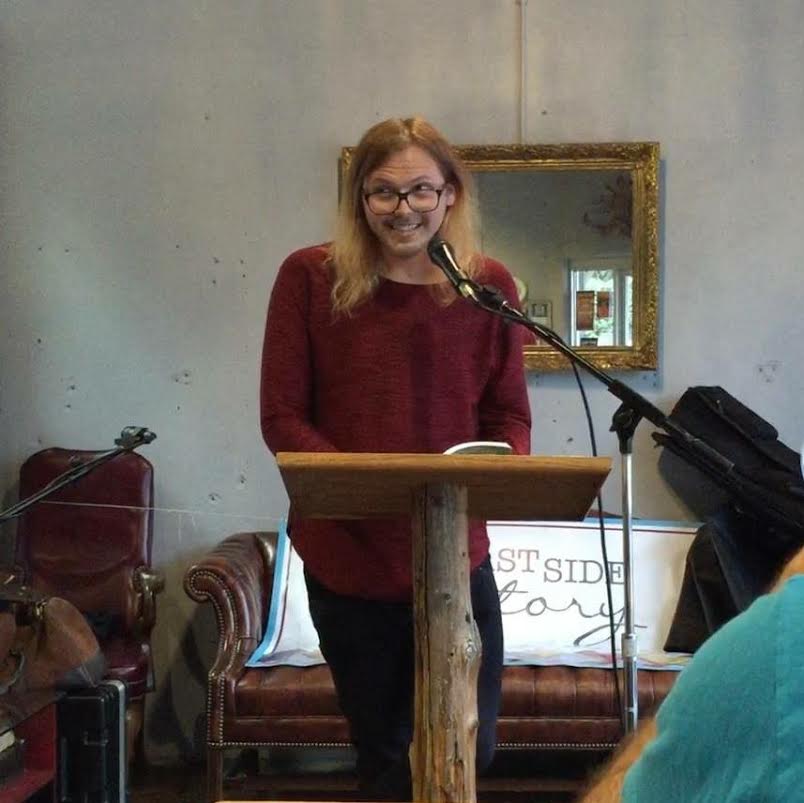 Up after Buchanan, the featured musician of the night is a Kentucky-raised, Nashville-based talent that is quickly checking off everything he wants on his personal goal lists. He's performed at CBGB in New York City, Common Ground in Chicago, and the Bluebird Café here in Nashville. Add and check off playing The Post while you are at it, if you are following this pattern I'm dropping. He has shared the stage with the likes of Pokey Lafarge, Eerie Von, and has already influenced countless others near and far. With a passion for sharing his stories and life experiences through music, he has developed his style that falls somewhere between the folk music from his Southern Roots and the music of Nick Cave. Aside from being a talented musician, he is also spends a lot of time with nature through camping, marksmanship, and sharing his living room with 14 pet frogs. I was first put in touch with him via our mutual friend and Palaver Records co-owner and new dad for the second time (shout out to Samuel) in Gary Branigan, and I want to thank Gary for that because it was such a treat to introduce and witness the art from the one and only Lance Whalen!
Lance is a true original. He is the first solo artist to bring 4 guitars and a banjo with him, but we were all better for it (even if he didn't play the final guitar … maybe next time). Back to the music though, Lance was truly one-of-a-kind.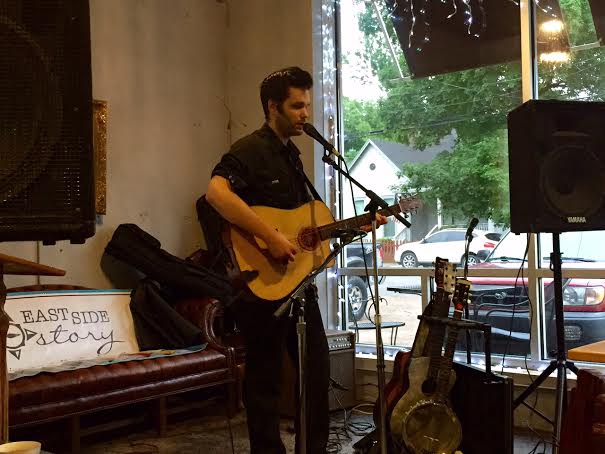 Now, you may have heard me say or write a time or two that every single one of these shows end up having a serendipitous moment or theme or something extraordinary that happens unplanned and unscripted since over 95% of the shows include artists who have never met one another before taking the stage. Either way, it was more than refreshing to hear Lance walk up to the microphone for the first two songs and directly say how they were similar to Buchanan's stories that he just shared. Seriously y'all, there is something amazing going on in these East Side Storytellin' shows beyond the great music and stories.
But yeah, Lance was so unique. His voice is unforgettable, his guitar playing style is perfect for his stories, and his lyrics could rival any poet and short story writer in the South. I don't kid. Lance is this good.

Like Buchanan, Lance hit me over the head with a frying pan of literary lines that won't be leaving my dome any time soon. The moment he dropped a scene with a character having a picture of Winston Churchill and needing a red feather from a blackbird to understand why the hell he fell in love with a particular girl, I got chills. All of the songs had their own great high points and lines, but the last one with Lance talking about his sweet sugar pie and wanting her to stay with him just for one life and how she could bring all her books and dress up in white really shot close to my own home and heart. I haven't even mentioned the slide banjo playing. REALLY? How much better could a Tuesday night in June get in Nashville? I don't know. Luckily, I didn't and don't have to look or be anywhere else. Thank you, Lance.
Before we finished the show, I had Lance and Buchanan back on stage. Lance was a man of few words, Buchanan shared lots of his personal experiences and thoughts in writing and had olives for anyone who wanted some (I had three and they were delicious), but I was most excited about the final line that Lance shared about his own songwriting process that Buchanan and pretty much everyone else in the room related to for their own whatever. He said, "I just want to write more, play more, and try not to suck." With that, I couldn't say it better for right now. We may have bumper stickers out soon … stay tuned.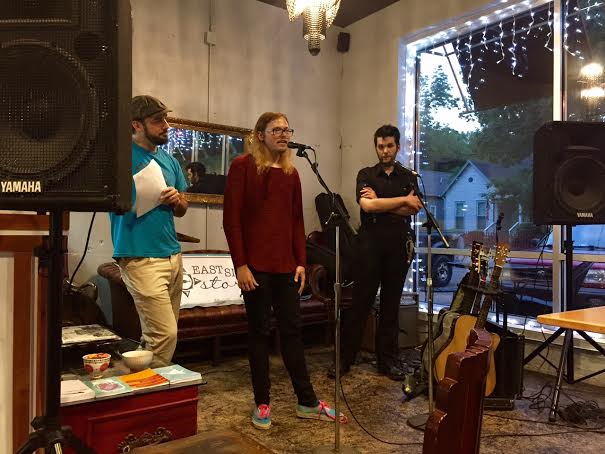 Speaking of staying tuned, here is the edited recording of East Side Storytellin' 61 that featured Buchanan Moncure and Lance Whalen at The Post on Tuesday, June 2nd, 2015. Listen to this link, share this link, and enjoy it over and over. It is that great-
Before I say goodbye for this round of fun, I'd like to give a big round of thanks for Buchanan Moncure and Lance Whalen for sharing their stories, talents, and time with us.
You can read more about Buchanan's writing here- http://buchananmoncure.net
You can listen to more of Lance's music here- http://lancewhalen.com
You can listen to this show, edited, soon, alongside the previous shows too, on our website,www.eastsidestorytn.com, at our In Our Own Words Tab – see here – www.eastsidestorytn.com/in-our-own-words
I'd also like to show much love to Clay Brunton for the beautiful artwork online to promote the show.
I'll keep the gratitude going for Tom Eizonas, my lovely wife and most talented artist in Emily Harper Beard (efharper), and everyone that came out live to support the show … and to everyone who has helped continue to spread the word and support the show online afterwards.
Last, but certainly not least, I'd like to give one last shout out to Tonya and Chris for making The Post so welcoming and positively life-changing for the East Nashville community at large.
The NEXT East Side Storytellin' event will be …
East Side Storytellin' 62
Tuesday, July 7th, at 7pm, at The Post (1701 Fatherland Street)
Reading- Amy E. Hall (amyehall.blogspot.com)
Singing- Lauren Farrah (www.laurenfarrah.com)
I will keep you posted as soon as we make the plans and line-up. We are taking off the show for June 16th because East Side Story is having a huge celebration that you are cordially invited to right around the corner.
To explain myself, East Side Story has partnered with The Arts & Business Council of Greater Nashville to publish an anthology titled Based On: Words, Notes, and Art from Nashville. The project is a special collection of short stories, songs, and visual art prints which are all inspired by one another and blended together into the fold of a single book (cd of the music included).
On Monday, June 15, 2015, East Side Story and the Arts & Business will celebrate the release of what could possibly be the most epic creative collaboration of Nashville artists with a one-night release concert extravaganza at Belmont University's McAfee Concert Hall. The evening will be hosted by Music City Roots host Craig Havighurst and include performances by a majority of the contributing artists … all to commemorate the launch of this unique project.
You can get your pre-order tickets for the book/cd and general admission for the show involving the majority of artists involved in this project here- http://basedonnashville.eventbrite.com
As always, feel free to share with others.
I'll keep you posted about East Side Storytellin' 62 and beyond back on schedule as we get it together.
That's all for East Side Storytellin' 61 and another fabulous event at The Post with East Side Story at the helm. Thanks for coming out and sharing the good word and giving some love to all of these great Nashville artists and our creative ideas. Please remember to be nice to one another out there.
much love,
{ 0 comments }