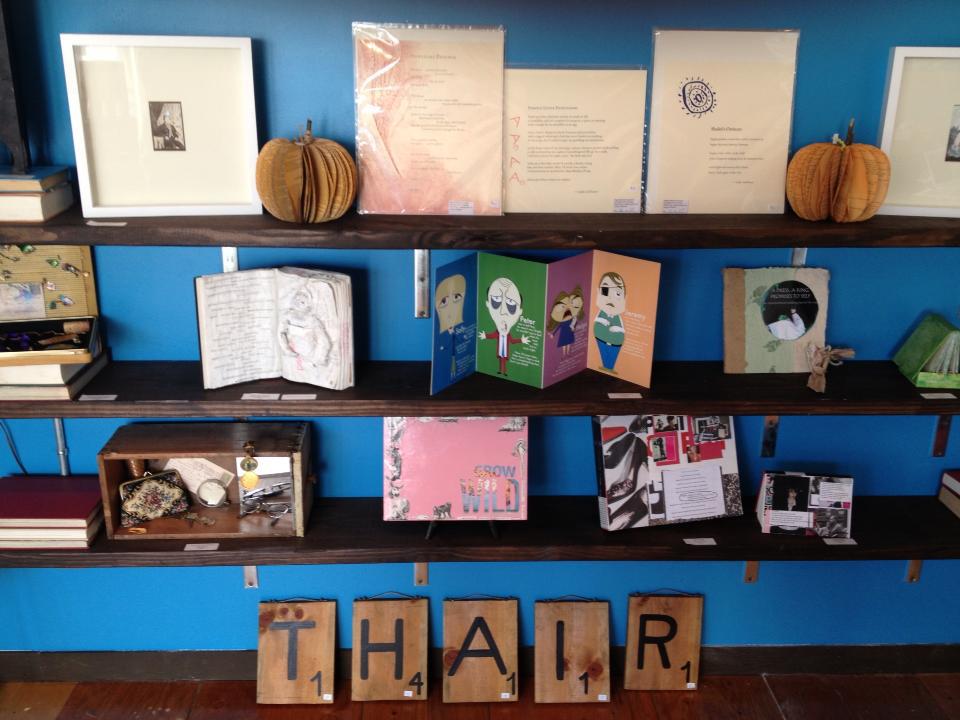 Beyond Books! and the opening/closing reception that was on 11/10/12.  Just in case you weren't THAIR!
It was the second Saturday of the month on The Row at the 1108 Woodland Shops and it never is a disappointment for all who venture that way that night.  This past Saturday, November 10th, from 6-9pm, was no different on the excitement scale.  What was different about that night was that we were running a bookstore without any conventional books inside of it (minus one … I left Betsy Phillips' book "A City of Ghosts" in the store because it was easier to explain the artwork that I mentioned in the previous reading and post that was inspired by her book than leaving the customers wondering why I had a green crazed man with an axe in his hand for sale and how that was book inspired.  Betsy sold a few copies and I guess the one book bookstore idea really does work :).
That's right, we decided to use our small, dynamic space to our advantage.  With the help of artists Jennifer Knowles-McQuistion and Annie Herlocker, I had sent out a call for artists to submit any and all book-inspired art that they had on hand to show and sell at the store for one weekend only.  We called the event Beyond Books!  Beyond books indeed.
Backtracking, one night, Jennifer and Annie met me at the store on Friday night as the artists came in sporadically to drop off their wonderful artwork.  It took me less than an hour to take out all of the books, put them into my trunk (a true trunk show of sorts), and bring in all of the book art to their right place.  All of the art practically fell in the right place and we were ready for an original book pARTy in no time!
During Saturday's regular hours, it was pretty comical on my part to tell visitors the following like a broken record:
"You would think that walking into a bookstore that you would actually see books, right?"
or
"Normally East Side Story is filled with tons of books of all genres and all of them are written by Nashville area authors.  But that said, we are a normal bookstore are we?"
Pretty much every customer loved the dynamic space and 'novel' concept of a pop art bookstore show.  I say pretty much because I had a few of my authors drop by with several friends in tow to show their off their books on the shelves and were surprised by the new arrangements.  Nobody was upset thought-especially after they saw the work on site.
As soon as 6pm struck, Jennifer, Annie, and my beautiful bride showed up like an art army to present a delightful pop-up art show like no other.  Some of the participating artists showed up with family and friends and overall it was a constant flow of people in and out and talking about original art – what more could you ask for?  We sold a handful of things, but everyone was smiling when leaving with grand impressions of what had been made and with inspiration of things yet to be made.  In fact, I do believe that East Side Story might just take the dive into a wee bit of publishing this coming year because of meetings that went down during the opening/closing reception of Beyond Books (more stories to come … literally.  I shall keep you posted).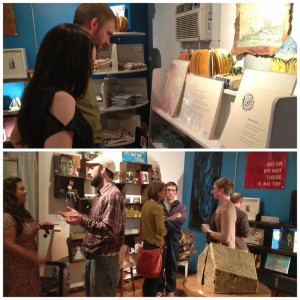 I stayed open on Sunday and Monday to showcase the book art just a tad bit longer and both days we had people showing up to take delight in the imagination that was to be had.  Time well spent if you ask me.  Many thanks goes out to Jennifer Knowles McQuistion and Annie Herlocker for their hard work and collecting such talented work from everyone that participated.
It is very true that our space at the store is small, but the ideas bust out the seams on the daily for sure.  I plan on having fun and different events such as Beyond Books! sporadically all the time.  I've said it before and believe 100% that this is a blank canvas for all creative literary events for Nashville artists- whether it be musicians, painters, sculptors, writers, or whatever.  This is your home.  That is my word.  This is East Side Story.  We are books and beyond.  We are altogether now.
much love,
chUck