This just in …
Last week, we had a very BIG day at East Side Story.  I would even dare to call it a HUGE day at East Side Story.  Why was it a BIG HUGE day at East Side Story you ask?  Well, I'm glad you asked because I shall now tell.
A young man by the name of Evan walked in the bookstore with a letter in tow for one of our authors named Mark North.  It was the first person, of any age, to bring in such a treat since I first let the word out about our BOOK ME! program, and it most certainly won't be the last from the looks of it and these guys below.
I guess I should preface this picturesque tale below by letting you and you and YOU and you know all about the BOOK ME! program.  It is very similar to the ol' Pizza Hut BOOK IT program, but with a very Nashville twist for one and all.  In fact, I'll tell you how the BOOK ME! program works via Evan's example.
First, Evan came to East Side Story, picked up a book that he instantly wanted to read and take home with him, and bought it on the spot with money he had saved (or just asked his mom, whichever makes for a better story for you).  You too, regardless of your age, can do the same thing as Evan (buy a book from our store and/or ask your mom for money to do so … your choice.).
Second, Evan went home and read said purchased book (you can read it wherever you want to do so.  It won't bother me wherever as long as you pay for it before you leave the store).
At this point, as you can see, Evan finished reading the book and decided to write a handwritten letter to the author of the book.  One of the major points of this program is to have personal feedback from the readers to the local authors by having the readers then write to the local authors telling them what they enjoyed most about the book and what it meant to the reader to experience their book and story.  (Again, this program is limitless for the age of the person buying and reading the book to write to the writer).
Then, Evan took time out of his busy day away from school to drag his mother and brother back to East Side Story in order to hand-deliver the letter for Mark North (author of The Day Anthony Counted to a Googol).
With one book under his belt, Evan wasted no time in picking out his next book and author to write.  You see, within this BOOK ME! program for kids of any age participating, I record the reader's name and book information on our files once the letters are turned in to me in person.  After 5 books are purchased and author letters are turned in my way, Evan and YOU will receive a very special certificate that is printed by JIVE!  With said certificate, you can use it ONE TIME ONLY at one of four all-local restaurants that have agreed to be a part of this.  Covering all directions of town, you can use the certificate at one of the following places:  Lockeland Table, Burger Up, Germantown Cafe, and The Tin Angel.  If you are 13 and under, the certificate will get you a FREE entree of choice.  If you are 14 and up, the certificate will get you a FREE appetizer of choice.  Everyone wins!!
Everyone wins!!  Especially the local authors!  And speaking of the first local author to receive a letter from a local East Side Story reader, see Mark North below.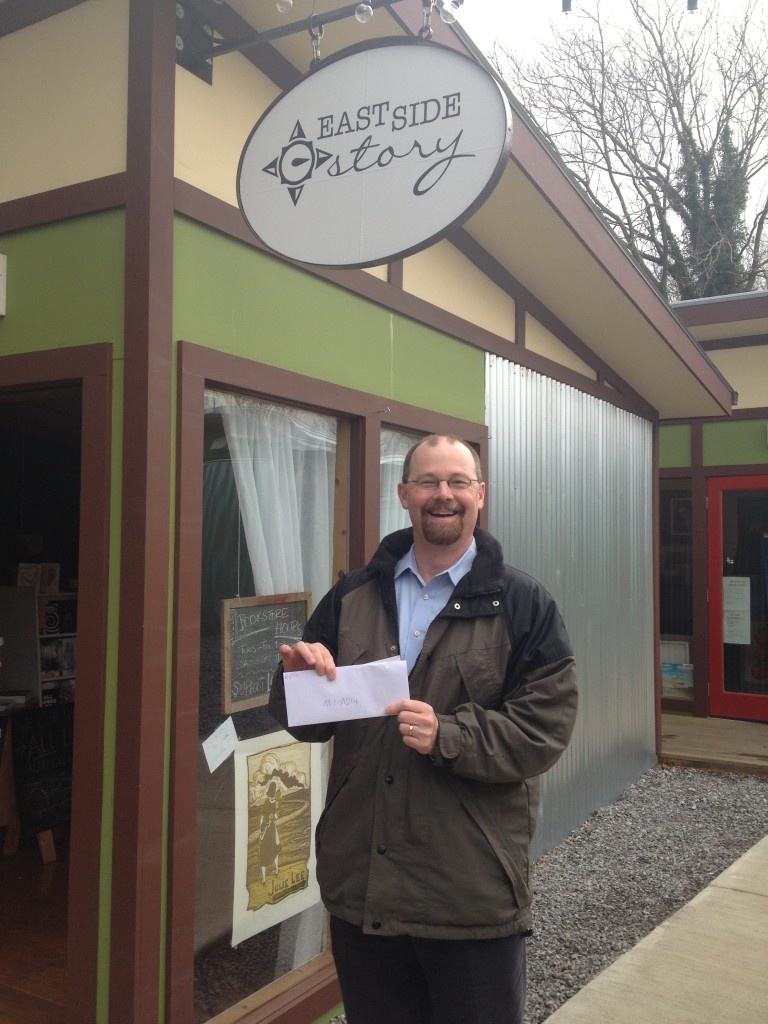 Now, do you think this program will continue to bring lots of happiness to our city one smile at a time?
Will YOU be the next participant?