Tuesday, March 19th, 2013, marked a very interesting night in Nashville.  Over at Fat Bottom Brewing Co., I was fortunate yet again to be in the middle of some of the most amazing, talented people in and around Nashville.  I mean, c'mon, when and where else can you be around a writer that has been prolifically writing about American music since the 70's, who was a senior editor for the legendary publication No Depression, and who also frequently writes about country and pop music for The Wall Street Journal AND put that writer right beside an extraordinary local musician who had one of the most influential alt country albums of the 90's, played with the likes of Ralph Stanley and Elvis Costello, and who recently played alongside his familiar WPA Ballclub band and Jack White's Buzzards at SXSW to help kick off the Buddy Holly Foundation's "Learning the Game" Scholarships?!?!  I can't make this stuff up y'all so I just enjoy the ride.  I'll just jump right into the action here
Tom and another friend and I all arrived on site early, and we were able to set up everything just right this time around.  Alex Smith brought the artwork of the print below minutes before we took the stage with the show for another packed house.  Aside from regular Fat Bottom Brewing Co. AND trusty East Side Storytellin' fans, we also had a few other possible featured guests in the crowd.  I noticed that the Allen Thompson band was in the house, one of the founding members of the band The Coal Men was front and center, and the author & co-host of the world-renowned Music City Roots program, Craig Havighurst, was stage left of sorts.  It was packed and ready for a good night.
I took to the microphone and quickly stumbled across my notes in a way to give some justice to Barry.  To preface the moment before Barry began reading, there was a pretty cool moment that I was very proud of myself … it's the little things.  Seriously, it's always something to go off the rails just when you think everything is in place.  Sometimes, okay all the time, you just have to stay calm and adapt to your surroundings.  In this example, because we were in a tavern of sorts, the lighting wasn't the best for someone reading on the side of the room.  I stepped up to the plate with quick notice and with no budget at all and totally MacGyver'ed a light stand made from duct tape, a crumbled piece of paper, and the flashlight app of my iPhone.  Yep, let there be light … and a show!
Barry took to the crowd and never looked back.  He paced about the podium and paced through a few excerpts from his novel "Meeting Jimmie Rodgers: How America's Original Roots Music Hero Changed the Pop Sounds of a Century."  After Barry gave a pretty cool introduction to audience explaining in highlighted details of several direct impacts that the music of Jimmie Rodgers has had on music as we know it, he read the beginning few pages of the book to give the audience a taste of what the book was really about.  Not an ordinary biography or chronicled life story, Barry's short story of the connections between Jimmie Rodgers and Johnny Cash via the musical lineage of Louis Armstrong was inspiring and wonderful to experience.  Barry, who at times even took on a few lines with the vocals reminiscent of Satchmo himself, had an excited energy and passion for his prose that was obvious and totally moved the crowd to full attention.  Then, just as he was hitting his stride, the reading was complete.
After a round of applause, I jumped up and did my best to introduce one of the coolest, humble musicians around town.  Usually surround by other local greats, we were very fortunate to have the man, the legend, Paul Burch all to ourselves.  He didn't skip a beat or waste any time jumping right into some of his favorite Jimmie Rodgers stories and songs that have helped Paul get to where he musically is today.  Paul did an impeccable job of intermingling totally original songs, other songs of his own that were inspired by Jimmie Rodgers, and songs by the late Jimmie Rodgers in a flow that was natural and so easy to take in.  You can listen below to the show so I'll stop trying to give enough positive adjectives to perfectly describe the night's music in its entirety.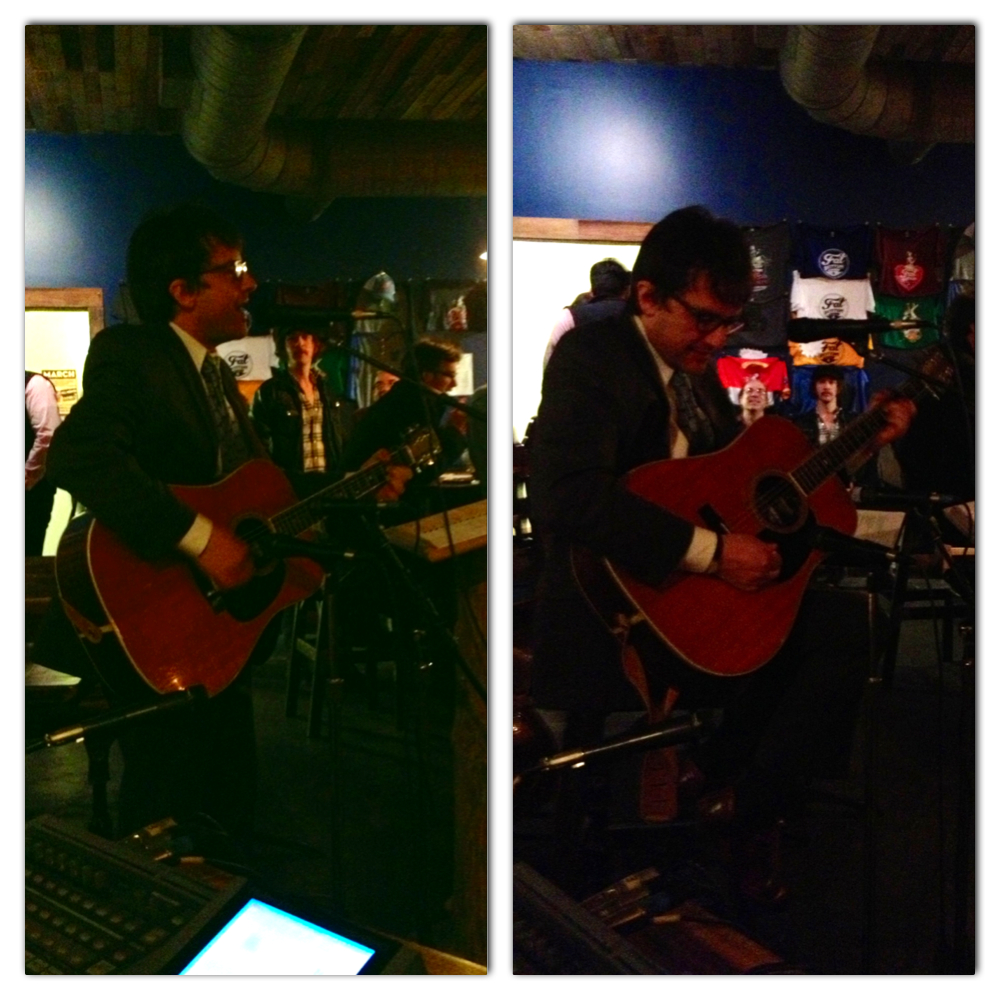 Per usual, I was able to get Paul and Barry together after the reading and music performance to ask a few questions about their creative processes, journey, and ties to Nashville in general.  Because both Paul and Barry have done interviews for and with each other in the past, this part was a breeze and fun to watch a duo answer questions on the fly and without even having to try to think of answers on the spot.  That said, one of my favorite moments of the evening happened around this time.  You must know, if you haven't attended any of the East Side Storytellin' events yet, that it ain't The Bluebird Cafe.  I don't ask people to be silent in the crowd during the short duration that we take over the venue.  Before every segment, I remind the crowds of this and ask that they are respectful of the featured guests when they are trying to tell their stories and share their talents to everyone in the room.  I'm guessing the college girls that arrived on the scene halfway through the show and took their spot in the back right corner of the taproom didn't get the memo on respect in class or in life from their parents yet.  It's okay, some people shouldn't drink and be in public.  With that said, there were several attendees and patrons that tried to get their attention throughout their talks without any results beyond more volume.  I didn't mind as much because 1) it's not my venue, 2) I know that regardless of the volume, Tom does a terrific job with the recording and getting the best sound we possibly can each time, and 3) the aforementioned member of the band The Coal Men turned around from the interview and yelled at the girls gone wild to "SHUT UP AND LISTEN!   PPPPPPLLLLLEEEEEEAAAAAASSSSSEEEEEE, JUST LISTEN AND SHOW SOME RESPECT!"  I kept interviewing on the outside, but I was smiling on the inside.  The girls indeed followed said advice and the show ended on a positive note all around.
I can't say much more than that to finish things off here right other than simply giving you the link to enjoy the full, one-hour, edited radio show that aired on WAMB Radio (1200 am/ 99.3 fm) at 2pm on Saturday, March 23rd.
But before I do that, I'd like to say mucho thanks to my wife, Emily Harper Beard for being the supportive best friend that she is to me.  I'd like to thank Tom Eizonas for the recording and sound jobs that he does for each show.  I want to give props to artist Alex Smith for knocking out the most creative and spot on artwork for each event with only the links of the featured guests for inspiration.  I would also like to give a proper shout-out to Chris Haston, Aric Carroll, and the rest of the Fat Bottom Brewing Co. family for being so cordial, professional, and welcoming to our East Side Storytellin' idea and providing a good home for it all to grow.
Also, many many many MANY thanks go to Barry Mazor and Paul Burch for paying respect to Jimmie Rodgers and his music by giving everyone who attended with a show that we all will not forget about any time soon.  It was top-notch and class all around.  It was what every concert should be like, in my opinion, and the storytelling was as good as it gets from both of you.  You both are amazing!
Now, without further ado, here is the link to enjoy and share with others:
https://soundcloud.com/eastsidestorytn/sets/east-side-storytellin-10-3-19
The NEXT East Side Storytellin' event will be …
Date- Tuesday, April 2nd, 2013
Time- 7 pm sharp (Central)
Location- Fat Bottom Brewing Co. (900 Main Street)- www.fatbottombrewing.com
Get your RSVP on for your own table- call 615-678-5895 and tell them how many friends are coming with you.  Otherwise it is first come, first available seats.
Who will be featured-  Melanie Vare (author of stories to get you through That Time of the Month – www.that-time-of-the-month.com) and the musical stylings of The Rough and Tumble (Mallory Graham Ellison & Scott Tyler- www.theroughandtumble.com)