Thank YOU, thank YOU, thank YOU. Hello Again! Welcome to another wonderful collaboration between East Side Story and The Post. Let me be the first to officially, whole-heartedly welcome you to the recap and recording of the 105th epic edition of East Side Storytellin'! Like the 104, I repeat … 104, previous shows East Side Story has put together, we all decided to take a break from our busy schedules all over town in order to sit back and relax and get everyone cultured up just right in the form of a Nashville writer reading from original prose, followed by an amazing local musician performing and talking about their original music, and then a round-up creative conversation with all featured guests of this event to talk about their individual journeys and personal ties to Nashville. Without further ado, fulfilling the entertainment portion of your day, this is the recap and recording of East Side Storytellin' 105. Let us begin, again.
The first featured artist of the night is someone I like to refer to as the resident dreamer. She is also the Creative Director behind the majestic, the awesome, and the infinitely coolest publishing company in the world that goes by the name of April Gloaming Publishing. This lady was born to the world but claims no country. Lucky for us, she claims Nashville as her current home base. Also lucky for us, is the creative dreamer behind Authors and Artists: The Regenerates, a writing and art collective that is majestic, awesome, and infinitely cooler than anything I have dreamed up so far. Point being, this lady is a creative force to be reckoned with and to fully embrace in a hug if she grants you permission. She doesn't just dream or publish other authors' and poets' work though. She was featured tonight because she is a writer as well, a brilliant writer and reader. I'm talking about the wild dreamer in the heart to Lance Umenhofer's world, the one and the only Robyn Leigh Lear.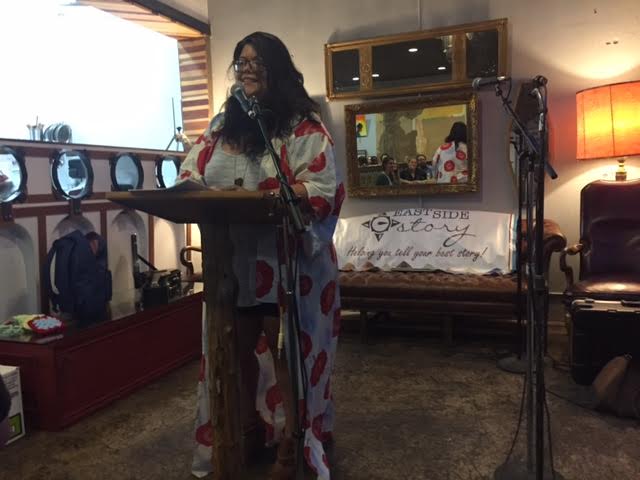 Robyn sashayed her fabulous wardrobe and positive attitude to the microphone to battle the dreary rain outside and the slight fear of reading her work in public. She told me and the crowd that she tends to cuss to make herself feel better, and it didn't take long for her to start feeling better. Some of us who know her better knew that her moments of silence between stanzas were due to nerves, but the overall dramatic pauses that they lent themselves to for everyone else simply heightened the amazing original poetry that she was sharing with us. Without trying to do so, she was effortlessly giving a brilliant performance of her work, mixing laughs with stormy motifs that were deeply personal and instantly connecting with everyone in the room.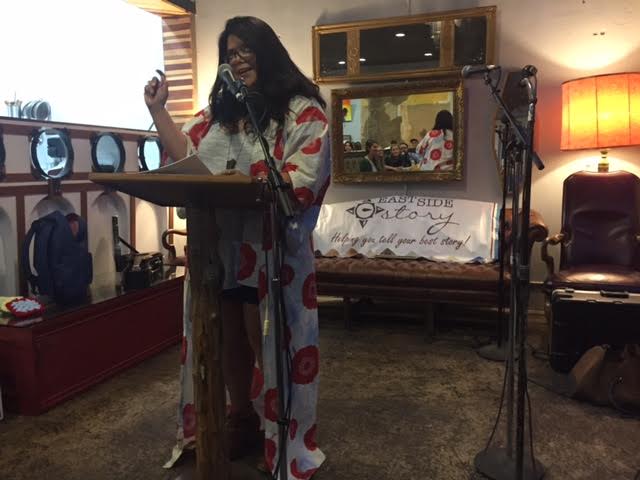 Throughout the reading, Robyn tackled emotional themes such as pain and trauma and being unafraid in the midst of soft milk in a violent storm (listen to the recording to catch the drift), but one of my favorite moments was when everyone's cell phones blurted out an emergency alert for the impending weather surrounding our city. Robyn, caught in the middle of the alerts and two of her poems, used and spun that alert into a perfect transition for everyone to pay attention to the storm of words she was about to throw out and make us weather. We were safe at The Post and safe in Robyn's majestic leadership. I also want to make a special note that Robyn shared some new material that was so fresh she had recently written it and never shared with anyone. That's the kind of fearlessness I love and respect from her and other guests who do the same. You can hear the recording, but I advise you to listen to the final poem at least two times, a poem about seeing a dead body and pulling it apart to find the heart and understanding of life and your own purpose. And, like Keyser Soze, before we knew it, Robyn was finished and gone from the stage. She practically dropped the mic on the stand with an eruption of applause and inspiration in her wake. It was quite epic.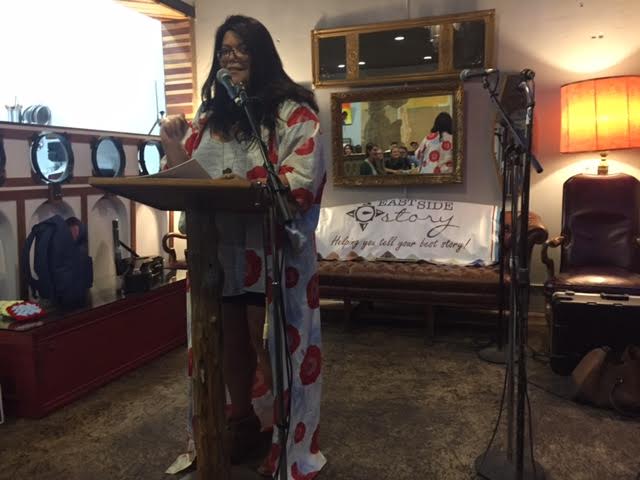 Our featured music of the night is someone, like our featured writer, who creates and performs art that will hook you, lift you, and as she would quote/unquote "make you think and probably feel stuff." She is our first featured musician who labels herself as Indie/Folk/Uke-rock, with a hint of jazz and a dash of soul. Her vocals give life to vivid imagery, catchy melodies, and profound themes of creative dynamic shows that are light-hearted, fun, sincere, and thought provoking. Born in Hollywood, she was destined to be a star. So, from Florida to her now Nashville home, alongside her good friends Abigail Flowers and Kateri Farrell, it was an honor for me to formally introduce the very talented Ally Brown.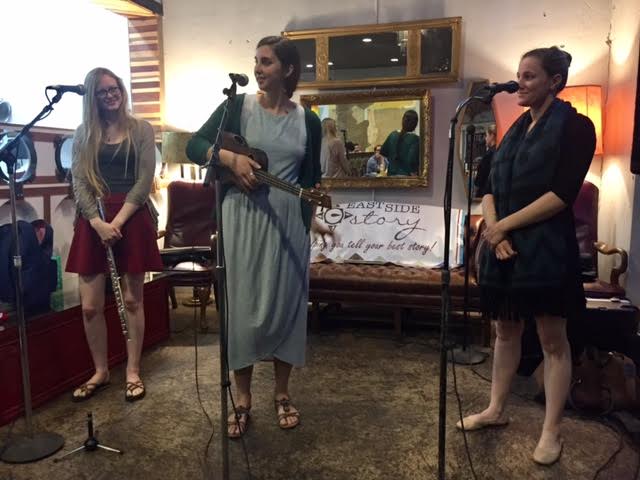 Ally immediately thanked Robyn for sharing her work that inspired Ally and the gang right off the bat. Ally then jumped right into setting the mood for her set, asking us to be prepared for her to take us into outer space and then bring us back into another world again later. She said it with a smile, but I knew she meant it. Packed with two of her best friends, she took us on quite the musical and lyrical trip.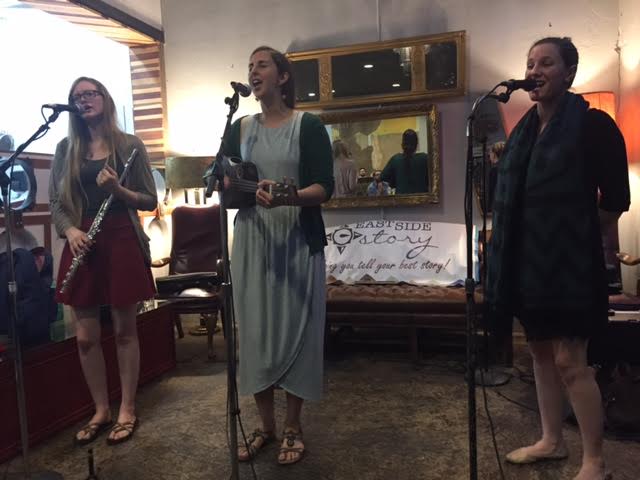 Ally's music was in line with the themes that Robyn left us with. She sang about the haziness of life's uncertainty, dealing with not knowing where you are and what you're doing, but then coming back around to assure us that everything is okay. One of my favorite songs and stories behind the music came from Ally watching an episode of "Cosmos" where Neil Degrasse Tyson taught her the concept of moving faster than the speed of light and the result being that all of time around that person or thing would stand still. Ally took that concept a step further and wrote a song about being in a relationship where you were moving faster than the speed of light and how then you could sing and dance and be with that person forever. The song, like the idea, was beyond beautiful. Sometimes, it's the simple things that have the most profound effects.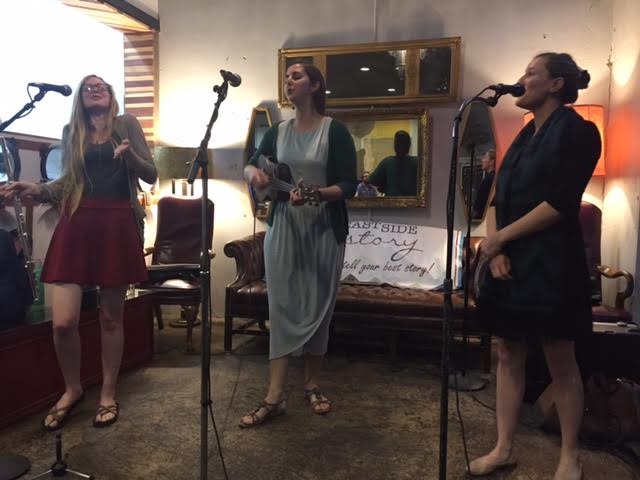 Ally went on to make us laugh and feel great while she sang about a fictional (maybe) wolf while her crew howled at the moon, and then she told stories that resembled fairy tale characters where she lost things in her hair. Overall, the comedic banter between the songs matched the brilliance of the wonderful harmonies that rained down over all of us inside The Post as Mother Nature cleansed the rest of the city outside. I had the thought, not that I was sad or depressed before the show, that nobody could NOT be in a better mood after listening to both Robyn and Ally's creativity in person. These girls were all about that shine.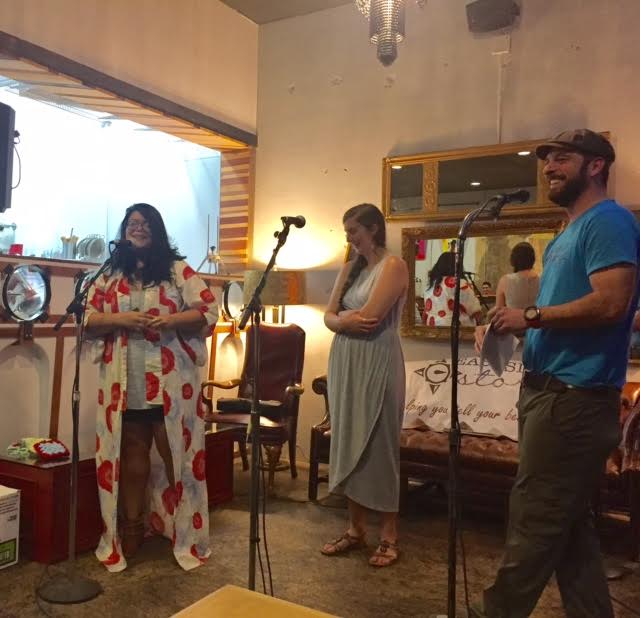 Then, when I was able to get them both on stage after the music ended, it was fairly obvious that the synchronicity of East Side Storytellin' 105 would be that Robyn and Ally were meant to be new besties. They will most certainly do some creative collaborating and events together in the upcoming year and our city and world will be better for it. I'm kinda throwing out the manifestation that Robyn writes a cool story to read before or during a Spookulele show in October, my favorite time of the year. Again, just listen to the recording of the masterful experience we all shared together because of these great people and great artists on the rise on a random Tuesday night when everything in my world made sense, even for just a moment and a flash.
So, with all that said about another very special show that was/is near and dear to my heart, here is the edited recording of East Side Storytellin' 105 that featured Robyn Leigh Lear & Ally Brown (with Abigail Flowers & Kateri Farrell) at The Post on Tuesday, April 18, 2017. Feel free to enjoy and share it with everyone you know, over and over again. It is well worth your time and energy. You're welcome.
https://soundcloud.com/eastsidestorytn/sets/east-side-storytellin-105-1 
Before I say goodbye for this round of fun, I'd like to give a big round of thanks for Robyn and Ally for sharing their stories, talents, and time with us.
You can read more of Robyn's writing here –  www.aprilgloaming.com and www.theregenerates.org
You can listen to more of Ally's music here – www.allybrownmusic.com
You can listen to this show, edited, soon, alongside the previous shows too, on our website,www.eastsidestorytn.com, at our In Our Own Words Tab – see here – www.eastsidestorytn.com/in-our-own-words
I'll keep the gratitude going for Tom Eizonas, my lovely wife and most talented artist in Emily Harper Beard (efharper), and everyone that came out live to support the show … and to everyone who has helped continue to spread the word and support the show online afterwards.
I'd also like to show much love to Clay Brunton for the beautiful artwork online to promote the show.
Last, but certainly not least, I'd like to give one last shout out to Tonya and Chris for making The Post so welcoming and positively life-changing for the East Nashville community at large.
Our next show will be
East Side Storytellin' 106
Tuesday, May 2nd
at The Post (1701 Fatherland Street) at 7pm
reading- Tim Shaw
singing- Joshua Black Wilkins
That said, that's all for East Side Storytellin' 105 and another fabulous event at The Post with East Side Story at the helm. Thanks for coming out and sharing the good word and giving some love to all of these great Nashville artists and our creative ideas. Please remember to be nice to one another out there.
Much love,
mE