I figured awhile ago that kicking off my favorite month, for personal reasons of course, of April surrounding myself with some people that would make me laugh and my heart to smile would be the best thing I could do.  It just so happened that I knew exactly who to call for said mission within the growing confines of East Side Storytellin' and where it is heading.
I met both of the featured acts for East Side Storytellin' 11 though other friends of East Side Story a few months ago.  On April 2nd, the day after April Fools Day, I was honored to bring together Melanie Vare and The Rough and Tumble (Mallory Graham-Ellison and Scott Tyler) for a very special show.  Tom and I got to the location so early that I found myself ready to start things over 30 minutes before start time in fact.  But we waited for everyone to fill in the seats and take their spots as usual.
I met Melanie Vare via a mutual friend and author named Mike Pentecost (author of the book Bus People).  Mike was a guest and featured male author for Vare's monthly show called "That Time of the Month" where she has several funny female storytellers and then one token male at the end.  The show is celebrating it's one year anniversary in Nashville with a double show (back-to-back) on Sunday, April 14th, but Melanie's story goes back beyond a year.
She first started out as a stand-up comic while in college in San Diego.  She graduated college and the ranks of comedy by moving up to LA and making her mark on places such as Comedy Central, The Moth Radio Hour, Kidd Kraddick in the Morning, and variety of others before starting her own blog called "The Nail Biter" and bringing other funny females together for her That Time of the Month shows.  After putting together her 'best of book' titled "stories to get you through That Time of the Month," (you can find both at www.melanievare.com) she left Venice (Beach that is) for Nashville and the love of her life, her husband.  She hasn't stopped growing her comedic vision and goals since the move.  And being a trusty patron of Zanie's Comedy Club from time to time, I was ready to get my laugh on.

I introduced Melanie and she took control of the stand and the crowd with a personal narrative that was filled with the lighter side of near robbery, kidnap, and rape of all things.  You couldn't hear a beer glass drop until the funny parts sent giggling waves around the room.  In the end, nobody was harmed other than the psyche of the narrator's mom, but that's just what happens to parents with kids growing up, right?  As you can hear below, Melanie was a superstar on and off the page.
Melanie sat down and I picked up my notes to introduce The Rough and Tumble.  I was introduced to them on the internet via East Side Storytellin' alum Julie Lee when Lee mentioned that she had some talented friends who would be perfect for East Side Storytellin'.  When good friends talk, I listen.  I immediately went to their website, www.theroughandtumble, and listened to every song and watched every video back to back.  I was awe-struck.  I bypassed their campaign page for their contact information and asked them if they would be interested in the first open date that I had on the books, April 2nd.  Before I even surfed back to the campaign page, they had already replied and wanted to do the date.  Not only that, they came to the East Side Storytellin' event that very night even though they were sick and tired from the road.
Fast forward to the night of East Side Storytellin' 11 and me being giddy to introduce these two wonderful people.  Mallory and Scott had already set up ALL of their instruments just the way they wanted and proceeded to win everyone's hearts over with their original songs, magical melodies, and heartfelt vocals.  Their music was breathtaking and their comedic banter in between songs and the stories they told before each song made me exhale with laughs each time around.  Their conversations about their campaigns (like the Save the Postal Service Campaign, the Holiday Awareness Campaign and others) had me laughing and smiling for days after the show.  Just like the first time I experienced their music on their website, I was totally won over by everything they do and are about from the first song they sang at Fat Bottom.  You'll hear it below, but it was amazing (for lack of a better adjective).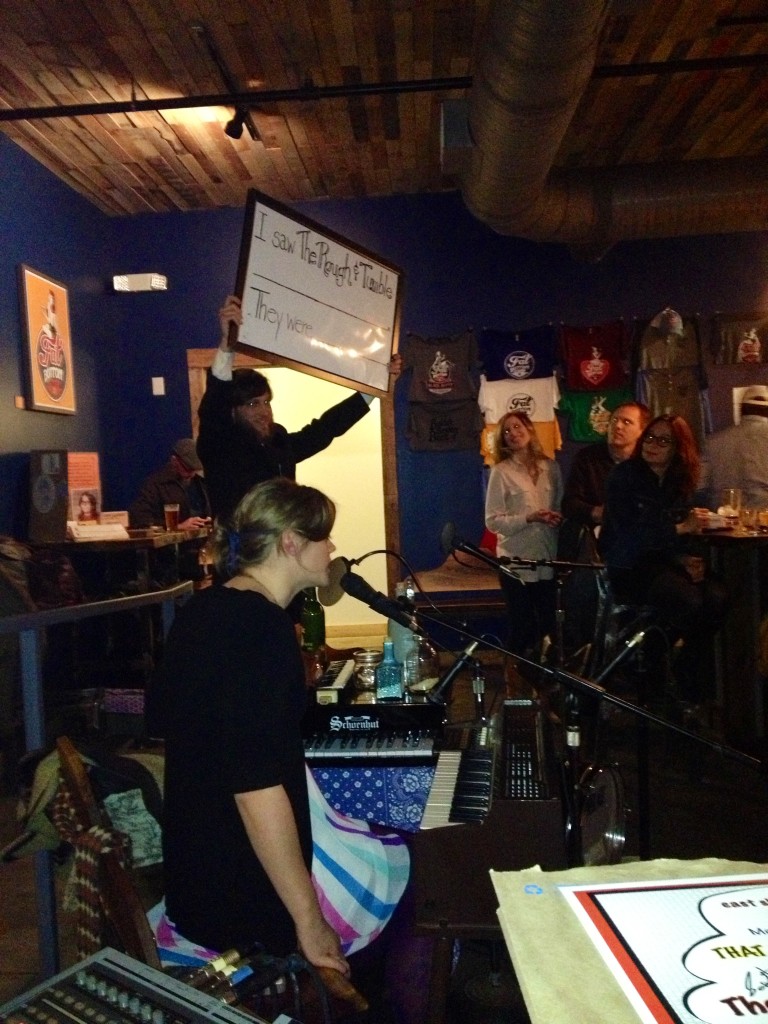 Overall, after a fairly noisy interview session, Melanie, Mallory, and Scott were such troopers.  They made me laugh more than I have in awhile and reminded me to stay focused to the dreams and passions that I am trying to work towards in my own life.  I'm not sure if you could ask for more from an artist, can you?
Before I give you the link to listen to the show as edited below that aired on April 6th, 2pm, at WAMB radio (1200am/99.3fm), I want to give a few more THANK YOU shout outs.
First, to my lovely wife Emily Frances Harper Beard (www.efharper.com).  She had to work out of town this round and missed the show but she is always the cornerstone of my life.
-Many thanks to Tom Eizonas for the amount of passion he provides to this project and the job that he does with the sounds on and off the stage.  The proof of his excellence is in every recording we put together.
-Thank you artist and friend Alex Smith.  Your artwork inspires me every day and I'm honored that you share your talents with me and all of Nashville for that matter.
-Thanks to Chris Haston, Aric Carroll, and the rest of Fat Bottom Brewing Co. for letting us use your home as our home for the show for the time being.  It is a wonderful establishment on the rise and like East Side Story … the best is yet to come!
-Thanks to Melanie Vare for her stories, honesty, creativity, and courage to take any stage and tell jokes and funny stories to make others feel better about their life and laugh even when they are coming to see you to do so.  Comedy is the hardest job their is and you do it very well.
-THANK YOU Mallory Graham-Ellison and Scott Tyler for being the team that you are.  Your music, instrumental play, vocal harmonies, and deep, personal touches and insight that you add into your thoughtful songs and everything that you put together on and off your website is tremendously inspiring to say the least.  You both are destined for good things and you have such good hearts.  Thanks for being YOU!
Now, without further ado, here is the link to listen to the show you might have missed.  Word to the wise, don't miss out on it below or the next show(s) to come!
https://soundcloud.com/eastsidestorytn/sets/east-side-storytellin-11-4-02
The NEXT East Side Storytellin' event will be …
Date- Tuesday, April 16th, 2013
Time- 7 pm sharp (Central)
Location- Fat Bottom Brewing Co. (900 Main Street)- www.fatbottombrewing.com
Need information or details about Fat Bottom Brewing Co., call 615-678-5895.  Otherwise it is first come, first available seats.
Who will be featured-  Robert Hicks (New York Times Bestselling author of "The Widow of the South" and "A Separate Country"– www.robert-hicks.com) and the musical stylings of Eric Brace and Peter Cooper (http://redbeetrecords.com/eric-brace-peter-cooper-master-sessions)