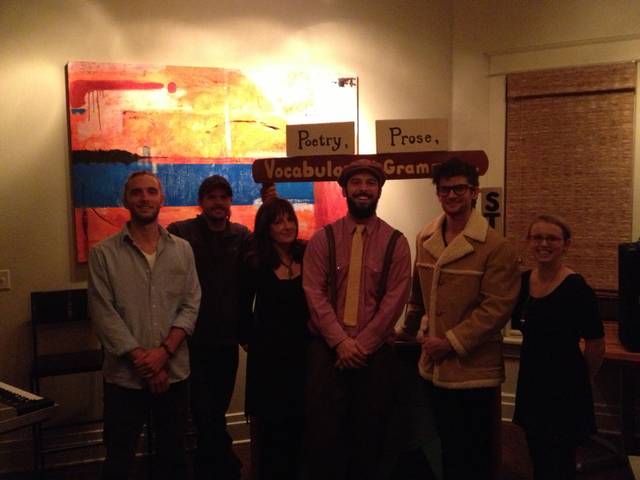 It went down on Tuesday, November 20th.  It was not election night, but it was the Tuesday before Thanksgiving.  Was I worried about nobody showing up?  The answer was not a chance!  We had our quota already RSVP'd by 6pm that night and we were set up and ready to go.
Ready to go we were and oh the places we went altogether.  Being that it was the week of Thanksgiving, it all came together before the show in a manner that gave me many things to be thankful for.  The original featured musical group was Jenny & Tyler.  That said, two nights before the event, Tyler called me with a sore throat; sore throat being a tremendous understatement.  Not only was he sick, but Jenny wasn't sounding too much better.  We decided to collectively wait and see if it would work out in two days time, but then Tyler called me back ten minutes later with the news that the talented Levi Weaver could and would fill their spot on short notice.  In fact, Tyler texted me that I and the audience should "prepare for awesomeness!"
Fast forward to the night of the show.  Everyone showed up and was ready to go.  We had to wait for about ten minutes actually because of a traffic jam, but that allowed me to pass around a silver bowl like a church offering so that everyone in attendance could offer up their business cards.  During the night, I drew out two cards.  The person with the name on the first card drawn was given one of the limited edition prints for the event made by superb artists Derek Sabiston and Alex Smith.  Needless to say, the winner was excited … not to mention River Jordan, Levi Weaver, and myself after seeing the prints in person as well.  The second person to have their card drawn received two FREE passes to the Frist Center for the Visual Arts AND two complimentary meals at El Chico's!  Talk about another reason or two to show up at the live East Side Storytellin' show, right?!  Back to the night's recap.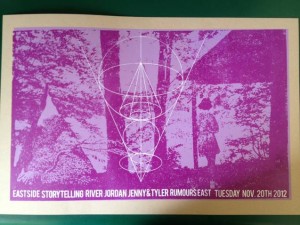 (Signed limited edition print for sale at East Side Story while they last)
Like I said, everyone was ready to go.  Featured author River Jordan took the stage with a stack of books and notes, a glass of red wine from Rumours East (yep, everyone can drink and eat during these events too), and a big smile on her face for the wonderful, thoughtful crowd in front of her.  She read from some of her older works, talked eloquently about her career which included creative writing tidbits sprinkled in-between, and then she dove head and heart first into her stories from the bestselling "Praying for Strangers."  It was perfect timing all around.  I can't think of better words and stories being read the week of Thanksgiving than River's account of meeting various strangers and then finding ways to pray and giving thanks for having crossed them in her life path.    Everyone was relaxed and attuned to every word she spoke.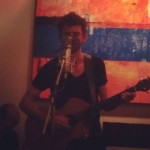 I walked back up to the podium, and introduced Levi Weaver and his friend Lindsay with the honesty I always introduce people.  I mentioned that I had known about Levi's music for some time, but I really fell in love with his music two nights prior when he agreed to play East Side Storytellin' on short notice.  I told everyone that this night was actually the first time I'd ever met Levi in person.  I also mentioned that like some of the people in the crowd this night, it would be the first time that I ever heard Levi live.  Now, after the fact, I must admit that I lied without knowing it.  During one of the times that Levi spoke about his songwriting between songs, he mentioned that he had spent some time in Europe and had played on tour with the wonderful Imogen Heap.  After the show, I told Levi that one of the best shows I've ever been to in Nashville was an Imogen Heap concert at the always awesome City Hall (God rest its soul which has now turned over in its grave into an Urban Outfitter's in the Gulch … ugh!).  Levi replied that he was at that show and not only opened for that show, but also played on several songs on stage with Imogen.  You see, I had seen and heard Levi before!  Small world and more stories like that to come for sure here … stay tuned.  But yeah, Levi and Lindsay totally rocked Rumours East.  As you see and hear below, Levi's stories behind bouts with depression and hardships had by other close friends eventually lifted him up and his prolific prose within his songs to make others like me happier than before we heard him sing and play.  I told him, "Your depression makes me happy."  He laughed and said he'd heard that before a time or two.  Side note, how could one forget the ultimate love/break-up song after the story of Levi writing it on a 20 plus hour train ride with the love that he was breaking up with at that time.  Needless to say, it was all some powerful, deep stuff.
After the musical performance, I took the stage to join the talent of the week and discuss a few things and have a casual conversation.  I'll leave you here to listening to the conversation below so you can enjoy the questions, answers, and remarks without me giving it all away or telling you everything that was said.  I do want to note that both Levi and River liked my one word answer the best to why I came to Nashville … just saying.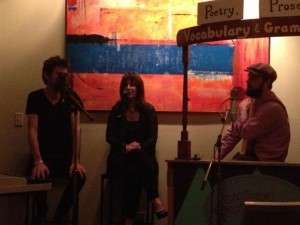 (Video of show will be uploaded later … here … later.)
———————————–
To listen to the edited version of the show on 11/20/12 that was later played on WAMB radio the following Saturday at 2pm
Click the following link:  http://soundcloud.com/eastsidestorytn/sets/east-side-storytellin-2-11-20
———————————–
All that said above, I would like to thank everyone again for making another Tuesday night into an extraordinary Tuesday night for everyone that was a part of East Side Storytellin' on Tuesday, November 20th, at Rumours East.
For Adam Binder, the man who opens the door and space of Rumours East and allows us to have a party every other week at his office.
For Tom and Dave and the family at WAMB radio, who take the time to record, edit, and make us all sound like we know what we are doing while having said party.
For Alex Smith and Derek Sabiston, your artwork was/is something truly amazing.  I very much look forward to seeing how the limited edition prints change and grow for each and ever show (by the way, left over prints are sold at East Side Story- 1108 Woodland Street, unit B, until  they are sold out … forever!).
For Levi Weaver (and pianist Lindsay) for taking time out of their busy, creative lives out of the blue and not only saving the musical day, but bringing their A-game and wonderful words and sounds to wow every single person that witnessed the show in person.  It truly was something special to watch and hear.  THANK YOU!
For River Jordan, your jokes, spirit, stories, and all-around goodness were big big uplifters for everyone who filled Rumours East's seats on this very special night.  It was truly an honor!  THANK YOU!
For my wonderful mom and dad, thanks for driving down to see the idea in person and beyond words … thanks for having me 🙂  LOVE ya!
For my beautiful bride and eternal girlfriend with a ring to prove it, you are the best.  Emily Frances Harper Beard, you are the best!
****Want to witness and be a part of the next East Side Storytellin'?****
Call to RSVP for FREE at Rumours East at 615-262-5346.
Tuesday, December 4th, at 7pm
Author, Bill Friskics-Warren, will read from his book "I'll Take You There" followed by a musical performance by David Mead.