One shy of a full year of doing this East Side Storytellin' project, 24 might be my lucky number now because I was as excited as I've been since the start to take part in it. Whether or not you know this about me personally, I am a huge Halloween and horror movie aficionado.  It is one of the best times of the year for me (and slowly my wife-with the manta of "if you can't beat's …").  That said, East Side Storytellin' 24 was a spooktacular show like none other before.  It was the 1st annual Halloween-ish themed show, and that's just about all you needed to know before coming in person.  We had a local author that tells the scariest stories you'll find around and a family that has come together through music to make old new.  With original readings, singing, and a conversation about everything we all do after that, what could go wrong … right?
Well, we were set up out on the patio at Mad Donna's in record time.  It would figure that getting there early and ready would be about all we could plan.  You can plan a pretty picnic, and a Halloween-ish themed show outdoors, but you can't predict the weather.  With equipment and dinners on the tables, we managed to all pull together (people in the crowd and those involved in the show) in order to move everything outside upstairs to the 2nd story bar/stage for the first time … also in record timing.  After the chords were plugged and Tom was ready to go, I took a look around.  The walls were decorated with Halloween decor, the bar was lit up like the bar from "The Shining," and everyone was ready to make a special night even more special.  The place was set, and everyone was smiling.
I took the stage and introduced the featured author that just so happens to be one of my absolute favorite authors I've met yet in Nashville.  In fact, she might have been the very first author that i met and responded to the initial call for authors i sent out when first starting East Side Story last year.  She lives in Whites Creek, blogs for the Nashville Scene's political blog "Pith in the Wind," writes on another site that she has created called tiny cat pants. wordpress.com, and is the author of the perennial Halloween favorite "A City of Ghosts."  She is busy working on a handful of projects at the moment that will be out sooner than later, and she was primed with a beaming smile and stories in hand.  An extraordinary writer, and an even better person, I was honored and so excited that she was so excited to introduce the one and only Betsy Phillips.
Betsy put her papers down on the podium and set the mood perfectly.  She described a few of backstories behind the excerpts that she decided to read from for the evening, and it was perfect.  The first reading was from her book "A City of Ghosts."  It was spooky, Nashville-themed, and poignant writing.  It had everyone on the edge of their seat.  *Side note, I finally finished the entire book "A City of Ghosts," and I can't say enough great things about what Betsy has put together in that collection.  For someone (talking about myself) who holds the 80's movie "Planes, Trains, and Automobiles" as one of the most complete, amazing comedies of all time- because of the writing, acting, and moments beyond slapstick comedy and unforgettable, gut-wrenching laughter, heartbreaking moments (I can't remember a sadder moment than John Candy alone at the train station at the end when Steve Martin realizes he has no family to go visit during the holidays) that it contains … Betsy has done something very similar and unforgettable, not only for Nashville-based settings to stories but also to the overall effects of her ghost stories .  Seriously, I can't say enough good things about her writing and projects.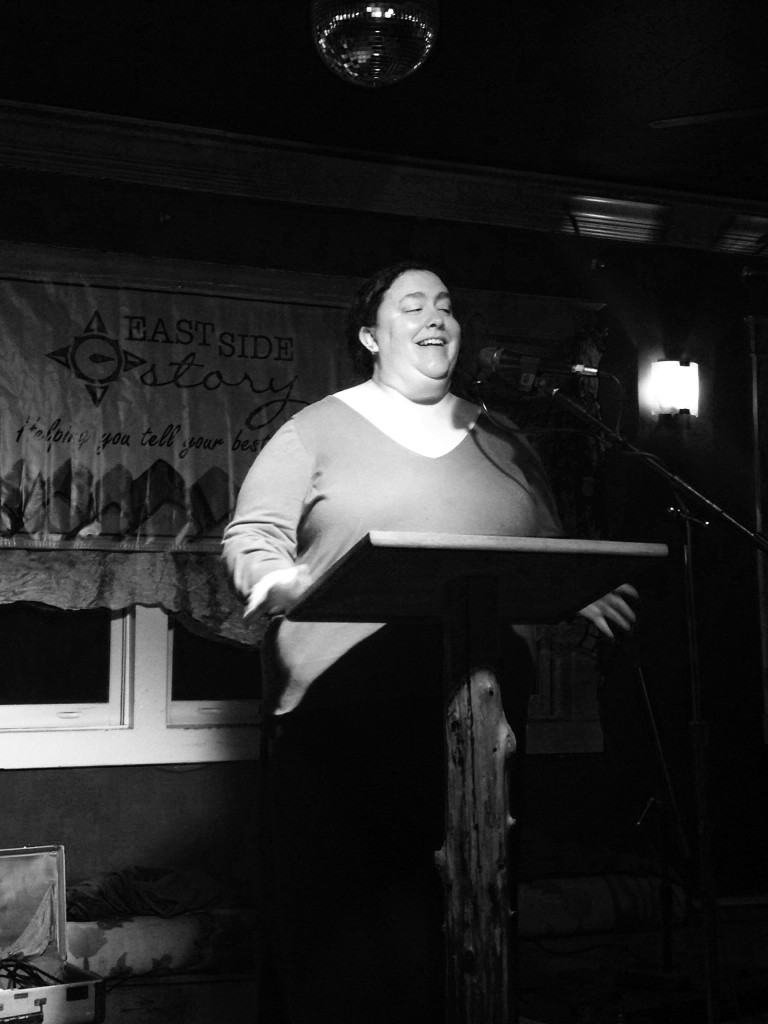 Betsy finished her excerpt from her published book, and then she talked about and read from a racy scene from her upcoming, work-in-progress published book in that of "The Wolf's Bane."  I'll let you listen to the following show to hear what she had to say and read aloud about that project … I don't want to spoil and give you everything.  It's better to come from the creator's voice, in my opinion.  But in the end, Betsy totally made the holiday season, my favorite holiday season, even better than ever.
Betsy decided to stay on the side of the stage, a makeshift VIP area upstairs as it turns out, and I introduces the music act that was no act at all … they were/are the real deal.  An authentic Nashville married musical couple, this group always brings together vintage sounds, emotions, stories, and melodies and turns it all into something very fresh and new.  What used to be known as a single music man named Mr. Hazelwood, the stage was as ready as it could be for the entire growing family … the new group called Old Hazelwood.
Joseph and Lindsay stepped up to the mic and belted out song after song like seldom other married couples could in town.  Typically playing with a full band, Joseph and Lindsay managed to pull off one heck of a show with just the two them.  Actually, I just lied.  After a few songs and stories about the songs, Joseph played a few by himself before calling up two of little girls of the family to accompany them in both song and dance.  As you can see from the photo collage below, the kids really lit up the stage like naturals.  The combination of cute dancing, clever songwriting, and vintage sounds made new were amazing to witness all in one total experience.  Beyond adjectives and other words, Old Hazelwood was inspiring.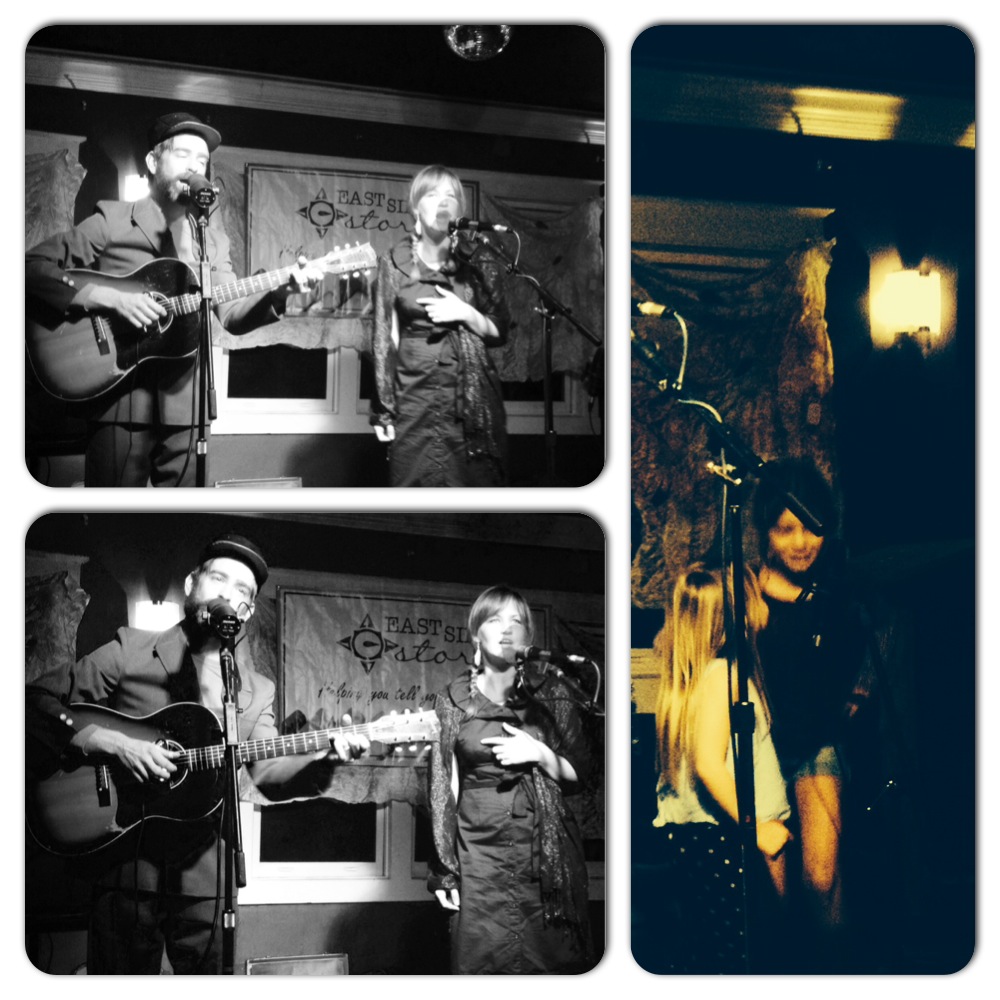 After the music, and dancing, ended, Betsy and I took to the stage again to talk a little about our collective worlds and creative paths in and around Nashville.  Each with fun stories that were new and news to me, it was a pleasant ending to what came together as a very pleasant evening with great friends and multi-talented folks.  Whether it was in the crowd or on stage, at any given moment, all hands were on deck and the room was a striking moment that might make an encore appearance in one of Betsy's future Nashville ghost stories (because it felt that good and made that much of a Halloween impact … again, in my humble opinion).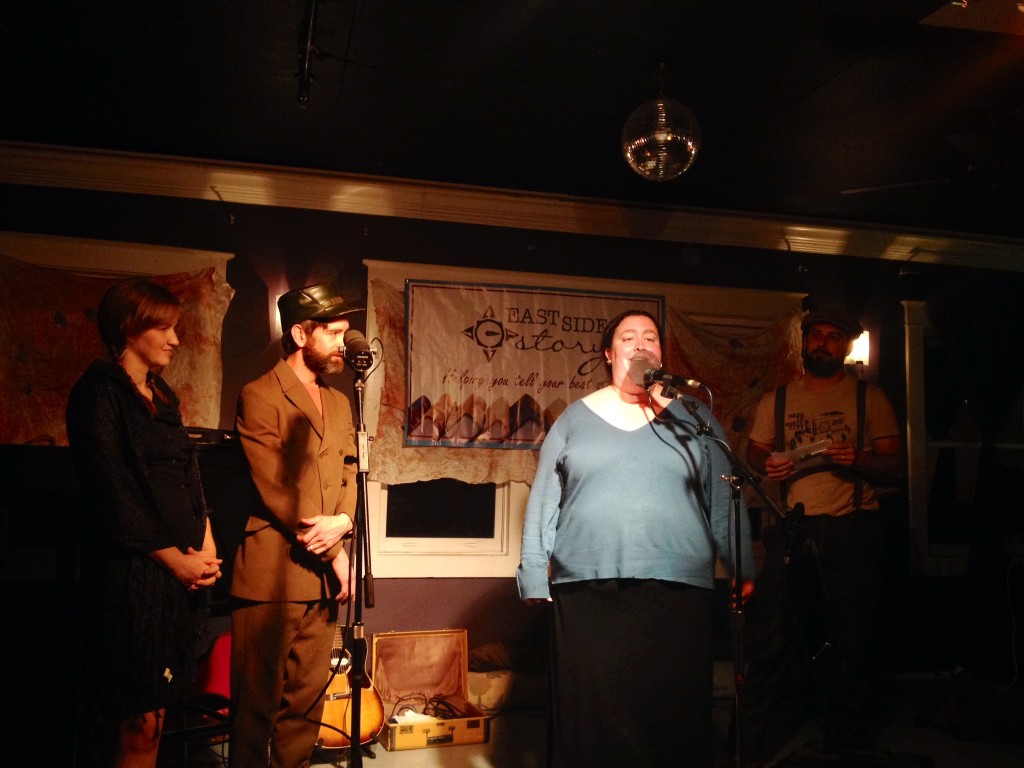 NOW, here is the recording of the show, edited down to 1 hour for your enjoyment without distractions, so you can listen to it and share with others over and over and over again all year 'round.
https://soundcloud.com/eastsidestorytn/sets/east-side-storytellin-24-10-15
And before I put down the information for our next EPIC East Side Storytellin' event coming up in November, I want to throw out a few big THANK YOU's to people who helped make East Side Storytellin' 24 such a success.
–Emily Frances Harper Beard (www.efharper.com), I wouldn't be able to do any of this without your heart, help, and support … I can't say that or that I loves you enough.
–Tom Eizonas, for recording these shows and helping make everyone, especially me, sound great to everyone who comes to the shows and listens to the links afterwards.  You always put a lot of heart and soul into the shows too.
–Clay Brunton, I could thank you for days, months, and years.  I love the dynamic themes and creativity your bring to every aspect of your life.  You are a modern day pioneer, and I'm so happy you are a peer.  He is risen indeed!  As always, I look forward to what you have in store around the corner.  This artwork was/is superb, good sir.
–Betsy Phillips (http://betsyphillips.net), I think I've said quite a bit of my positive thoughts on you and your writing skills above and in person.  That said, I know, like your imagination and creative drive doing forward, there will always be more.  You are AWEsome.  Don't you ever forget that!  PS thanks for sharing your stories with the rest of us too.
– Old Hazelwood (http://www.misterhazelwood.com/old-hazelwood/), your family is inspiring, your music is inspiring, everything about you guys is inspiring.  Did I mention that y'all are inspiring?  Thanks for letting us be your friends and follow your creative journey.  I'm not alone in saying that I'm already looking forward to seeing what comes next!
To the people of Mad Donna's, thank you for giving us the perfect setting for the growth of this show.  Everyone pulled together and helped us get out of the rain and make the best show we could under the stormy and time delayed circumstances.  We couldn't have done it without your help and support all around.  I foresee great things and events happening in the near future due to this new relationship.
NOW that you have read all of the above, KNOW that our next show is already our 1 year anniversary of our first ever East Side Storytellin'!!!!!!!!!!
The next show, with details below, is going to be a very VERY local show.  Nothing gets you on higher ground like higher education, and nothing is more about higher education to me in Nashville than Vanderbilt University.  We have a local author who published a local, historical story that was published by Vanderbilt University Press, and the music is by a Vanderbilt alumnus that is incredibly talented.  Can you tell I'm excited?!  See below and I hope to see you ALL there!  THIS WILL BE EPIC!
The NEXT East Side Storytellin' event will be …
Date- Tuesday, November 5th, 2013
Time- 7 pm sharp (Central)
Location- Mad Donna's (1313 Woodland Street)- http://maddonnas.com
Need information or details about Mad donna's, call 615-226-1617.  Otherwise it is first come, first available seats.
Who will be featured- music by Park Chisolm (https://myspace.com/ parkchisolm) and a reading by  Keel Hunt (author of "Coup" – http://www.vanderbiltuniversitypress.com/index.php/books/533/coup).