Hello, good evening (or morning or afternoon depending on when you are reading this for the first or 100th time), and welcome to another excellent round of East Side Storytellin'.  RIGHT NOW, like the 26 great episodes before, YOU are in store to read about and listen to the magic that was made on December 3rd, 2013 at East Side Storytellin' 27!  It was another inspiring show that included a prolific Nashville writer reading from original prose, an amazing local musician talking about and playing some original music, and then all of the featured guests and myself got to enjoy an original, candid conversation about their creative processes, journeys, and personal ties to Nashville.  Thank you for taking the time to listen.
Without skipping a beat or wasting any time here, I'd love to introduce the show by saying a few things about the featured author for this show as an appetizer for the recording.  Born in Boston, this most excellent lady hit the ground running from the first typed word at a very young age and hasn't looked back since.  Her first published short story, "Mule Killers,"  won an O. Henry Award in 2006.  For anyone that might not know this fact, the O. Henry Award is given annually to the short stories of exceptional merit … basically the best of the best.  Not only has this writer won the O. Henry Award in 2006, she also has been awarded 2 Pushcart Prizes, been featured twice in Best New American Voices, was a finalist for the Orion Book Award, a recipient of the Whiting Award in 2010, honorable mention for the 2010 PEN/Hemingway Award, a graduate of the MFA program at the University of Virginia with her debut story collection "Reasons for and Advantages of Breathing" being a New York Times Editors' Choice book, most importantly … she is an amazing mother of one of the cutest toddlers ever to visit East Side Story- fact.  I could go on and on and on about awards and well-deserved accolades about this amazing writer for days, but I'll stop here and let you Google more about her writing beyond what she shared this particular evening.  Heck, you can drop by East Side Story and buy her book TODAY- that would make her and me very happy.  Oh, before I talk about this lady for days, and you by chance forgot to read the title and/or know who I am talking about before your started reading this, please know that I was extremely honored and excited to introduce the one and only Lydia Peelle.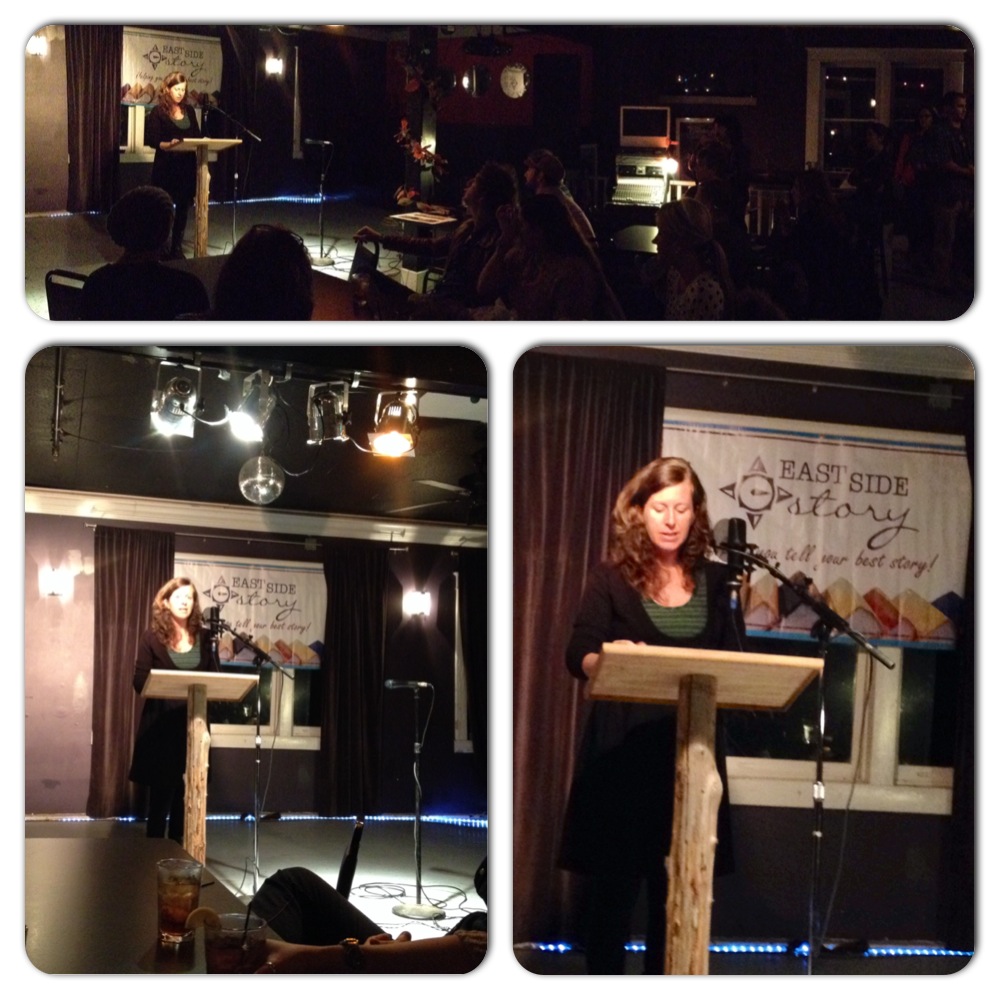 Lydia took to the stage with a soft voice and beaming confidence.  It was a perfect reflection of her writing jumping off the page just right.  Reading from the aforementioned, award-winning book titled "Reasons for and Advantages of Breathing," she chose to read an edited version of the fabulous short story called "Phantom Pain."  As she read, through the mundane, everyday, picture perfectly described setting of modern day hunting and original characters, I couldn't help myself in joining the others in the crowd of laughing at the funny parts and relating some of the folly found in the main characters in some of my own family members who choose to hunt every now and then.  I later read the entire story after that night's reading, but you'll be able to hear the authentic brilliance in the tone and tempo of Lydia's story as you listen to her voice in the link below.  It was a treasure, and I'm so happy we are able to now listen to it again and again if you so choose.
And speaking of treasures, let me now allow Lydia (as she did that night) to exit stage right and introduce the featured music of the evening.   An Ohio Buckeye by birth, and a very talented golfer growing up, he put down the clubs and picked up a guitar at a pivotal moment in his young adulthood.  He wrote his first song for his high school sweetheart, played it for her, made her cry in a good way, and HE hasn't looked back or stopped connecting with people emotionally via his music since.  After graduating college at Miami of Ohio, he moved to Nashville with friends and steadily made his mark and grew his skills and fan base at a rapid rate.  In just about no time, he signed a record deal, banged out his first cd, hit the road touring with the likes of John Mellencamp and the Cranberries.  Still on a steady rise worldwide, he has been featured on CBS Sunday Morning Show, and most relevant to this show today … his "The Guy Who Says Goodbye to You Is Out of His Mind" was the theme song behind my dream come true of having Emily Harper Beard saying yes to being my girlfriend and then later wife back in 2008.  An East Side Storytellin' dream come true, after a "you never know unless you ask" moment, it was yet another honor and exhilarating moment for me to introduce the likes of the talented Griffin House.
Griffin immediately jumped into his heartfelt songs, one after the other.  And one after the other, everyone was in awe.  It was aWesome!  Of course, I didn't have the intentions of making him play my dating/wedded theme song originally.  But, as I mentioned later in the interview portion, I was glad I made a note of it in the introductions to see if he would play it for the crowd and for me to Emily in a weird Beard way because I'm not sure my wife would have let me come back in the house that night if it didn't get played.  YES, that song, like the others, are THAT good.  They are great!
One amazing thing, on top of so many others I could list for days, about East Side Storytellin' so far is the fact that so many creative geniuses call our Nashville home at the moment.  Not only that they live here, but also that they would even be open to taking a break from their break-neck careers and schedules to be a part of such a fun show that East Side Storytellin' has become.  It was perfect that Griffin was in town and not busy for a night or two when this was originally scheduled, and it was beyond words thankful from me to him for him to agree to be a part of it.  That said, just go ahead and listen to the following link with the edited version of this East Side Storytellin' so you can listen (again and again- I say this over and over because I know you will) to what you missed OR what you witnessed if you were in the packed crowd that night of December 3rd, 2013.
Here is the link that has the entire, edited East Side Storytellin' 27 show (enjoy, LIKE, share, and listen over and over again to next year, infinity, and beyond):
https://soundcloud.com/eastsidestorytn/sets/east-side-storytellin-27-lydia
Before I let you go and let you know about East Side Storytellin' 28, I'd love to take a second to thank some great people that helped make this East Side Storytellin' 27 possible.
-Please give another round of attention for the talented Lydia Peelle and Griffin House!  Google more about Lydia's writing or click here- www.harpercollins.com/authors/35034/Lydia_Peelle/index.aspx.  You can listen to, buy merch, and plan on going to a show near you sooner than later of Griffin House by clicking here- http://griffinhousemusic.com/
I'd like to thank Tom Eizonas for recording the show and making us all sound very professional, also Clay Brunton for the awesome art work for the print for this event again. Also, I want to give thanks to the staff of Mad Donna's for allowing us to utilize their wonderful space for the show and being so nice and courteous to everyone who attends the shows.
Last but not least, all my love and thanks goes to my wife Emily for saying yes back in 2008 and every day since.
Please don't forget to visit the origin of this show in that of East Side Story, Nashville's only all-local bookstore located next to Art & Invention Gallery.  We have Lydia's book and plenty of other holiday gifts all year round.
You'll be able to listen to this show alongside the others before on our website at www.eastsidestorytn.com on the "in our own words" tab (or click HERE), and we're not finished yet.
Our next show will be here, at Mad Donna's at 7pm, on Tuesday, December 17th, with the words of Mark Sloniker and the music of the newly reunited after 3 years of exile … none other than the fabulous band called The Mary Nails.  It is FREE to attend, and will be the most happening holiday party this year in the entire world- FACT!
That is all for East Side Storytellin' 27 on this post for now.  Thanks for coming, and remember to be nice to one another.  Thank YOU!
Here is some more information about East Side Storytellin' 28 to view and share with others too:
The NEXT East Side Storytellin' event will be …
Date- Tuesday, December 17th, 2013
Time- 7 pm sharp (Central)
Location- Mad Donna's (1313 Woodland Street)- http://maddonnas.com
Need information or details about Mad donna's, call 615-226-1617.  Otherwise it is first come, first available seats.
Who will be featured- words by author Mark Sloniker – www.godlovesmenaked.com and music for the besets holiday party this side of the universe by The Mary Nails – www.reverbnation.com/themarynails