Hello, good evening, afternoon, or morning, and a very big, hearty, warm welcome to you ALL here to witness another great round of East Side Storytellin'.  This is the recap and recording of the 30th chapter of East Side Storytellin', and I'm so very happy and excited to share this wonderful evening with you, but I'm even more over the moon ecstatic that I was able to share a stage and platform for the talent put together for this particular show.  I'll go ahead and say it from the onset, as I did the night of the actual performance, if you don't enjoy the next hour of entertainment and creativity after you listen to the edited link below and somehow leave here your computer with a more positive outlook on life in general than you are feeling right now at this very moment … well, you might need to check your pulse.  So with those expectations in mind, sit back, read and listen on, and enjoy the show.
The first featured guest of the show was a native Nashvillian who totally embraces her left/right, hokey pokey, ARTrepreneur brain … a person equally comfortable in a boardroom or creative playground.  She is a poet, educator, community builder constantly bridging together people and groups everywhere she can continue to teach, learn, and make this city and world a better place (especially when she does so with pancakes with her Poems & Pancakes experiment, but I may be bias on that topic).  Named one of Essence Magazine's "40 Favorite Poets" in 2010, she has a MFA in Creative Writing from Vanderbilt University and a Bachelors in Marketing, and is the author of I Am: A Poetic Journey Towards Self Definition, the chapbook, Life on Lay-a-Way, and a poetry CD, Choice Words.  Recently, she collaborated with the Frist Center for the Visual Arts this past fall while doing insightful workshops and writing 30 poems in 30 days that were inspired by works in the 30 Americans art exhibit.  I'm talking about the sweet and brilliantly talented Stephanie Pruitt Gaines!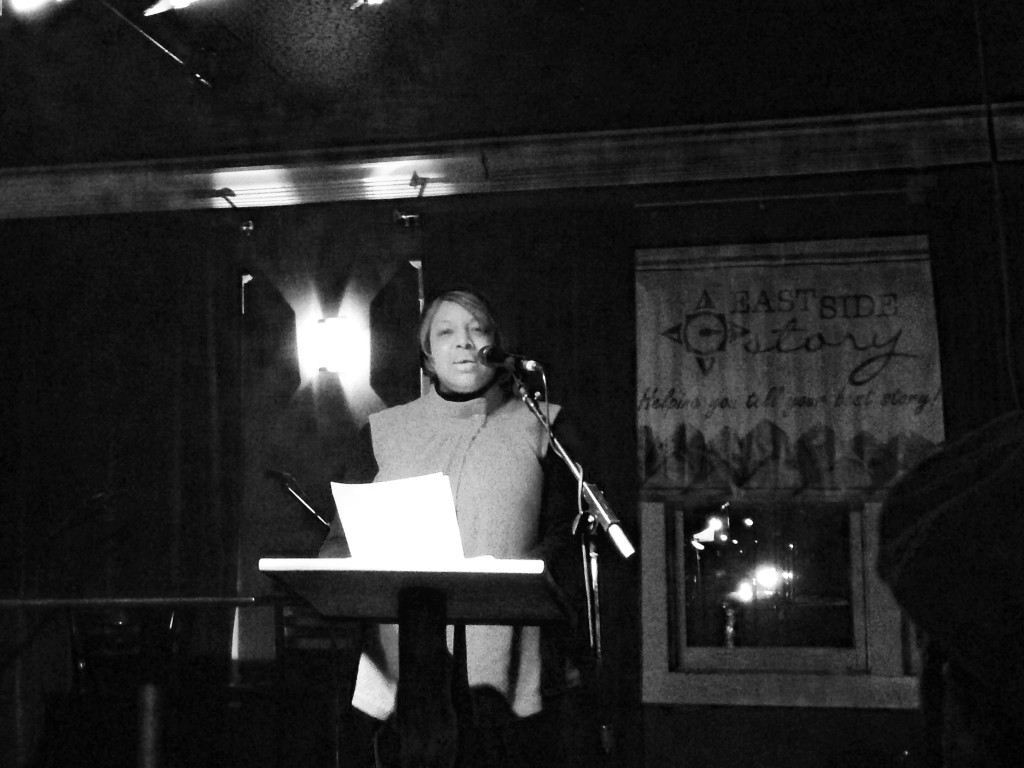 Stephanie stepped up to the microphone and took all of about ten seconds to set the pleasant mood for the night.  As you'll listen below, in case you haven't read her material or seen her perform before, she instantly performed in a way that put smiles on everyone's faces, a positive aura over the audience in general, and did it all in a way that every Southern person in the building could relate to and appreciate to the fullest.  It was such a treat, like bacon sizzling in the kitchen.  Some of the grooves in the words and emotions sent me head and heart first into a place where I felt like I was smack dab in the middle of one of my favorite movies of the 90's in that of the epic, poetic movie called "Love Jones."  I can't honestly give Stephanie proper credit for her talent and performance via my own words, so I'll let you skip on over to the recording to take a listen for yourself, after the description of the second featured group of artists for this show.
The second set of featured artists I'm writing about was about as good as it gets all around, all of the time.  I've known one half of the duo for about half my life, and the other already feels like a brother from another mother in the short time we've gotten to Christmas Carol together and other fun things.  One made an amazing run on American Idol, and the other was mistaken for his looks of another American Idol winner (but this guy plays better guitar than who he was mistaken for … Chris Daughtry).  Together they are a duo that exudes positive energy, melodies, and an overwhelming sense of hope for better times and things to come.   Simply put, I'm a better person for knowing these two human beings, who they are and the art they make.  Fresh off a full-band performance that shook the roof off of 3rd & Lindsley last month, I was super excited to introduce to the East Side Storytellin' family the dynamic duo of Jimmy Allen and Nate Woodall, better known on stage as Colour of London.
Without a full band behind them, Jimmy and Nate stripped the music and the melodies down to the simple core; the same level they artfully constructed the songs in the first place.  Like trying to describe Stephanie's reading and giving it justice, I don't think I can do the same for what Jimmy and Nate brought to the set.  They braved the weather and more importantly the fear of throwing out a handful of new songs that had never really been tested before in public.  Like the pros they are, they performed in a way that touched the people in the crowd with their words and skill.  Even more than their obvious music talent, I really appreciated the sense of humour (spell check like the band) and back-and-forth that Jimmy and Nate play off each other when talking candidly and personally together in between every song and the direction they play in.  It's like watching old school comedians that have been together for decades, mixing youthful, reckless abandon with the ultimate straight man comedy.  It was effortless and received a handful of hearty laughs in between stellar songs.  In one word, the set was so … pleasant.  And when I say pleasant, I mean so pleasant all around.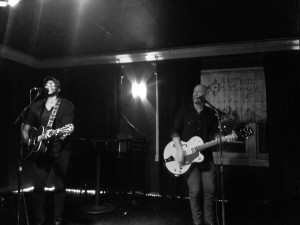 But I think that pleasant is a proper word to give whatever justice I can to this evening and show.  Filled with a room of friends, family, and new fans, both of the featured groups of artists came correct to the stage and performances.  Before the show, as we set up for sound check, I had made a comment that we had never actually had an artist create a song on the spot.  The newness of some of the poems from Stephanie and the interactive reading from the stage and the crowd, on top of Jimmy and Nate playing a handful of brand spanking new songs that they had never performed live in front of other people before, kinda made it feel like one of the most organic performances to date.  I couldn't have asked for a better showing, on the stage and off.  It was one of those nights and moments when everything came together with ease and perfection.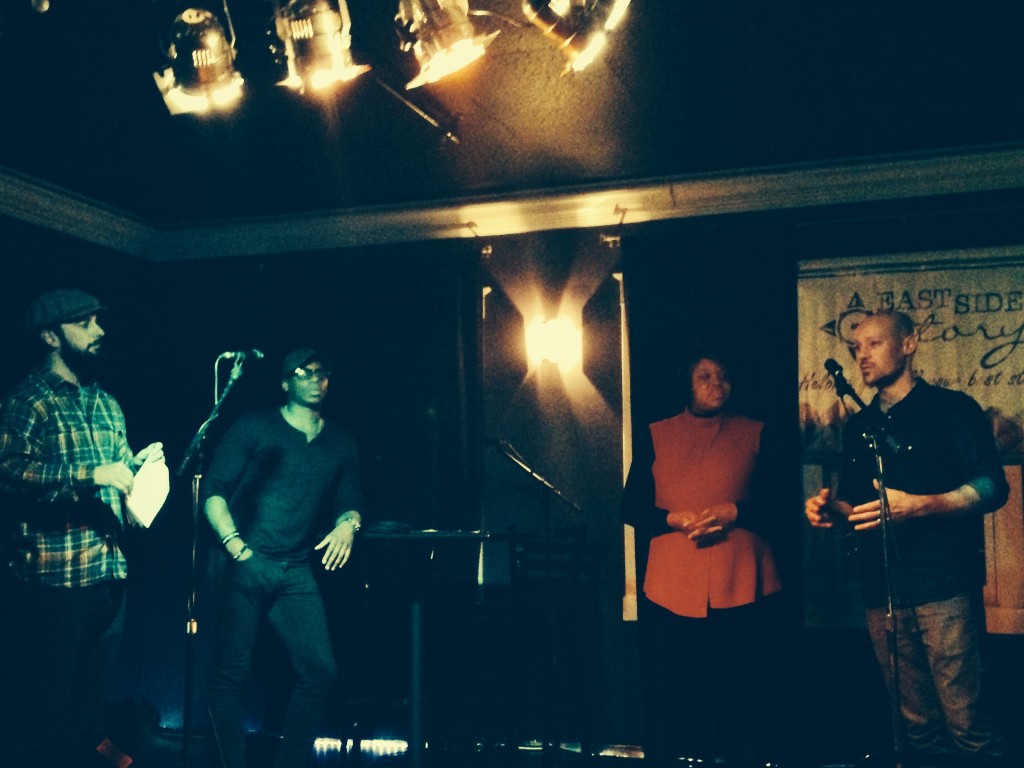 With all that said above, one other thing that I mentioned on the microphone, after ending the show after a very insightful interview session that you can listen to below, I want to shed another important note that February 4th, 2014 marked World Cancer Day 2014.  Many nonprofits made it a point online to send a message around the world that ending cancer should be a global health priority and are doing so by spreading signs everywhere in the colors of blue and orange (the colors of the Union for International Cancer Control- UICC- which organizes World Cancer Day).  I find it appropriate that these colors strongly resemble the colors of Auburn University because some of us still today are praying and sending nothing but positive love to our dear friend Patty Jackal Watkins (an Auburn alum mother battling lung cancer at the moment).  Also new to the Cancer fight, I acknowledged that our AWEsome friend Michael Brechner (an amazing artist and life-liver to the max in his own right) is constantly on our hearts and minds.  Both Patty and Michael are two of the funniest people found anywhere, two of the most caring friends a person could ask for, and true blessings to this world, with or without fun disguises.  This show was dedicated to Patty and Michael and EVERYONE on the front line of the cancer war today.  You are not alone and WE love you so much!
With all THAT said, here is the edited version of East Side Storytellin' 30.  Enjoy it, LOVE it, and feel free to share this and it all over the place (on and off the internet).  
Before I go for now, I'd love to give another round of applause and many thanks to the guests Stephanie Pruitt Gaines AND Jimmy and Nate of Colour of London.  It was a pleasure.  I'd also like to keep the applause going for Tom Eizonas for doing the sound and recording, Clay Brunton for doing the art print for the show, my wife and family for always being there for me and this, the staff of Mad Donna's for giving us a place to make this happen, and last to everyone else out to the live performance and continue to show support and love here today – more than you know.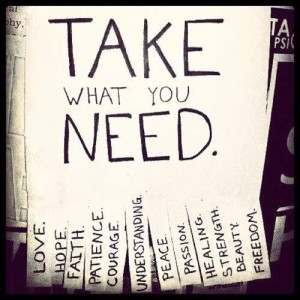 The NEXT East Side Storytellin' event will be …
Date- Tuesday, February 18th, 2014
Time- 7 pm sharp (Central)
Location- Mad Donna's (1313 Woodland Street)- http://maddonnas.com
Need information or details about Mad donna's, call 615-226-1617.  Otherwise it is first come, first available seats.
Who will be featured- words by Ryan Dunlap (http://fictionsmith.com) and music by The Golden Sounds (www.facebook.com/thegoldensounds).