Hello again!  Good evening, morning, noon, and night after night to you, my dear friend and supporter of East Side Storytellin'!  Welcome to East Side Storytellin' 31!
Thank you for taking time out of your busy Winter Olympic watching schedule in order to celebrate the much anticipated 31st edition of East Side Storytellin'.  Right now, much like the 30 shows before, we will have the opportunity to listen to a tremendously talented Nashville author read from original work, outstanding local musicians sharing their own wonderful stories through song, and then a candid creative conversation all together to take it home for dessert.  For the next hour or so, sit back, enjoy some food, good spirit, art, and amazing storytelling (all that comfort of your own computer or mobile internet device).  This is a very special time and place indeed.  Your grandparents couldn't do this stuff.  They never had the internet or mobile phones.  Some day, maybe with the help and imagination of these featured guests and their creations, we will live in a world with hover boards.  With that said, let us begin.
The first featured guest of the show blew into the Nashville art scene from the west as if he was a springtime Tennessee tornado with winds of positive, dynamic energy all around.  Leaving behind him pockets of profound creations everywhere he goes, this modern-day Renaissance man is truly one-of-a-kind.  He's been everything from a counselor, to a videographer, to producer, to director, to author, to actor, to recently becoming a father for the first time.  To say the least, he is a man of many hats, and, besides being honored just to know this guy and see his work, I'm even more excited about the fact that he's just getting started and we have many years ahead to watch what other dreams he turns into realities. I had the privilege of introducing a productive peer like few other in that of the owner of Fictionsmith Ink and the author of The Wind Merchant, the one and only Ryan Dunlap.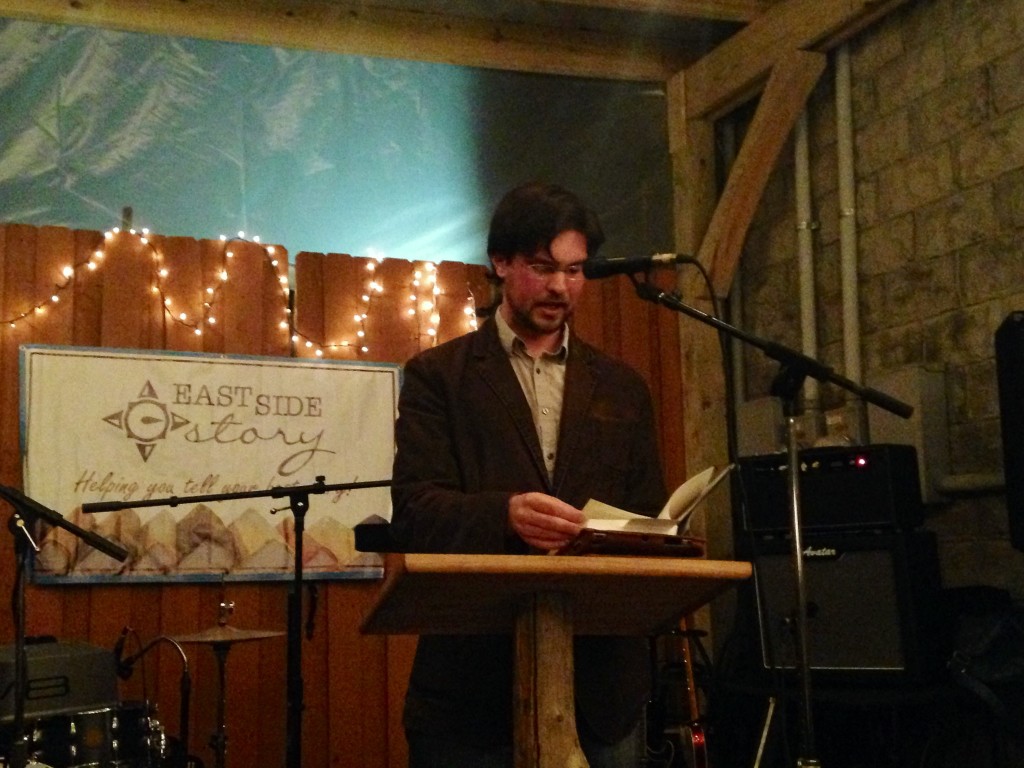 This was Ryan's fist time to ever read the book aloud in front of a lot of people, if you don't count him taking time to record the audio book version in a sound studio.  He made the absolute most of his reading by speeding through the entire 1st chapter of his book in less than 15 minutes.  The speed was not unlike the micro machines spokesperson of the 1980's, but the action of the characters and introduction to the story was right on pace.  I'm pretty sure that several of the people in the crowd already speeded over to get their own signed copy of the book once Ryan made it back to his seat after reading.  It was a great feeling to see someone who works so so hard on a multitude of creative projects to have the time and stage to enjoy the fruits of his labor with those that he appreciates and loves.  Oh, and his baby girl was in the crowd for the occasion as well!  Talk about a cultured family.  Anyways, Ryan did a superb job, as you can listen in the link below, and I'm sure it will be the first of many readings he will do for The Wind Merchant and other books he's creating that I'll be honored to promote at East Side Story.
Everyone clapped.
The featured musical guest for East Side Storytellin' 31 were other worldly.  To give you a visual behind the music, this group is a self-proclaimed "dreamy Nashville Indie-rock band with a side of Christmas lights."  Much like Christmas lights in July or on the jacket of the lead singer, I could listen to this group every day and smile the whole year through.   Formed in 2004, they have played with bands such as Colour Revolt, Lovedrug, and Sleeping At Last, on top of being featured on the first Ten Out of Tenn compilation CD.  Naming two of my favorite bands as direct influences, in that of Iron and Wine and The Flaming Lips,  I was over the moon excited to join the audience and sit back down to watch these guys make some melodic magic for us all.  We were lucky to have all of these guys in one spot performing music they have made and love, and I was honored to introduce the likes of Adam, Andrew, Chris, Todd, and Troy of The Golden Sounds!
Todd lit up his jacket and the show began.  He was taken back by the "melodic magic" comment that I used, but nobody in the crowd seemed to be shocked once the music began.  It was perfect.
Wait, let me preface the music here by telling you (because you possibly weren't there in person) that we had the show outside, on the covered, heated patio of Mad Donna's because they once again moved around the sound system upstairs in a manner in which Tom couldn't record the show with the equipment we had handy.  That said, we always seem to manage despite it always being something outside of our control.  This time, we moved everything outside, and the people joined us.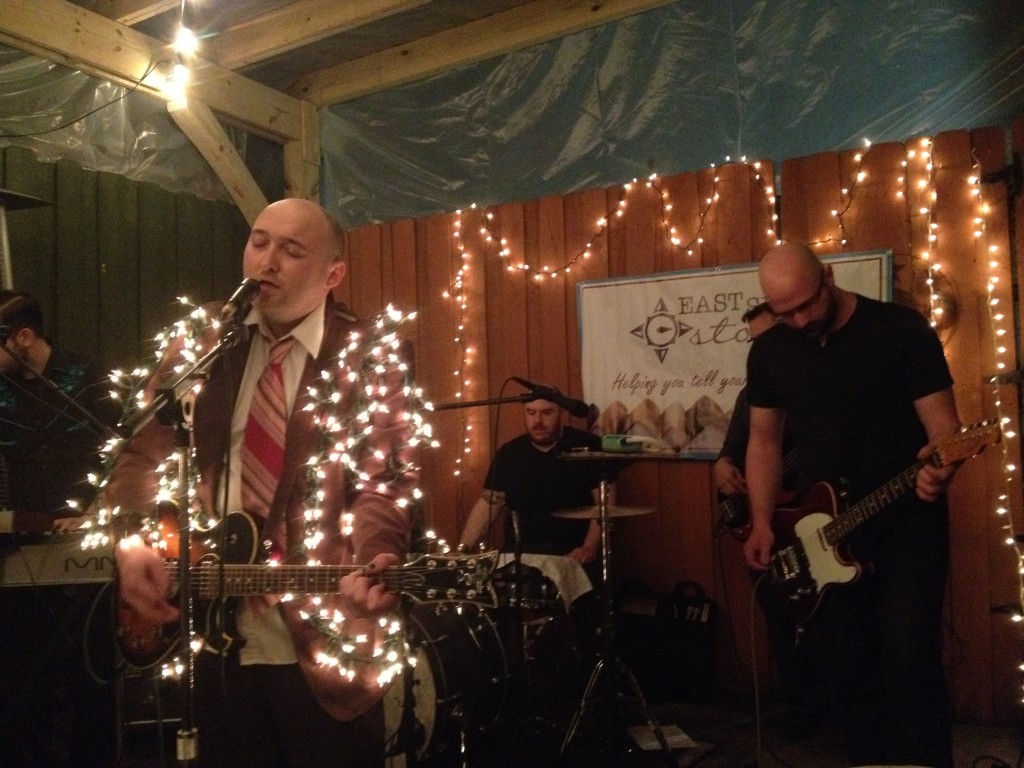 Now, back to the music.  Because we had a full band on the occasion, drums, bass, and all, it appeared as though the neighbors had a little problem with the volume.  The restaurant staff told us so.  Because we had planned to be upstairs, indoors, we had forgotten about the volume on such a perfect night.  Todd didn't mind toning it down a little and not playing the full set they had planned to ahead of time because his allergies had been acting up to his voice (a fact that he mentioned several times despite it all sounding amazing to everyone in the crowd) and because these guys were proud of the fact that they got called out for making too much noise … it apparently was a first – leave it to East Side Storytellin'.
But yeah, the music was stellar, and I thought it perfectly coincided with the reading of the night.  After the band finished, I had Ryan and Todd back up to the stage for a conversation.  It was really cool to stand beside two people, two amazingly talented artists who have the faith and skills in their creative drives to do pretty much every creative project they can think of doing worthwhile to their worlds.  In fact, sometimes, as you'll listen below to the recording, these guys change up mediums to make superb art to sell and then use that money made in turn to fund the original, bigger idea they have in mind at that time.  These guys, much like this particular evening and show in general, are very special to Nashville and all of us living here.  Time will tell, as evident in this recording, these guys make everlasting stories and impressions.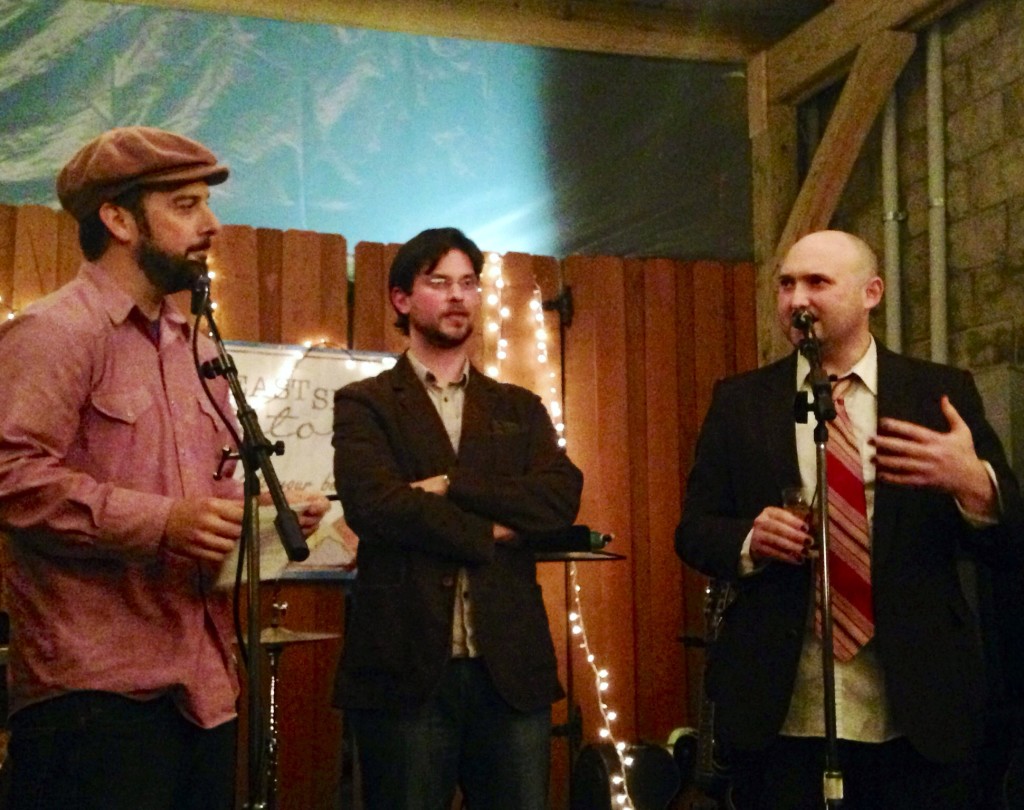 I don't want to spoil all of the histories and fun facts from all of these guys who helped make East Side Storytellin' 31 so near and dear to my heart (and the hearts of all those who came out in person), so I'll just let you listen to the recording and let it speak for itself.
Without further ado, here is the edited recording of East Side Storytellin' 31 (featuring words by Ryan Dunlap and songs by The Golden Sounds).  Please feel free to listen on repeat and share it with everyone and your mama.  Enjoy.
—
I'd love to take a moment to say thanks once again to the featured guests of the evening tonight in Ryan Dunlap and Adam, Andrew, Chris, Todd, and Troy of The Golden Sounds!
You can read more about Ryan Dunlap and his works here – http://fictionsmith.com.
You can listen to and read more about The Golden Sounds here – http://www.thegoldensoundsmusic.com.
Also, I'd love to thank Tom Eizonas for recording the show, doing sound for everyone to make it all sound so good, and for having the patience and energy to help overcome every aspect of adversity we go through outside of the performances and recordings for every show.  Without Tom, you wouldn't be able to hear the show more than once.
A big, silent round of applause for the staff of Mad Donna's for giving us the time and space and refreshments to make this show better with every show we do.  And one last shout out to everyone who has continued to support the show and the artists who have made East Side Storytellin' so special to many more people than just myself.  Oh, and to my wife, Emily Frances Harper Beard, for her love, support, and her rockin' new hair cut too.
That said, we are just getting started.  We have another month's line-up ready for you all for March.  Next up on the list is East Side Storytellin' 32.
The NEXT East Side Storytellin' event will be …
Date- Tuesday, February 4th, 2014
Time- 7 pm sharp (Central)
Location- Mad Donna's (1313 Woodland Street)- http://maddonnas.com
Need information or details about Mad donna's, call 615-226-1617.  Otherwise it is first come, first available seats.
Who will be featured- words by author Ricko Donovan (http://rickodonovan.com) and music by Kiernan McMullan (www.kiernanmcmullan.com)
This concludes East Side Storytellin' 31.  You can listen to  all the other previous shows and recordings on our website,  http://eastsidestorytn.com/in-our-own-words/ (In Our Own Words tab).
Thank you for coming here and remember to be nice to one another out there.  Thank you, and the best day ever … because you can.