Hello, and good day to YOU! WELCOME to another superb round of Nashville culture, stories, and East Side Storytellin'.  Much like the 32 shows we've done before this one, we promise to give you the chance to appreciate an intriguing local author reading from their original prose, a talented local musician talking about and performing some outstanding original songs, and then a creative conversation with both of the featured guests to share more about their creative journeys, processes, ties to Nashville, and life in general.  Sounds pretty epic, right? Well, now that you are here to experience it … all you have to do is sit back, relax, and enjoy the ride because it is going to be epic.  That said, let us begin with East Side Storytellin' 33.
For the first featured guest of the evening, we brought to the stage an artist deserving of something more than just your regular biography.  A literary enigma of sorts, I'd say it's safe to say that this guy is proud of the label-less-ness (think about that word for a minute) surrounding his words and his life.  From his fantastical hairstyle, to his writing style that comes from inspiration all its own, this artist is an autodidact … a self-taught man.  He grew up reading Latin and Greek without a formal education and only having access and a joy for searching out and reading great books.  Nowadays, you'll find him carrying the torch for independent minds, writers, and storytellers by blazing the path with his bimonthly writer's night at Logue's Black Raven Emporium on the 2nd and 4th Tuesday nights of every month called A Night of Free Speech.  The author like no other, the creative mind behind DNR Publishing, and scribe of his debut novel called Parasites, please give your listening ears full attention to the link below for the awesome Honest Lewis!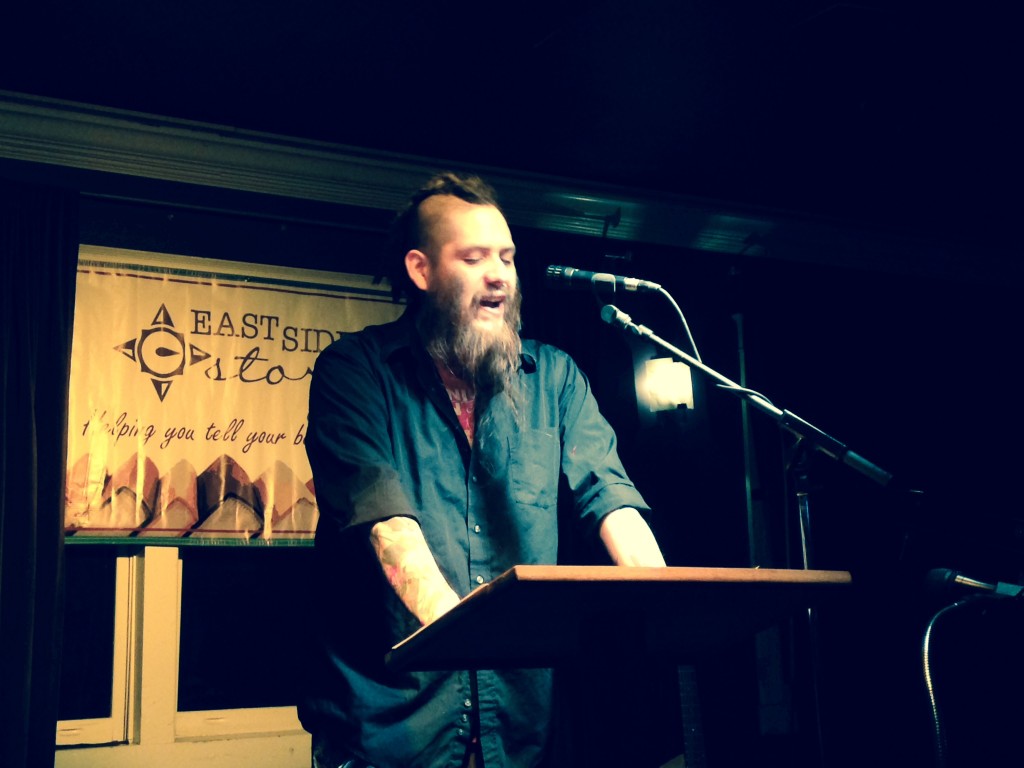 Honest took to the stage like a pro.  His words and their delivery put everyone in the same car with the narrator's stoplight dilemma.  It was intense, creative, fanatic, and a roller coaster right effect with emotions all over the place.  The ride didn't stop for the entire time he read, and he read straight on through an entire chapter of his prolific book "Parasites."  It was a treat for everyone that came out indeed.
Then, to follow up Honest, I called on a talented man that  I first met when he showed up at my front door.  He literally showed up at my front door to play a house show alongside two duos, sounding redundant, in that of Twain Blue and the East Side Storytellin' alum in The Rough and Tumble.  He played a delightful round of words and sounds for that delightful crowd and I was ecstatic to have this guy share his songs and stories with the delightful crowd present that evening.  He'd played with and has written for bands that have played everything from rockabilly to honky tonk to bluegrass to jug band blues to pop to country to rock n' roll to indie folk to just about everything under the recording sun, and in the link below YOU have him all to yourself, stripped down to a guitar and a microphone (and for those who weren't present to see, he did in fact have clothes on too).  A local, hard-working American musician, the musical guest of the evening was none other than Adam Hill.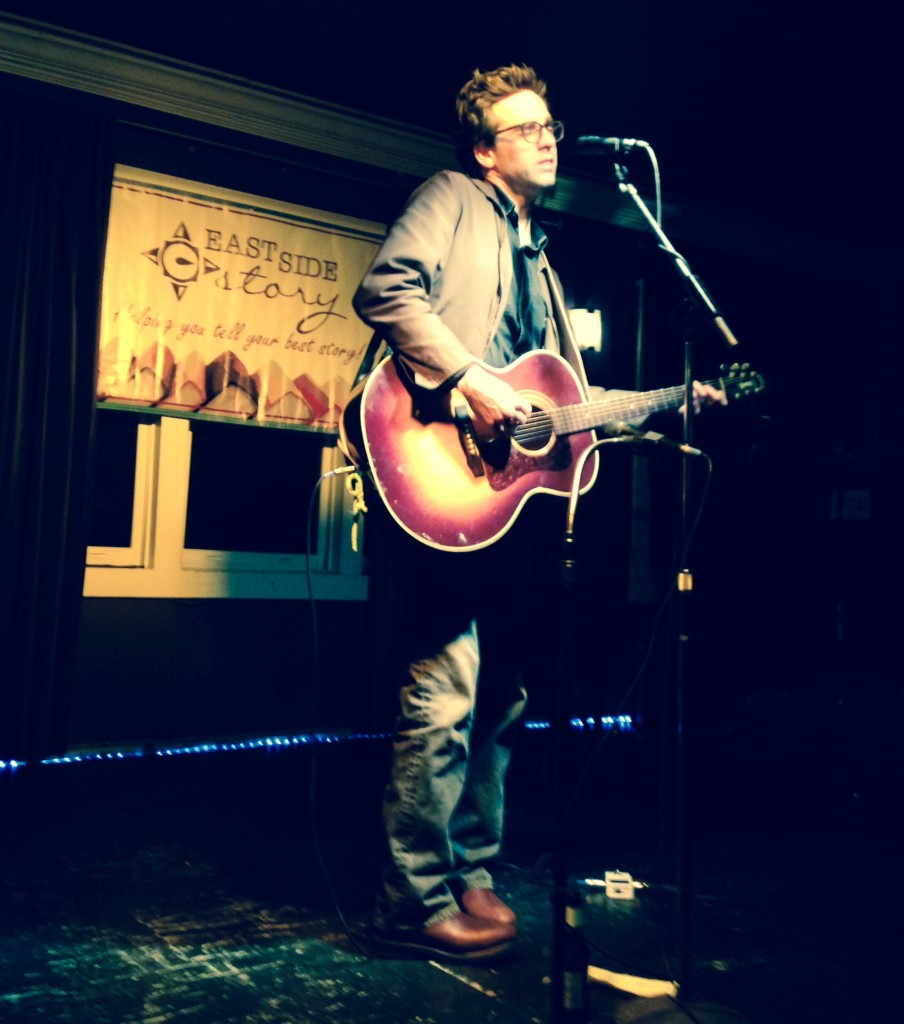 Adam also took to the stage like a pro; a pro that had admittedly taken time away from the stage to help do home projects for his wife, family, and life.  Having not performed some of the songs in quite some time at all, he jumped back on the microphone in front of the pleasant crowd like he was on a bicycle again.  It was fresh, to the point, and poignant.
Before you knew it, the musical performance was finished and I had both guests on stage for a talk.  It was inspiring to me to see the connection between both of the artists of the night being in their words and their delivery.  Both wrote about images and emotions and situations that were pure, to the bone, and their deliveries were RAW and just as pure and to the bone.  I left the building, and the Drag Bingo, with a feeling of inspiration for my own creative endeavors and an immense appreciation for the artists who performed and the people who made it out to experience it all.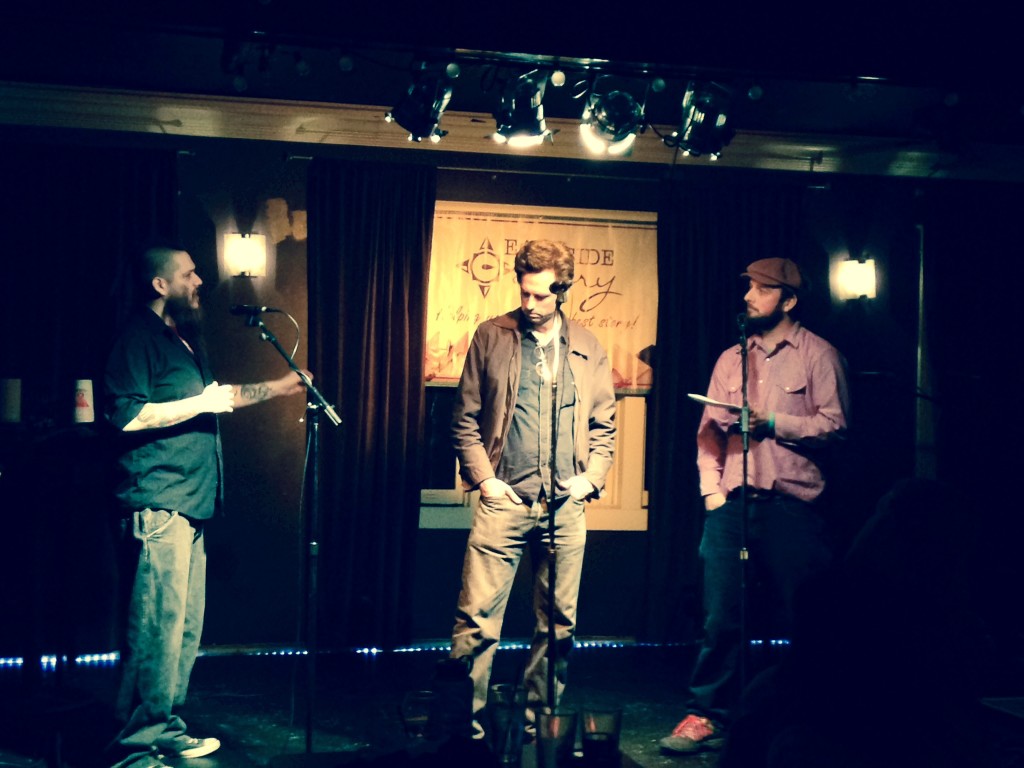 More than words and me rambling on and on, here is the edited recording of East Side Storytellin' 33 that you can share immediately with your friends, family, strangers, and your little dog too!  Enjoy, over and over-
https://soundcloud.com/eastsidestorytn/sets/east-side-storytellin-33 
With that said above, I'd like to take a second to thank Adam Hill and Honest Lewis again for taking time out of their busy schedules to share their art and stories with you here tonight.  I'd like to also send thanks for Tom Eizonas for doing the sound and recording and making me sound professional.  Also, to Clay Brunton for his continued support and design work with the art prints for every show.  Then, for the family of work and support from the people at Mad Donna's, Thank YOU!  And finally, to my lovely wife, friends, and not so complete strangers (new friends) that have made it out for this show and every other show to help continue to make this East Side Storytellin' show something special and something more than ordinary … something extraordinary.
You can listen to all the others, on our website- eastsidestorytn.com on the In Our Own Words tab here – http://eastsidestorytn.com/in-our-own-words/.  That said, we aren't finished. Please come back and bring all your friends and little mom too for East Side Storytellin' 34.
The NEXT East Side Storytellin' event will be …
Date- Tuesday, April 1st, 2014
Time- 7 pm sharp (Central)
Location- Mad Donna's (1313 Woodland Street)- http://maddonnas.com
Need information or details about Mad donna's, call 615-226-1617.  Otherwise it is first come, first available seats.
Who will be featured- author Sam Davidson (http://samdavidson.net) and music by Charlie Whitten (http://hearcharlie.com)
That's all for this show, but thank you for showing love.  Please remember to take these good times and feelings with you and be nice to one another on the daily out there.  Good day and thanks again, much love.