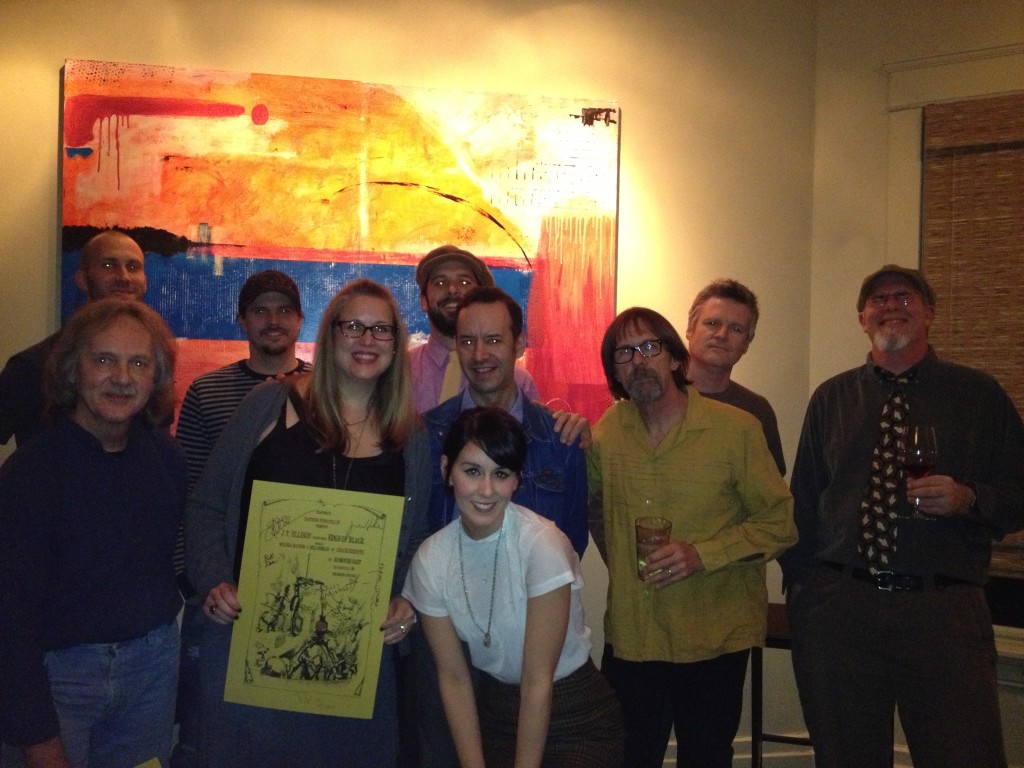 December 18th might not mean a lot to a lot of people other than 3 days before the failed Mayan apocalypse, but it meant a great deal to me.  In fact, it was the closest thing I've ever had to Christmas come early with the exception of the time that my family took our Christmas vacation altogether to Disney World when Space Mountain was still the main attraction.  Honestly, the fourth and final East Side Storytellin' show at Rumours East for 2012, was beyond phenomenal.  I'll just get right to it and try to explain what went down.
First, everyone (the band, author, and people in the crowd) came together so holiday chill that it truly set the tempo for a wonderful, pleasant evening for all to enjoy to the limit.  Adam and Tom had set up the stage and speakers a little differently so that everyone in the back room could hear the performance just as clearly as the people up front.  The extra space with the speakers moved to the back played a key role in the success of the evening because the musical guests of Crackerboots were more than a roomful by themselves.  Up to this point, we had only featured a max of two people performing on the stage at once.  We had a special task to incorporate a lead singer, lead guitarist, a stand-up bass, a horn section, and a drummer.  Back to that line-up in a minute.
Before we even got started, my good friend Alex Smith had arrived earlier than usual with some of the most amazing prints that he has ever made up to date to commemorate the night.  He had collaged several sketches from a 17th century French artist that he believed captured what both JT Ellison and Crackerboots were about after I sent him their website links to research.  I usually text Alex back to let him know I totally approve of his art (he always does amazing work), but I had the urge to call him back after he sent me the following image below.  I know, right?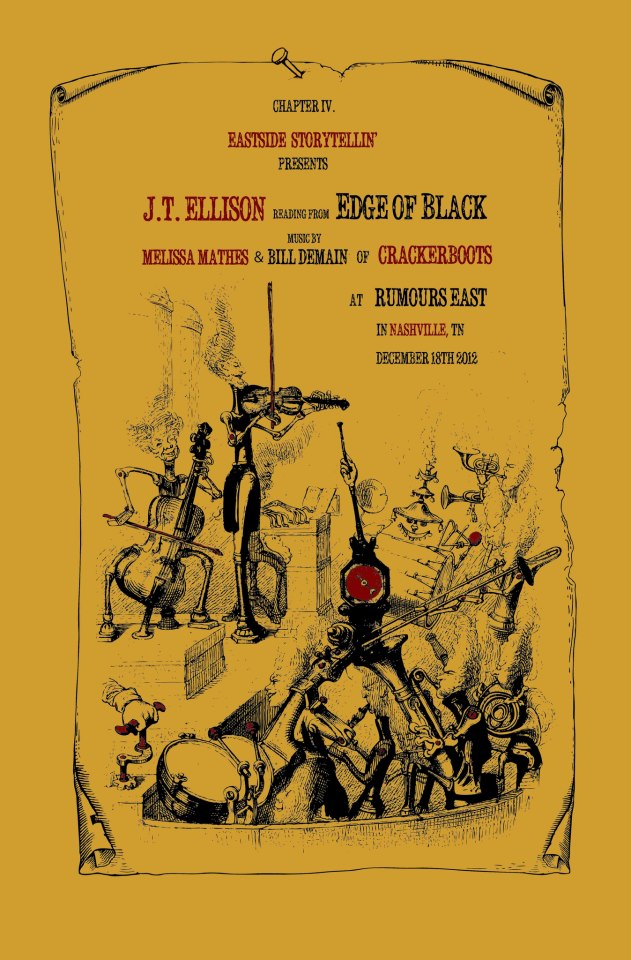 Before I knew it, it was time to begin the show.  It was not difficult to introduce JT Ellison to the crowd because there is never a lack of positive, good-hearted things to say about such a prolific artist.  In the past nine years, she has written 9 bestselling novels and countless other short stories and collective works.  On top of her tremendous resume, she is also a beacon for the local literary scene as one of the cofounders of Literary Libations.  On top of being a beacon for the local writers, I have never seen her without a smile since I've met her.  She is a force of positive energy that never fails to bring out a smile and the best of yourself when in her presence.  And she's completely humble about everything she did/does!
JT took the stage, front and center, and immediately showered me with compliments to the crowd for putting the show together.  She didn't have to do that, and I told her so later, but it was very much appreciated on my end and so like JT in general.  Again, side note, the show continues to be a success because there is a tight-knit group of very special people coming together and making something special happen out of the ordinary … extraordinary if you will.  Accolades and credit aside, JT then dove into reading a bit excerpt from her latest novel, "Edge of Black."  She set up the preface, set up the scene, set us all up really, and then totally blew us away with her eloquent prose about clever detective work mixed with an epic heroine and bits of Nashville on the side.  Time flies when you're having fun, and this night was no different.  It felt like JT was finishing up her talk and reading as quickly as she had taken the stage, but it had been about 15 minutes and she was spot on.
I had the crowd give JT another round of applause, and then the band set up instantly all around me.  I introduced them all to the crowd after meeting most of the band for the first time in my life as well.  I love the idea of bringing good-hearted, creative people together and then seeing what comes out of it in the end.  To me, this is what East Side Storytellin' is all about.  And speaking of what things are all about, I don't think there is a band in the country that exemplifies the core of what WAMB radio is about like that of Crackerboots.  I honestly can't say enough good things about the talents and music made by the combination of Melissa Mathes, Bill DeMain, Brad Jones, Dave Harrison, and Jim Hoke.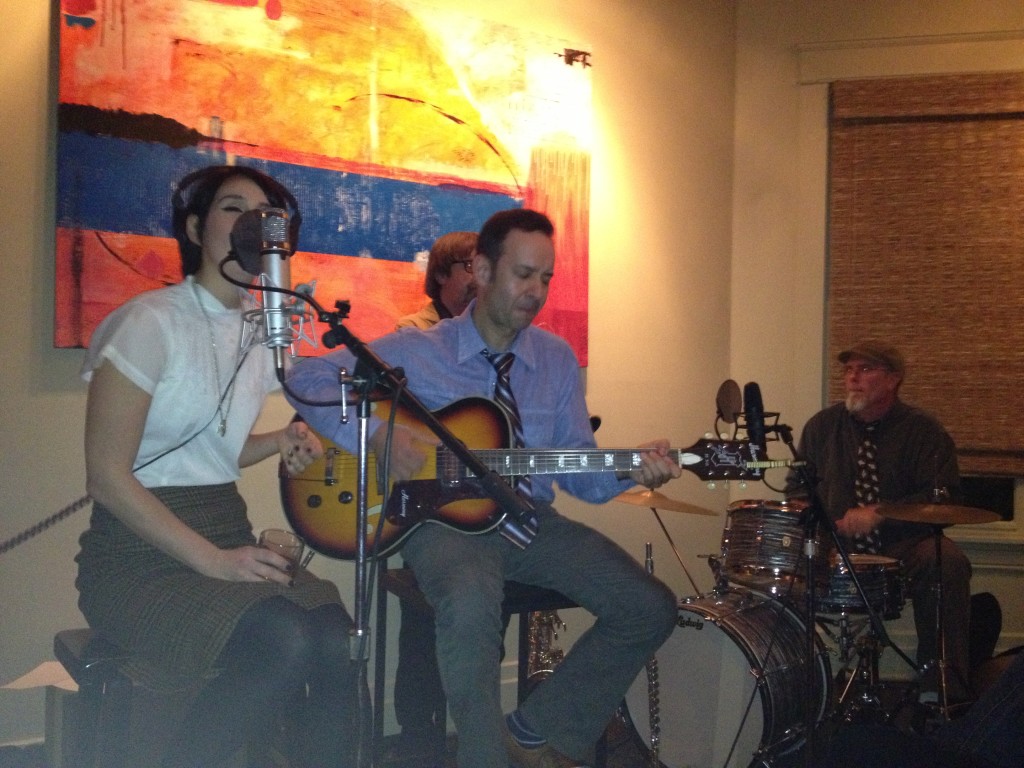 Melissa's vocals were/are simply spellbinding.  Every word that falls out of her mouth goes straight to heart as you listen intently and she takes you back to a time and place where radios were king and kids sat up all night to hear Annie Oakley's decoder message instead of staring mindlessly at the television of today.  Melissa's sounds take you to another place, and Bill's vocal and guitar arrangements help make the trip a smooth one.  The rest of the band … well, they were having more fun being as innovative and fun-loving with their words and instrument play that everyone in the crowd couldn't help but have a permanent grin while enjoying the show.  Each song was a great story and novella within itself.  I've heard that mothers who are expecting should listen to classical music to help their baby's minds expand and develop more so than silence or regular music, and I'd like to think that after listening and experiencing the set list given to us by Crackerboots we were all the better for it in a similar way.  I know that sounds weird, but I'm just being honest.  They took regular music and instruments and showed us more possibilities than first imagined as a group of lovely people took the stage an hour prior.
Tom gave me the cue that we should go ahead and start the interview with the featured guests so I did.  I let JT and Melissa take the stools, had Bill sit behind the drums, and I decided to stand upright beside Tom.  We got right into a creative conversation that you can listen to below, but it was the most natural conversation I've had in some time.  Each one of the guests dug deep into their souls and insight to reveal in-depth answers to questions about their own creative processes and projects.  They talked about how they all got started in their respective fields, how they ended up in Nashville, why Nashville is their current home, and what they are working on for the next year.  Side note, Crackerboots will release their first cd this spring (date to be determined).
In the end, I felt like this night could have gone on forever and nobody would have minded one bit if it had.  It was a perfect culmination of talent, heart, and openness to share gifts with others.  It was something beautiful and I was honored to be a small part of the pie.
Speaking of being honored to be a small part of a pie, I'd like to thank the following people:
-My wife, Emily Harper Frances Beard.  Her patience, creativity, and support never goes unnoticed in my world and many others who know her.
-Adam Binder for opening the doors of Rumours East to let us make something special to better other people and the creative culture of Nashville.
-Tom Eizonas and Dave Eastman from WAMB and Silent House for letting us reach more people than can fit inside Rumours East with what we are trying to accomplish together.  You guys ROCK!
-Alex Smith, for his unending positive support and creativity that he shares with the world.  His potential for the arts and humanity is truly limitless and I'm honored to call him friend.
-JT Ellison, the most humble and appreciative prolific writer alive today.  I don't need to say more, but I shall.  Her smile and positive outlook on life helps make the world a better place.
-Crackerboots and all involved, I can't thank you enough for ending 2012 perfectly for all involved in East Side Storytellin'.  Individually, you are some of the most amazing musicians in a city filled with top-notch musicians.  Together, you make up something so brilliant and different than anything else out there.  It is other worldly and I love your work!
——————————-
Take a listen to the following link to enjoy the edited version of the East Side Storytellin' event I've been writing about above that included JT Ellison, Crackerboots, and myself on the side.  It originally aired on WAMB radio station (1200 AM/99.3 FM) on December 22nd, at 2pm Central.  Feel free to share it with others and keep this momentum going right into 2013.
https://soundcloud.com/eastsidestorytn/sets/east-side-storytellin-4-12-18

And speaking of 2013, boy have we got a heck of a line-up already booked through March that will keep you coming back for more.  I won't spill all the beans, but if any of the above has made you happy to call Music City home, feel free to call Rumours East to RSVP your place for our next East Side Storytellin' show after the New Year.  I'll give you the cut and paste details, easy to follow, below.
Date- Tuesday, January 8th, 2013
Time- 7 pm sharp (Central)
Location- Rumours East (1112 Woodland Street)
Get your RSVP on- call 615-262-5346 and tell them how many friends are coming with you.
Who will be featured-  scribe Cary Graham (author of "Remnant") and the musical stylings of Jenny and Tyler (http://jennyandtyler.com/)