On Tuesday, January 8th, I truly experienced a night like no other.  At 6pm, I left East Side Story with new art prints made by Alex in tow in order to make my way over to Rumours East to get fully prepared. I knew that Tom would be there with equipment in hand, but I was uncertain how the set-up would go with it being the first East Side Storytellin' where Adam wasn't helping run the show on the restaurant side of things.  I opened the front door and any feeling of worry subsided right there.
Instantly, I was met face to face to face to face with all of the featured guests of the night earlier than on time and ready to do more than their part for the evening.  The sound check was finished in mere moments, books were brought in, and all the merch was signed and in place even before the first rsvp guest showed up.  Which brings me to the rsvp guests.  It inevitably happens every time where nobody, or maybe two others besides the featured guests, is present or seated ten minutes before the starting time of the show.  That is the thing with scheduling anything in Nashville at a certain time.  I have many musician friends.  When they say a show starts at 7pm, that usually means it really starts at 10:30pm … if you're lucky.  The thing with East Side Storytellin' starting at 7pm, it really starts at 7pm.  Lucky for us, mostly being me and Tom, the seats always fill up no less than 3 minutes before showtime … every time.  In fact, I learned in the middle of the show that Ali and the Rumours East gang actually had to turn away about 15 people that wanted to see the show but didn't have a seat to sit on.  That was a good and bad feeling for sure.  It was good because, although we've had packed crowds for each show so far, the room and good message was spilling over.  It felt bad because I never want anyone to miss out on a great East Side Storytellin' evening or experience like I knew was about to happen.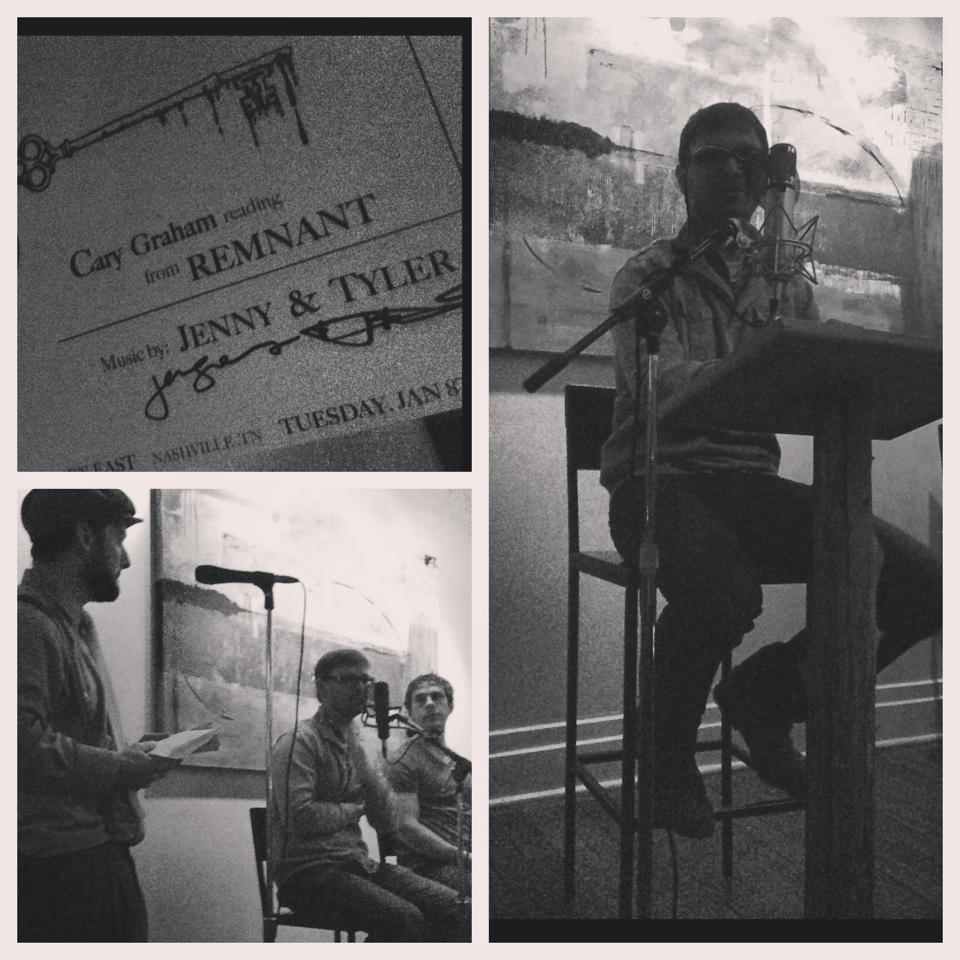 About the experience that happened, it was amazing.  I introduced Cary in the most honest way possible.  Cary Graham and I first met a few years ago because of two of my favorite things … friends and ice cream.  A mutual friend, Ian White, brought the two of us together because he thought we'd enjoy meeting each other and because he knew we both love writing and try to learn as much as we possibly can about the ever-changing publishing world.  Oh, and Jeni's Ice Cream was simply the angelic icing on the cake for any day of the week.  But introductions aside, Cary is an amazing writer.  He began a website called The Hack Novelist, and used it to help other aspiring writers fine tune their voice and prose.  In the process of the last year or so, Cary worked beyond words with friends, fans, and family to pull resources together via Kickstarter to bring his latest story to life to share with the masses.  I read it this past month, being that I am fortunate to be able to promote and sell it at East Side Story, and his book "Remnant" is brilliant.  It, much like Cary in real life, is filled with hope, faith in good living, and the best of humanity while bringing people together in a positive manner.  Cary took to the stage for his first official book reading (which will definitely be the first of many as soon as this book and future books he is in the works with take off beyond Nashville for years to come), and accrued new fans while amazing the old ones at the same time.  In fact, I noticed that our mutual friend, Ian White, and his wife showed up to support the occasion in the middle of the reading.  Cary read excerpts from the beginning of "Remnant" in every sense of the beginning.  It was where the plot of the book first began, and it was a very cool moment to see a solid author spread the good words he created as they jumped off of the pages.  It was really something special.
And speaking of something special, the musical act for the night was Jenny & Tyler.  I had first seen them play live only once before.  It was a few years ago, and it was the first time I ever went to The Bluebird Cafe.  I had gone to see mutual friends of Jenny & Tyler in that of Ben and Emily Roberts (Carolina Story), and witnessed one of the best shows I've seen in Nashville.  Both groups went back and forth talking about their new songs and then playing them to the fullest.  In fact, I hadn't gone back to The Bluebird Cafe because I know it won't ever be better than that night.  This night, January 8th (Emily Roberts' birthday) was another one of those best show moments.  Jenny & Tyler played a plethora of beautiful, heartfelt original songs while interjecting the stories behind the wonderful songs in between each one.  Whether they talked about the experience of the first time they ever met while in school in Delaware, whether they talked about specific moments in their lives where they took to their faith to get the most out of live, or whether they spoke about their love for each other and what their music and marriage means to them, everything they said and sang went right from their hearts to all of ours.  It was some kind of beautiful.
As always, I got the featured guests up on stage at the end and we talked about their various creative processes and ties with Nashville.  I really loved the moment where, after Cary described the collective community of fans and friends that came together in order to help make his dream of publishing "Remnant" into a reality, Tyler spoke up to confirm similar feelings and emotions for family and fans who helped he & Jenny create their first album via Kickstarter.  It was another moment that was out of the blue, unplanned, and another sign that the two featured acts were meant to be on the same stage on that same night.  By the end of the show, there was a mutual respect for each others' crafts and talents and it was obvious to the jam-packed crowd that they were better for having experienced the night as altogether as well.
Before I give you the link to listen to the hour-long, edited version of the January 8th show, I'd like to give much thanks to the following:
-Tom Eizonas, aka T-Dogg, and Dave Eastman from the WAMB family for their patience and continued faith in the idea of East Side Storytellin'.
-Ali Foley and the rest of the Rumours East family (Adam included) for a smooth, temporary transition between Mr. Binder and the next location.  The restaurant is in a house, and I believe that this entire project has helped to make it more like a home.  Thank you!
-Alex Smith for the always amazing artwork for the limited edition prints that are sold on site on the event nights and later with leftovers at East Side Story.  Your abilities always amaze and your friendship means the world.  Gracias.
-Jenny & Tyler, your words, sounds, faith, and love for what you do and who you are is contagious.  The world would be a much better place if everyone listened to your music and applied it to their everyday lives.  You are the real deal, and I know things will continue to get better and better for you both on your journey.  Thanks for sharing your time and talents with us all while on your way.
-Cary Graham, YOU are a scholar and a gentleman.  You are one of the finest writers in this town and I look forward to reading the next page, chapter, book, and idea that you have up your sleeve.  The "Write-aways" will take their course in due time, but never stop putting ideas to paper.  You inspire me and plenty of others whether you know it outloud or not.  You are anything BUT a hack novelist.
-Emily Frances Harper Beard, for this and every show.  Seriously, THIS SHOW.  I can't say anything more than you are the BEST EVER.  I love you and am thankful beyond words that you love me.
Here is the link for East Side Storytellin' 5 with Cary Graham and Jenny & Tyler.  It originally aired on WAMB radio station (1200 AM/99.3 FM) on January 12th, at 2pm Central.  Feel free to share it with others and keep this momentum going right through 2013.
https://soundcloud.com/eastsidestorytn/sets/east-side-storytellin-5-1-08
The NEXT East Side Storytellin' event will be …
Date- Tuesday, January 22nd, 2013
Time- 7 pm sharp (Central)
Location- Rumours East (1112 Woodland Street)
Get your RSVP on- call 615-262-5346 and tell them how many friends are coming with you.
Who will be featured-  author Barbara Nowak of The Saucy Sisters (author of Guide to Wine – http://saucysisters.com/) and the musical stylings of Julie Lee (www.julielee.org).