Thank YOU, thank YOU, thank YOU. Hello Again! Welcome to another epic recap and review and recording with East Side Story at The Post. Welcome to the 59th spectacular edition of East Side Storytellin'! Like the 58 previous shows East Side Story has put together, we all arrived here to get y'all cultured up just right in the form of a Nashville writer reading from original prose, followed by an amazing local musician performing and talking about their original music, and then a round-up creative conversation with all featured guests of this event to talk about their individual journeys and personal ties to Nashville. Without further ado, fulfilling the entertainment portion of your day, this is East Side Storytellin' 59. Let us begin, again.
The first featured guest of the evening was an extraordinary man and artist that, in my humble opinion, is the cornerstone of Nashville poetry. Many of you probably already know him and his work because he is also one of the biggest fans and supporters of the Nashville literary scene and has been so since the 80's. He's an old soul with a youthful spirit that makes words and everyone around him feel more alive. Born in Paris, TN, he's made Nashville his home for quite some time and has literally made Nashville poetry better and better through his work with Poetry in the Brew and various other ventures since arriving. I'm not sure why it's taken me so long to get him on the East Side Storytellin' stage, but with his blog titled the Drunken Poem Bodega, and the fact that it this show took place on Cinco de Mayo, and the other fact that he has told me that he's already a big fan of the featured musician of this specific show after listening to her latest release, I believe this was the absolute perfect time for us to shine a positive light on this fella. I was truly honored beyond words to finally and proudly introduce the East Side Storytellin' family and friends to the likes of the man, the literary legend, Chance Chambers!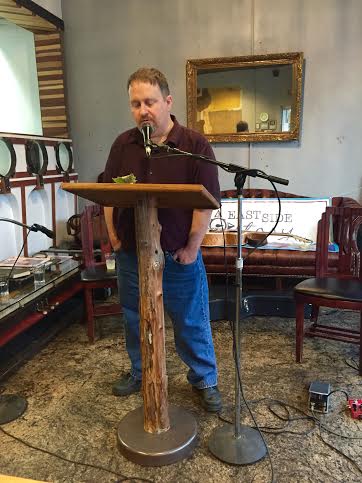 Chance walked up to the podium like a professional. Actually, it was nothing like a professional setting. There was no "green room" or VIP backstage area. Chance had been sitting down, surrounded by circles of his favorite local poets and he had quite the time meandering sideways, back and forth, and finding a successful path to the front of the microphones because the crowd there to support him was so close knit all around. In a day and age when it seems as though every poetry event in town exceeds expectations for attendance and local love and support, this show and flood of love for Chance was even more special.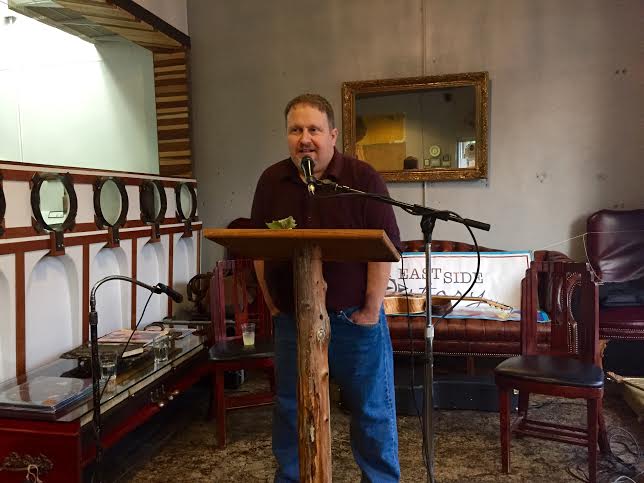 Examining the fact that he was on location at The Post even before I arrived, to say that Chance was prepared to rock us all with his literary performance on such an occasion would be a huge understatement. Several times during his readings from various original prose, Chance plugged in his iPod and simultaneously read his work to the melodies of his own creation. It wasn't the first time a featured writer had read to music, but it was definitely just as transcendent. From the material, the mood, the tone, and the characters, everything that Chance read about all meshed together into quite the trip. There was a lot of talk about gin, despite the round of margaritas that circulated before the show started, and there was a lot of talk about life. Anyone who has read or heard Chance read his original work knows that he relays metaphors and descriptors that make ordinary life extraordinary better than most household names in literature today.
To close his time on stage, Chance dedicated his final two poems to a fallen friend who passed away named Tia. It was honest, personal, and deeply reflective. There was a communal sense from everyone in the crowd that was very appreciative and honored to witness Chance share such words and sentiment as much as Chance had already said numerous times how he was so appreciative and honored to be a part of East Side Storytellin'. Point being, it was perfect timing and the perfect people involved and paired together yet again.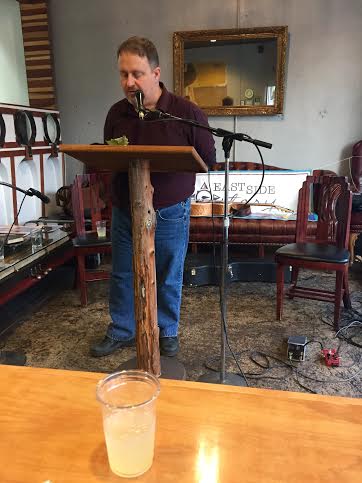 The featured musician of this great night was someone that is superb at making music and playing songs by just being herself. Witty, brutally frank, and musically adventurous, she's masterful at transforming rough patches of life into smart, sturdy, and sometimes even hilarious songs that don't really sit squarely into any specific genre. She cites some of her inspirations and favorites similar to my own faves, as in The Pixies, Dinosaur Jr., and Pearl Jam. Her 2012 debut titled "Let Down" was anything but, and we're honored and super excited to have her join the East Side Storytellin' family by showcasing fresh upon releasing her latest work called "Royal Blue." Alongside her talented guitarist friend Reed McMillan, we were more than ready to listen to the talented Lilly Hiatt.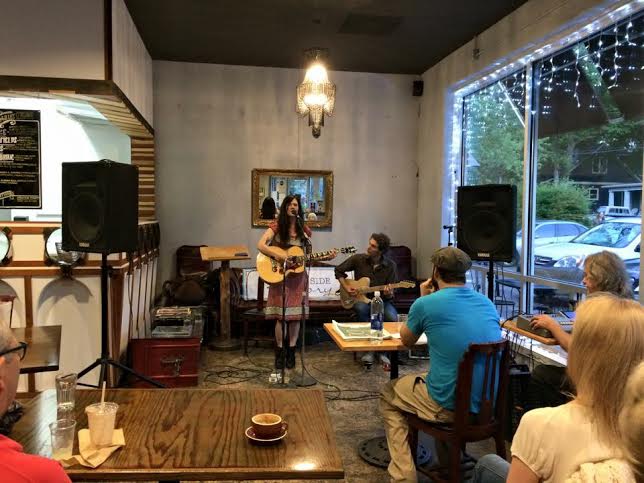 Lilly jumped right into the scene, feeling good that she was close to her home after doing a tour out West and proclaiming that playing a show at 7pm was just as nice for her as it was for everyone in the crowd happy to get home before midnight (definitely not the case in Nashville on the regular). She and Reed played on the same page and the sounds were so easy to follow and listen to with all of our hearts. I've said it before that when musicians or professionals of any job are excelling at their work that it appears effortless and easy. Well, that was the case yet again with the musicians on this show. Lilly and Reed went through song after song as if we were all sitting in their home playing a house show like none other. It was a listening crowd loving on musicians who were loving on a listening crowd. Oh yeah, and the songs were out of this world amazing to boot.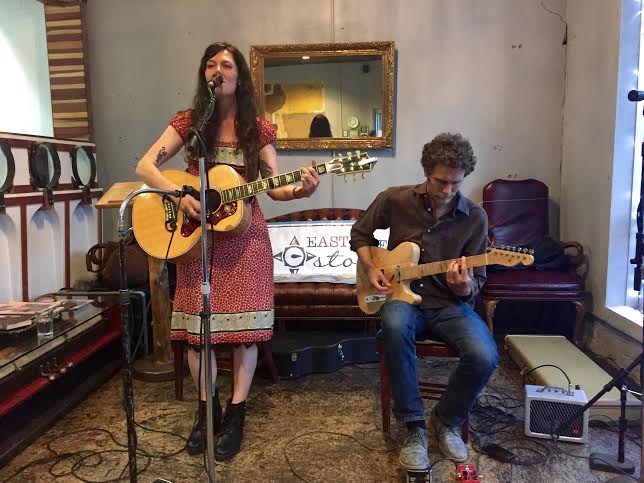 Lilly has a gift for storytelling with some of the same magic that Chance has in his prose and poetry. I seriously can't name a favorite from the set because each tune was as poignant as the last, although I loved dissecting the "Jesus would have let me pick the restaurant" concept within the story and song she sang it in. Simply put, every song Lilly writes and performs leaves listeners with a broader sense of their world, purpose, and awe of everyday life. If you don't have a copy of "Royal Blue" or her debut, you should go out and buy it now … just sayin'.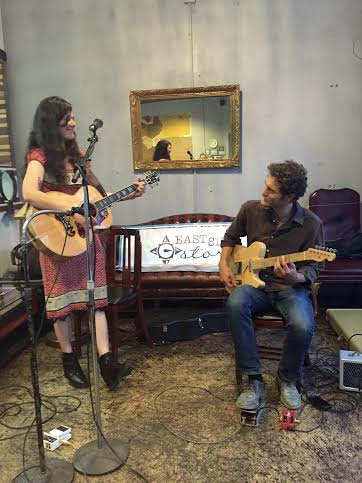 After the music ended, I was very excited to jump up to the microphone and share a little more time with Chance and Lilly in order to let them tell the crowd a little more about their creative paths. They talked about getting started in their art, and it was such a pleasant interview to wrap up one of the most pleasant nights I've had in recent history. When everything is right in the world, everything is right in the world. On this night, on this show, some very good-hearted and amazingly creative people met, shared some time and art together, and ended the day sharing their passions in a way that made everyone around them feeling better than the day before. There's something amazing to be said about that concept.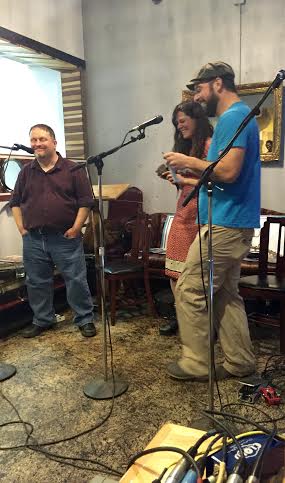 I could write for days trying to articulate it better and better, but I'd say it might be best to just let you listen to the edited recording for yourself. So, without further delay, here is the recording of East Side Storytellin' 59 with Chance Chambers and Lilly Hiatt (featuring Reed McMillian) at The Post on Tuesday, May 5th (Cinco de Mayo 2015). Feel free to share with all of your friends and family, and enjoy it over and over:
Before I say goodbye for this round of fun, I'd like to give a big round of thanks for Chance Chambers and Lilly Hiatt for sharing their stories, talents, and time with us.
You can read more about Chance Chambers- http://chancechambers.com
You can listen to more from Lilly Hiatt – http://lillyhiatt.com
You can listen to this show, edited, soon, alongside the previous shows too, on our website, www.eastsidestorytn.com, at our In Our Own Words Tab – see here – www.eastsidestorytn.com/in-our-own-words
I'd also like to show much love to Clay Brunton for the beautiful artwork for the prints you may have seen all over the place online before tonight.
I'll keep the gratitude going for Tom Eizonas, my lovely wife and most talented artist in Emily Harper Beard (efharper), and everyone that came out live to support the show … and to everyone who has helped continue to spread the word and support the show online afterwards.
Last, but certainly not least, I'd like to give one last shout out to Tonya and Chris for everything they do here at The Post to help make a vibrant East Nashville community even brighter than ever.
The NEXT East Side Storytellin' event presented by East Side Story will be …
East Side Storytellin' 60!!
Tuesday, May 19th
7pm at The Post (1701 Fatherland Street)
reading- Matthew Leavitt Brown  (www.riversonnet.org)
singing- Dewveall (http://dewveall.com/)
That's all for East Side Storytellin' 59 and another fabulous event here at The Post with East Side Story. Thanks for coming out and sharing the good word and giving some love to all of these great Nashville artists and our creative ideas. Please remember to be nice to one another out there. Thanks and good day your way.
Much love,
mE