On March 5th, 2013, I felt very fortunate and blessed.  The good people of Fat Bottom Brewing Co., after talking it over and listening to me a time or two explain what I intended to bring to their party with that of East Side Storytellin', gave me the invitation to celebrate a new chapter in East Side Story events.  That's right; we officially moved locations from Rumours East over to the 900 Main Street hot spot of Fat Bottom Brewing Co. in order to have more space and to really hit the ground running with something we have been steadily building speed and a collective awareness around and beyond the city limits with since the beginning of November.
Tom Eizonas, the man behind all of our recordings and solid sound for that matter, arrived extra early before our regular time to begin the new set up.  We threw all of our speakers, chords, and tables around to where we best fit and did what we always do … we did our best.  Lucky for us, we weren't the only ones around setting up this time.  Not only did the band and author arrive earlier than usual (a good problem in my book) there was already a budding crowding filling the tables and chairs in anticipation for the inaugural show.
Having a little spare time allowed us a few more moments to try to figure out how to fit a 5 string band in a 3 musician area.  That dilemma, plus the fact there was no monitor on the spot, ended up working its own way out like it always does.  Everything, if you are calm and at peace with yourself and your place in the world, always tends to work itself out in the end.  Remember this or at least make note of it for another post and day my friends.
But yeah, after a minute of planning for one thing, we threw those plans out the doors and decided to wing it the best we could.  I was not the first person on the microphone this go round.  The all-time great radio voice of WAMB, Dave Eastman took the stage and prepared the crowd for the new show and transition from Rumours East to Fat Bottom Brewing Co.  He was very nice to say some kind words about me and the idea of the show from its inception and tales of my first visit to the radio station.  It quietly reminded me that we've come quite a long way since October with this idea; yet his speech also refreshed me knowing that we seem to be on the right track for a bright future with it all as well … Dave's words and the packed crowd being good enough proof of that very brightness for the time being.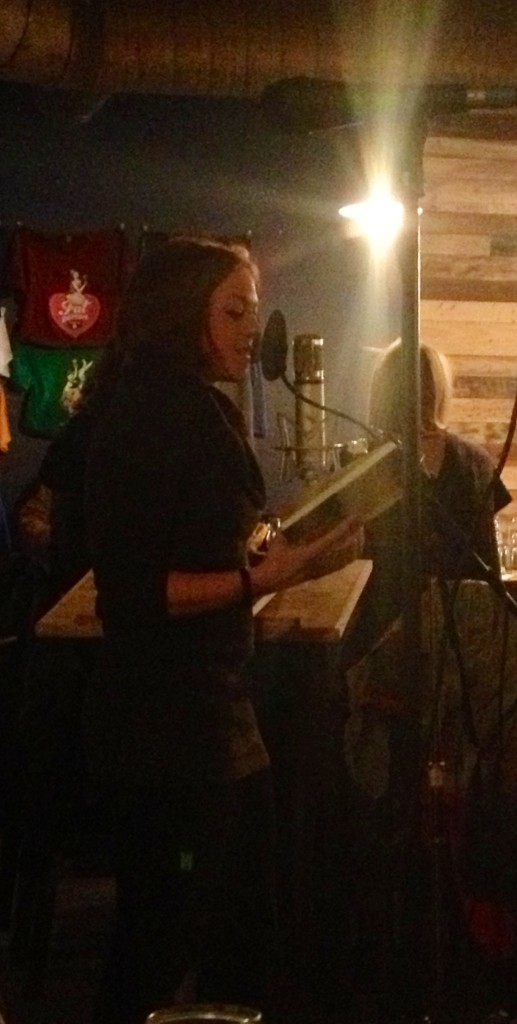 I took the stage with a smile.  I was smiling at Dave's comments and the wonderfully enthusiastic crowd, but I was also smiling because I had the honor of introducing a person that i believe might just go down as the most epic author in Nashville when all is said and done.  The prolific and immensely talented Victoria Schwab walked to the front of the stage with a plan.  She had brought both of the books she has published in the last 2 years and briefly read an excerpt from both introductions to give the audience a taste of whichever they were going to jump into first.  The Near Witch was her first, The Archived was her second, and she took time to mention that she has the sequel to The Archived (titled The Unbound) coming out sooner than later too.  Side note, I believe I saw more than a few people do double-takes to her descriptions and comments about a title she is going to publish later this year called Vicious.  Vicious is going to be a dark twist on heroes and villains about 2 pre-med students discovering the key to superpowers that lie in near-death experiences and testing out their theories.  Basically, it will be a great big comic book without the pictures if that draws a good enough picture for you and all the other comic book lovers out there.  Bottom line, Victoria Schwab is putting ideas and unforgettable, original stories to paper in a way and rate like no other.
After Victoria eloquently read from both of her successful books to a silent, attentive, and polite crowd, we decided to flip the script in the order of typical things to accompany the featured guests. Instead of going straight into the music, we opted to have the interview portion of the evening with Victoria and the featured musician, Grace Adele, so that a videographer for the band could get around the day's traffic jam.  It was nice to keep Victoria's momentum with the crowd going in a way that allowed her to effortlessly tell her personal story and creative prose to come.  It also allowed for a nice introduction for Grace to the room at hand.  All things said, it was a lovely conversation with two very talented artists in their own rights.
About the time the interview/conversation came to an end, the band's videographer arrived and Grace Adele and The Grand Band began to play.  The stage space wasn't an issue any longer, and from where I was sitting (in the front row, beside the speakers) it was such a wonderful set to witness.  Grace sang, danced a little tap with her cowgirl boots, sang some more, and played her heart out for the crowd.  Every song was matched with grateful applause, and everyone in the crowd was happy about attending the first show at Fat Bottom Brewing Co.  I don't think I could've asked for much more than that!

In the end, it is just the beginning.  I was humbled by the hospitality of the entire crew of Fat Bottom Brewing Co. and the crowd that was ever-present for the duration of the event.  I'd like to take a second, before sharing the edited recording of the show below, to share a little more thanks for all those that helped make the night a successful one.
*To my wife, Emily Harper Frances Beard, I can't say THANK YOU enough.  I may be driving this car, but there's nobody else I'd like to be with me on this road trip 🙂  I loves YOU!
*To Tom Eizonas, YOU are the MAN!  Your expertise, experience, and fortitude amidst adversity is darn near unmatched by any I've ever met.  I'm so lucky to have met you and work with you on a regular basis.  Thanks for everything you do!
*To Alex Smith, I'm so very thankful you have returned into my life after years of traveling and making your own path in the world out west for some time.  The timing is perfect for us both to create and you are doing exactly what you want to do and how you want to do it all.  You are an amazing artist and even better friend and person.
*To Dave Eastman and the WAMB Family, you were the first home for this idea and you are the best people in radio to work with in my humble opinion.  Your experience and everything you stand for is about integrity and professionalism to the tilt.
*To Christopher Haston, Aric Carroll, and the rest of the family at Fat Bottom Brewing Co., I am so very humbled and happy to be a part of your journey.  East Side Story, East Side Storytellin', and Fat Bottom Brewing Co. began around the same time and I feel like this is just the beginning of an amazing chapter for everyone involved and whomever decides to visit and join us for the ride.  Everyone on the staff made me feel like making the move to Fat Bottom Brewing Co. was the best decision and move I've made in quite some time.  Thank YOU from the bottom of our hearts.  This is going to be fun.
*To Grace Adele and The Grand Band, you guys were spectacular.  I want to thank each one of you guys for taking time out of your busy schedules to make an incredible  impression on me and the people who witnessed you play live.  It was a tremendous night and one for the ages indeed.  Thank you … thank you.
*To Victoria Schwab, you are an inspiration for many authors and people of all ages chasing down their dreams.  You are living your dream and you work harder for it than most will ever know, on and off Twitter and all social media fronts.  Your talent is so obvious for all who read your work, and your imagination is unparalleled.  Here's to many more years and decades of continued success in all that you do and thanks for letting me be a small part of our trip.  Thank YOU!
** NOW, here's the recording of the show you've been waiting to hear (unless you were there and then you've been waiting to hear it again and again).  Enjoy and share the link with others you think would enjoy it!
https://soundcloud.com/eastsidestorytn/sets/east-side-storytellin-9-3-05
The NEXT East Side Storytellin' event will be …
Date- Tuesday, March 19th, 2013
Time- 7 pm sharp (Central)
Location- Fat Bottom Brewing Co. (900 Main Street)- www.fatbottombrewing.com
Get your RSVP on for your own table- call 615-678-5895 and tell them how many friends are coming with you.  Otherwise it is first come, first available seats.
Who will be featured-  Barry Mazor, author of Meeting Jimmie Rodgers (http://mississippilegends.com/articles/book-review%3A-meeting-jimmie-rodgers/) and the musical stylings of Paul Burch (www.paulburch.com).
More info about Jimmie Rodgers, the Father of Country Music,  see here- www.jimmierodgers.com