On Friday, December 7th, at 1:30pm, it all went down at East Side Story.  What was it?  Well, it could be a lot of things but to me it was pure happiness.  To preface, I had emailed a ton of local school principals and librarians about a month ago asking any and everyone to let me know if they might be interested in having field trips to East Side Story where they could have story time with local authors.  The first person to reply to my call for fun was a local author, Maggie Day Conran.  Author/artist of two books at the store, "Christmastime to Me from A to Z" and "Just Right Julia," Maggie volunteered her idea that she could get several home-schooled parents and kids together for an independent school field trip of sorts.  I was instantly intrigued.
A product of both private and public school systems growing up, I never had much experience with the home-schooled crowd until college. I have always been fascinated by both the initiative of the parents that it takes to pull off such a feat and also the absolute freedom that a family has while truly teaching and enlightening their kids at their own individual pace (Montessori to the extreme is what I picture); a freedom that is also evident in everything I try to do at East Side Story.
That said, Maggie and a handful of parents brought their kids to the store not quite knowing what was in store.  Quite frankly, neither did I or the other authors I had heard back from that showed up with their story in tow too.  As usual, the best of times are times and things where you just wing it.  We were going to either fall or fly together.  Wouldn't you know that from the first reader to the last, the kids and authors flew to new heights.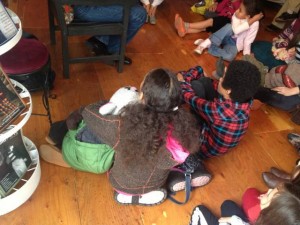 First up was Mark North, author of "The Day that Anthony Counted to a Googol."  A googol, as Mark explained in his prose, is the biggest number ever known to man or woman.  Mark not only wowed the kids with pictures and personal tales of how he had once counted to a googol as a child when his siblings bet that he couldn't, Mark also enticed the kids to throw out their own examples of counting techniques and how they could apply googol into their own lives and worlds.  Mark did a wonderful Q & A from the kids and then stuck around to support the next readers too.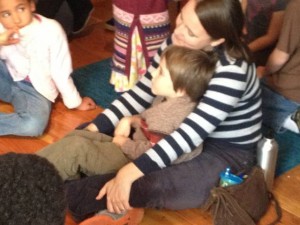 Second on the setlist was Elizabeth Brandon, author of "Sadie Bug."  A story about her favorite pet, there's nothing like a story about a dog that really warms the heart of every kid no matter what age we are.  It was no different with the kids present at the store this time either.  After following the book reading, the kids offered up several pet stories of their own and showed their appreciation to Elizabeth and their new friend Sadie.
Third in the reader's chair was Kimberly Dana and her favorite doll.  To preface reading her book "Pretty Dolls," Kimberly told the crowd that this was a story about bullying in a lot of ways.  Kimberly taught the crowd the lyrics to some of the parts of the story where she would need the help of their singing abilities to heighten the story's drama.  Also, Kimberly asked the crowd point blank if they had ever experienced teasing or bullying in their lives.  This was when my favorite part of the entire day happened.  A little girl, no more than 4 years old, sat up from beside her father and two other siblings, raised her hand, almost teared up, and stumbled through the following as she said, "My … my brother was meeeeeaaaan to me."  There was a collective 'aaaaahhhh' moment in the room and the little girl sat back down beside her family, ready for the story to begin.  The older sibling beside her said that it was another brother not at the store.  But either way, the story went on, the songs were sung, and everyone learned some valuable lessons about how to treat each other better.  I don't think we can ever stop being reminded of such lessons and tales, do you?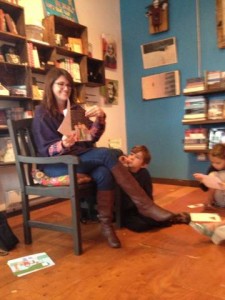 Last, and certainly not least, was Maggie Day Conran reading from her Christmastime book and not only getting us all in the holiday mood, but also showing us her prints and talking about the techniques she used to make the book herself.  I do believe that another home-school field trip and possible book workshop will be in the works soon enough.  Maggie seemed to have a blast while her son was right by her side in support of her and the story.
In the end, I managed to get the first East Side Story field trip "class" together for an old school class photo beside the side wall.  There was nothing but smiles in the bunch and I don't think I could have asked for a better way to kick off a weekend or fun Friday for that matter.  Sure, a few books were sold (a cherry on top really), but the most important thing that happened, in my book, was that people came together and enjoyed another session of original, local storytelling.  In my opinion, it doesn't get much better than that.
And without further ado, here is the class photo from our first field trip at East Side Story.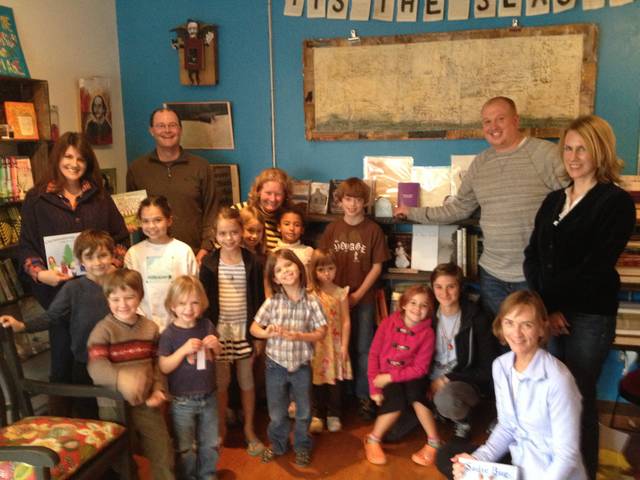 If you or anyone you know is involved with the school system, feel free to share this story and my contact information to organize more of these in the new year.
Happy day your way!
Chuck