What's Going On
This is not where the sidewalk ends.  This is where the lines at the Woodland Street sidewalk begins. Whether we are having readings, word game nights, creative workshops, or other various special occasions, this is where you will get the up-to-date information for all of the above so you don't miss out on the literature love.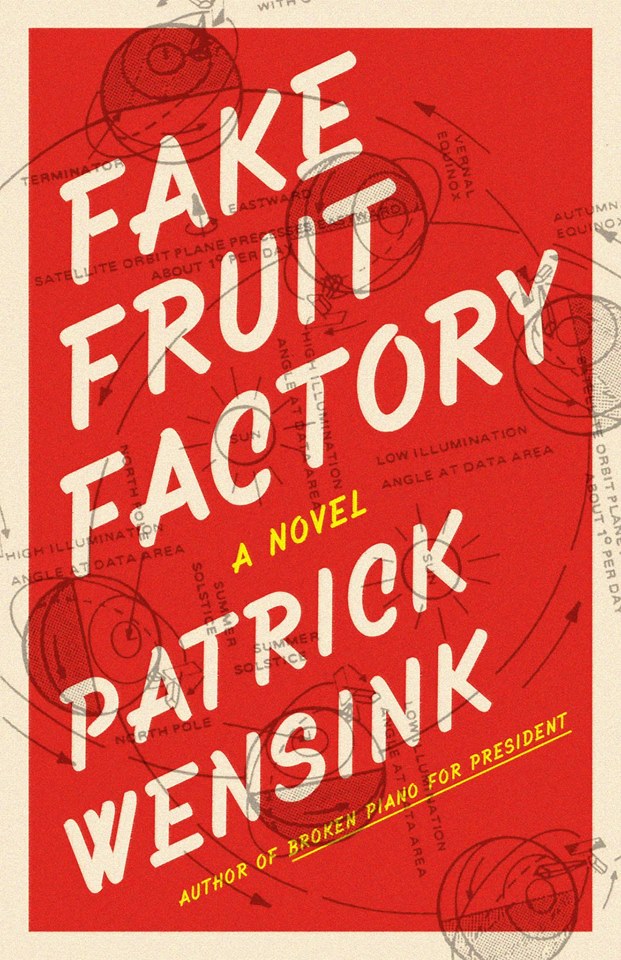 Come on over to The Post (1701 Fatherland Street) on Wednesday, November 18th, at 5:30pm as we host a celebration with the words of two great literary giants – Chet Weise of Third Man Books and Patrick Wensink of FAKE FRUIT FACTORY.
FAKE FRUIT FACTORY is a stick-slapping, gut-punching comedic novel about the eccentric small town of Dyson, Ohio. When NASA determines an errant satellite will crash there, the town's young mayor uses the ensuing media circus to attract tourism and save his bankrupt rust belt community. Unless, of course, the satellite completely wipes it from the map.
"It all sounds like Twin Peaks meets Scooby-Doo, and it is—but in the best possible way. Wensink lays bare the foibles of small-town life, but also its charms. His characters tumble off the page, in all their cartoonish glory, but there's empathy at the heart of the absurdity … Wensink loads his kinetic narrative with piercing irony as well as dry humor … For all its chaos, Fake Fruit Factory is tightly plotted and beautifully contained."
—NPR
CHET WEISE is an American poet and musician. He is also the editor at Third Man Books in Nashville, Tennessee. Weise was banned from Canada in 2008.
PATRICK WENSINK is the author of four books including the bestseller Broken Piano for President. His writing appears in New York Times, Esquire, Salon, Oxford American, Men's Health, and others. In 2016 HarperCollins will publish his first children's book, Gorillas A-Go-Go. He lives in Louisville, KY with his wife, son, and fragile ego.

East Side Story published an anthology titled Based On: Words, Notes, and Art from Nashville. The project is a special collection of short stories, songs, and visual art prints which are all inspired by one another and blended together into the fold of a single book (cd of the music included).
On Monday, June 15, 2015, East Side Story and the Arts & Business celebrated the release of what could possibly be the most epic creative collaboration of Nashville artists with a one-night release concert extravaganza at Belmont University's McAfee Concert Hall. The evening was hosted by Music City Roots host Craig Havighurst and included performances by a majority of the contributing artists … all to commemorate the launch of this unique project.
If you are not in Nashville to visit East Side Story to pick up your own copy of this project, no need to worry … YOU can order one and we'll ship it to you HERE- 
http://basedonnashville.eventbrite.com/
The project includes the following creative talents:
Authors – Chuck Beard, Paige Crutcher, Tony Earley, JT Ellison, Cary Graham, River Jordan, Ariel Lawhon, Betsy Phillips, RashadthaPoet (Rashad Rayford), Victoria Schwab, Shawn Whitsell, and Tommy Womack. (intro by- Craig Havighurst /afterword by- Robert Hicks)
Musicians – Kyle Andrews, Boom Forest, Carolina Story, Michael B. Hicks, Griffin House, Phil Madeira, David Mead, The Coal Men, The Lower Caves, The Rough and Tumble, Tristen, and Brooke Waggoner.
Visual Artists – Adam Baker, Cory Basil, Carl Carbonell, efharper (Emily Harper Beard), Michael McBride, Barry A. Noland, Rebecca Sloan, Julie Sola, and Ian White.
All proceeds from the book and event will benefit the Arts & Business Council of Greater Nashville.